When talking about differences between American and European basketball we have to consider many aspects, some of them belong to the game of basketball itself, and some others have to do with the European environment and expectations set for import players. In this article we want to point out the differences, but also give you some insight and valuable information on what to expect about European basketball .
What is the Difference Between American vs European Basketball
For this article we have had the experience of International Scout and EuroProBasket CEO Brad Kanis along with professional coaches Nikolai Gospodinov (Bulgarian National Team) and Thomas Roijakkers (Dutch Pro Coach).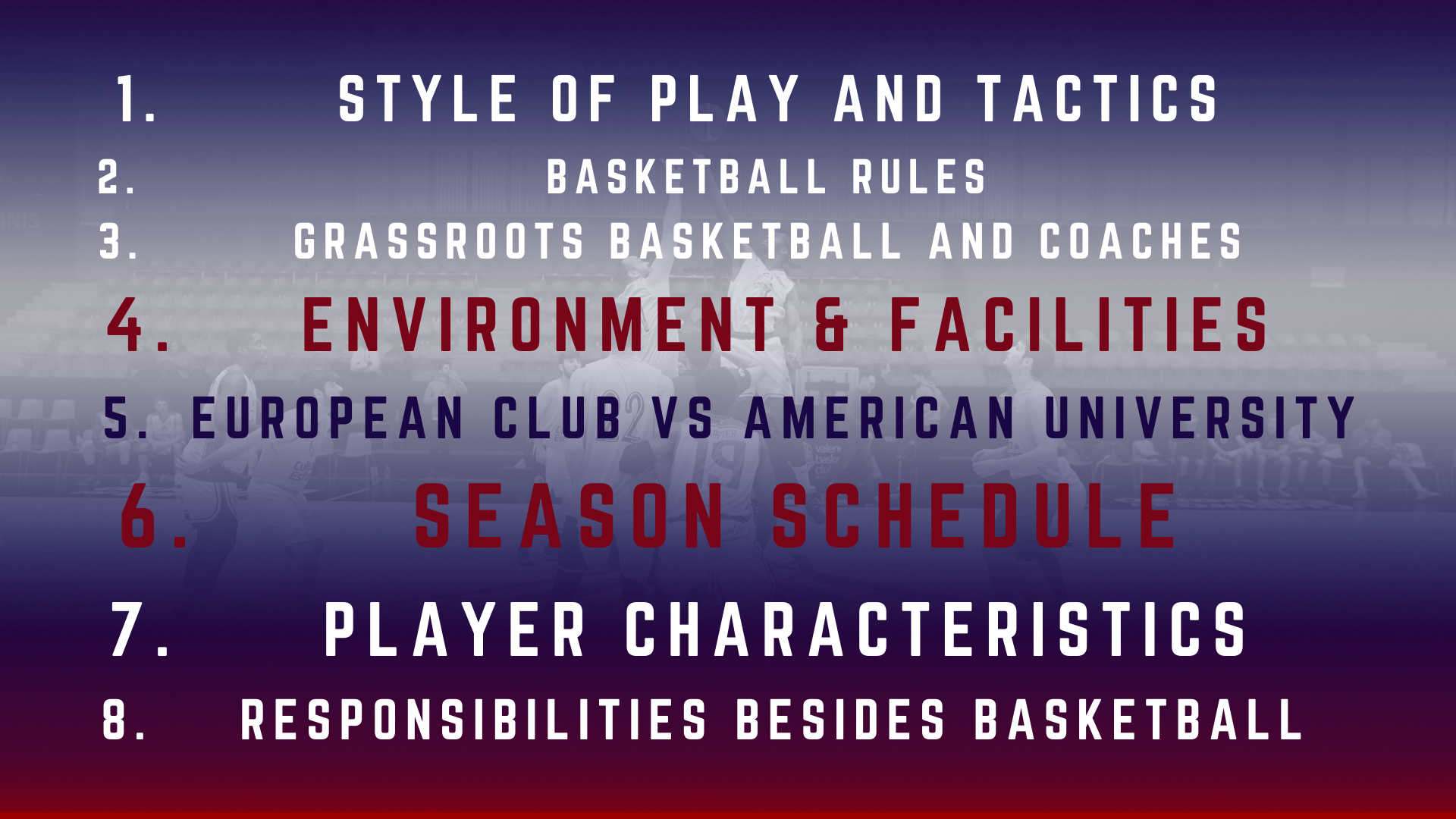 European Basketball Style differences image by EuroProBasket
European Style Basketball
European style basketball is considered team oriented fundamental basketball, which focuses on high basketball IQ, fundamentals, team spacing and tough defense.
Let's go over what sets European style basketball apart from American style basketball.
1. Style of play and tactics
First things first, the style of play is the main aspect we have to focus on. The general assumption is thinking that American basketball is more individual and European basketball is more about the team.
Nikolai Gospodinov
"American basketball relies primarily on the individual actions of their players based on their athleticism and good physical performances. American coaches do not focus on too many set offenses. Defensively, players are not as accustomed to playing team defense, they (players) rely on 1/1 defense using more of their arms and usually in Europe it's called a foul violation. In Europe basketball is different. The team relies on collective play and they really move the ball well trying to find the best situation to shoot.
In Europe, coaches use a lot of systems in offense, for example some Euroleague teams have more than 30-40 systems. Coaches would like their players to keep tactical discipline on the court and run the system all the way through. Defensively, they insist a lot on defense and if you are not getting ready for defense probably you gen can not get more minutes on the court. They insist on team defense and properly rotations after that. Also most of the coaches would like to change defense systems during the game using zone defense or some zone press defense. Generally European basketball is more of a team game."
Thomas Roijakkers
"In Europe we play more as a team. In general our style involves more ball movement and more player movement off the ball. Having said that, know it's not only about you, even though you might be a key part of the team." talking about tactics "Every coach has his own tactics. However there are certain tactics that are often being applied. An example is to "intentionally" foul at the end of the game, without making an intentional foul. This tactic is often used when a team is up 3 points, so the opponent can only score 2 points from the FT line."
2. Basketball Rules
Basketball rules are global, nonetheless, European competitions have different basketball rule variations compared to American basketball.
Basketball Rules Chart for FIBA, NBA, WNBA and NCAA
Rule
FIBA
NBA
WNBA
NCAA & NAIA
Duration of Game
Four – 10 minute halves
Four – 12 minute halves
Two – 20 minute halves
Two – 20 minute halves
Halftime
15 minutes
15 minutes
15 minutes
15 minutes
Overtime
5 minutes
5 minutes
5 minutes
5 minutes
Shot Clock
24 Seconds; after off reb 14 secs
24 seconds
30 Seconds
Men: 35 sec
Women: 30 sec; after off reb 20 sec both men/women
Back Court Violation
8 seconds
8 seconds
10 seconds
10 seconds
Court Dimensions
91′ 10″ X 49′ 2.5″
94 feet x 50 feet
94 feet x 50 feet
94 feet x 50 feet
3 Point Line Distance
20′ x 6.1″
23′ x 9″
20′ x 6.1″
Men: 22′ 1.75″
Women: 20′ 9′
Hoop Height
10 feet
10 feet
10 feet
10 feet
Player Foul Limit
5
6
6
5
Number of Referees
2
3
3
3 or 2
Size of Basketball
Men: Max circ 30.7″ 78 cm
Women: 29″ – 74 cm
Max: circ 29.5″ – 22 ounces
Max circ 29″ – 20 ounces
Max circ 30″ – 20 ounces
Official Basketball
Depends on level of comp: Molten GL7X, GG7X, GL6X, GG6X, G2000-5000
Spalding NBA Official Game Ball
Spalding WNBA Official Game Ball
Wilson NCAA Official Game Basketball
Basketball rules chart for fiba, nba, wnba and ncaa made by EuroProBasket
Team Fouls and Bonus Free-Throws
Fiba rules award two free-throws for each non-shooting foul after the 4th foul in the same period, so a bonus on the 5th team foul. This includes an individual player's technical fouls but does not include offensive fouls.
The NBA gives a two free-throw bonus on the 5th team foul or the last two minutes of each quarter. Whichever comes first. The bonus does not include offensive fouls or technical fouls. The WNBA gives a two free-throw bonus on the 8th foul of each half.
NCAA rules award one free-throw for each foul, shooting or not, on the 7thm 8th and 9th foul in each half. If that first free-throw was successful they are awarded another free-throw. On the 10th and subsequent fouls, the penalty is increased to two free-throws. Overtime is basically an extension of the 2nd half. The bonus does not include offensive fouls.
Defensive Rules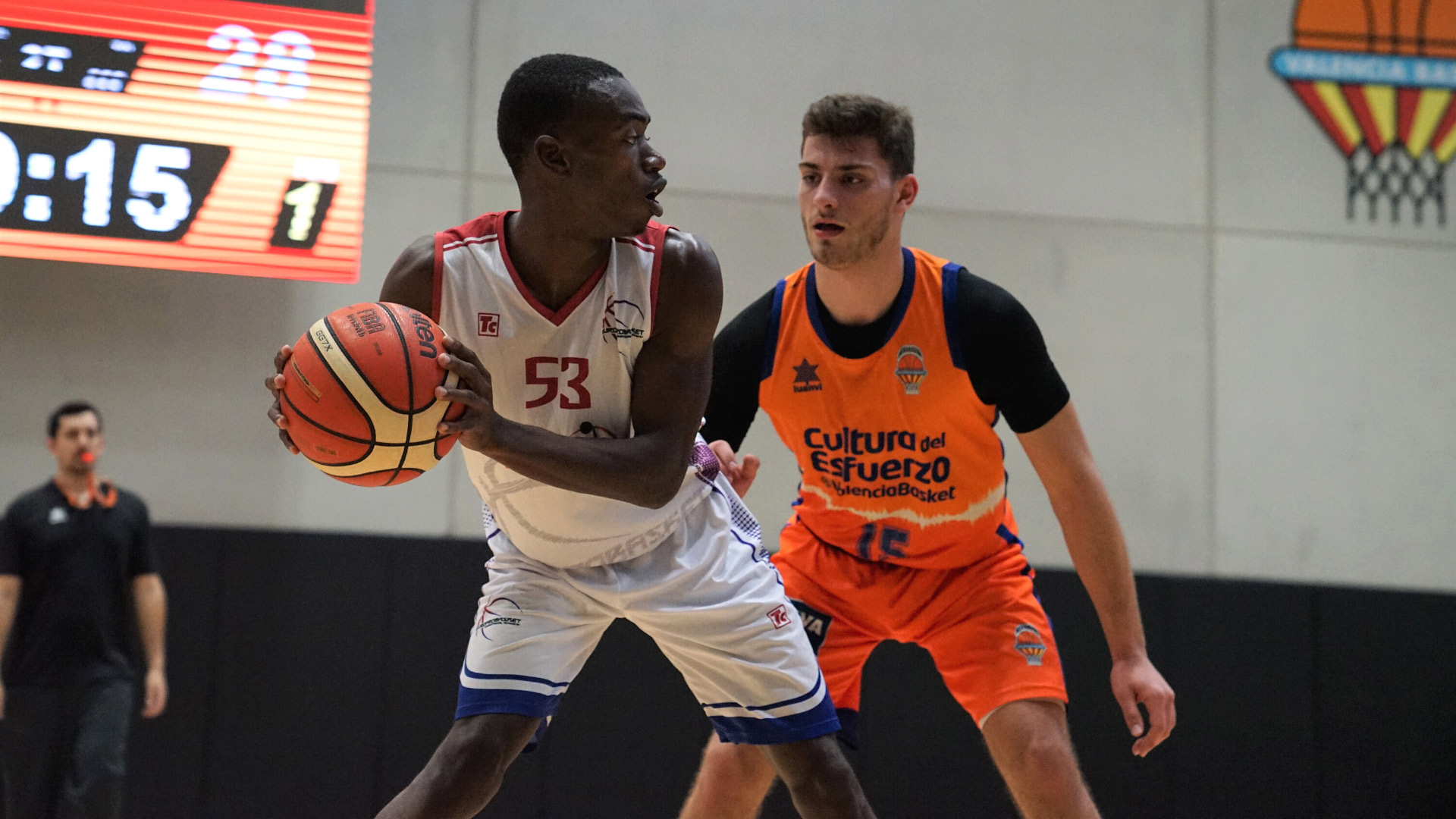 Fiba rules on defense compared to American image by EuroProBasket
Goaltending – Basket Interference
Global basketball rules do not allow a player to block a basketball on it's downward flight to the rim after a shot.
Fiba rules state that once the ball has struck the rim, the defensive player is allowed to clean the ball off of the rim and the offensive player is allowed to dunk/tap it in.
Both the NBA and NCAA propose that there is an imaginary cylinder that exists above the rim. Interfering with the ball in this imaginary cylinder either on offense or defense is a violation.
The NBA has a defensive three second rule to keep the lane open for more dynamic plays. There is no such defensive three second in FIBA or NCAA rules.
The Cylinder Rule in Fiba
Arm contact is more permitted in competition outside of Europe. Here on the old continent you will need to play defense with your legs and not your arms or you will find yourself in foul trouble very quickly.
This is one of the main issues with American's transitioning to European basketball.
Stay in front of your man, don't swipe down at the ball, and use your legs to defend, not your hands. If you get beat don't try and slow the penetration by using an arm bar. You will be called for a foul 90% of the time.
Travelling in Europe Compared to America
Another big issue for Americans transitioning to European basketball is the pivot foot. If you catch the ball with two feet and you take a step with one foot, the ball has to touch the ground via a dribble before you lift your second foot off the ground. If you do this move too quickly, which most Americans are used to in NCAA, you will be called for a travel violation.
In transition, a player catching a pass, must dribble following the first step on the catch, before the second step.
Closely Guarded Player Rule
Overseas FIBA rules state that if a player, who has the ball in live play, is closely guarded (1 meter or less), they have 5 seconds to pass, dribble or shoot. If 5 seconds pass, there will be a violation and the player will turn the ball over to the other team.
In-Bounds Throw In
FIBA rules require players to inbound the ball straddling the center court line extended at the beginning of all quarters, except the first, as well as all overtimes. The player can pass to either the front court or back court.
Official League Game Balls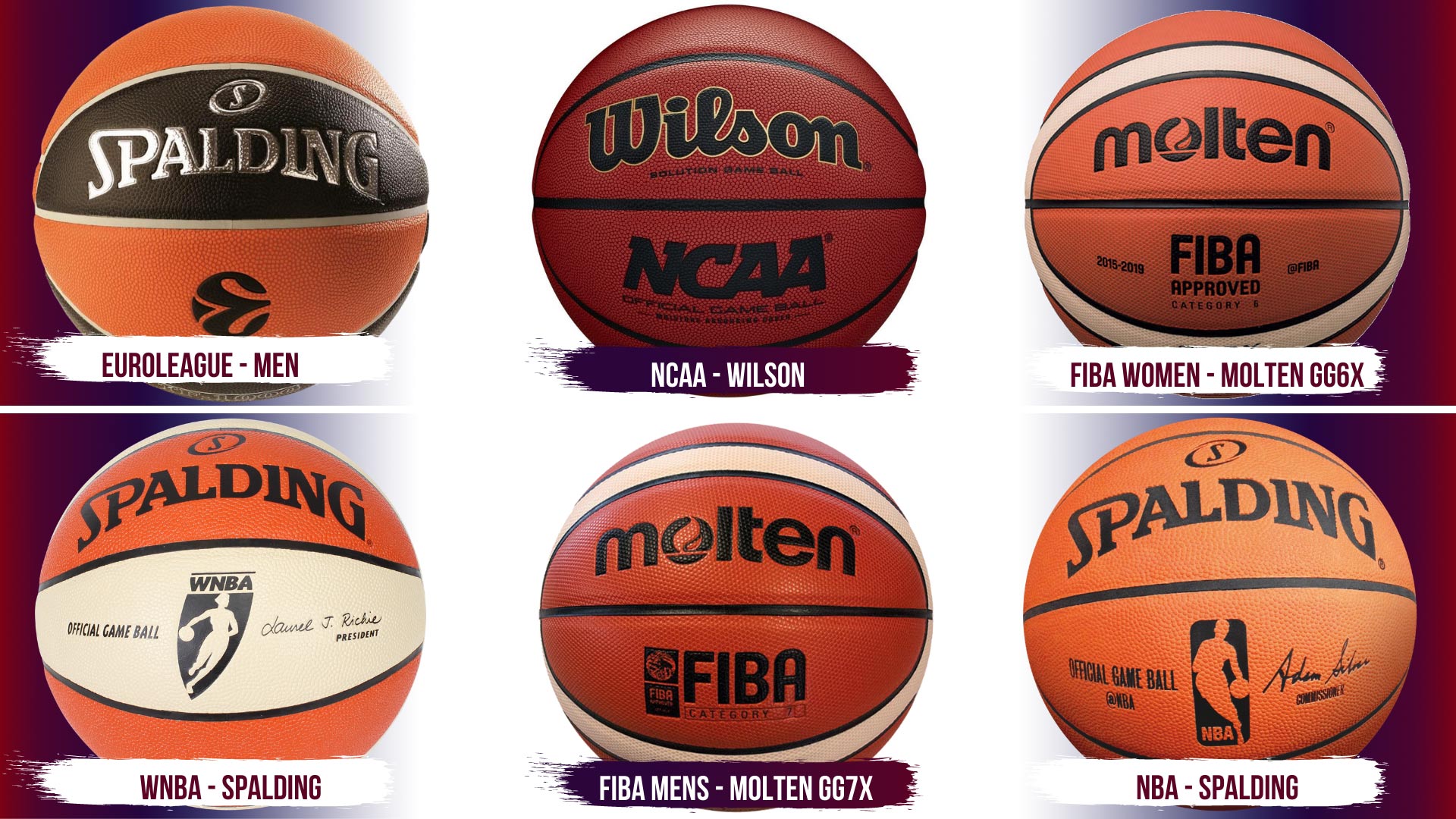 Game Balls FIBA, NBA, WNBA, NCAA & Euroleague image EuroProBasket
In the Nba there was one ball that dominated the entire league for 30 years. That recently changed with Wilson being the new provider of official game balls for the NBA, WNBA and the NBA G League.
In Europe the basketballs vary greatly depending on the league.
There is a common ball used by most Fiba regulated leagues for both men and women. They depend on the level of competition as some youth competitions are played outdoors.
Fiba's top tier or Level 1 competitions use the Molton GG7X and Molten GL7X on the men's side and Molten GG6X and GL6X. Men's balls are labeled as a size 7 and women's as size 6.
The Euroleague has their sponsored ball; the Spalding Euroleague TF1000 Legacy. The women's Euroleague uses the Molten GL6X.
The NCAA uses the Wilson NCAA Official Game Basketball.
The WNBA uses the Spalding WNBA Official Game Ball.
The Spanish Acb or Liga Endesa uses the Spalding ACB Liga Endesa TF1000 Legacy, which is identical to the Euroleague.
Time-Outs
Only coaches can call timeouts in Europe. You will see many Americans playing their first years in Europe calling timeouts when fighting for the ball on the court or falling out of bounds in possession of the ball. It is a costly mistake so we would like to clarify this rule here.
Fiba rules permit coaches 2 timeouts in the first half and 3 in the second half, but only 2 in the last two minutes of the fourth period. 1 timeout per overtime period. All timeouts are 60 seconds and they are never carried over.
NBA and WNBA rules allow 7 regular timeouts with 2 per overtime quarter. There are 20, 60 and 100 second timeouts with the second 20 second timeout carried over to the overtime. Players are allowed to request timeouts as well as coaches. There are a few other regulations for NBA and WNBA timeouts but we won't get into those for this article.
NCAA rules allow players to call timeouts similar to the NBA and WNBA. There are two different systems for timeouts and they have to do with televised games and un-televised games. For games that are not being broadcast each team is allowed Four-75 second timeouts and Two-30 second timeouts.
Jump Ball and Alternating Possession
All leagues around the world use the jump ball to start the game.
In Fiba the team that loses the initial jump ball gets the possession for the next jump ball situation. The possession alternates between each team on each jump ball situation.
The NBA gives the team that lost the initial jump ball possession to start the second and fourth quarters. The team that one the initial jump ball receives the ball at the beginning of the third quarter. All remaining jump ball situations are played as an actual jump ball on either side of the court, including the center.
3. Grassroots Basketball and Coaches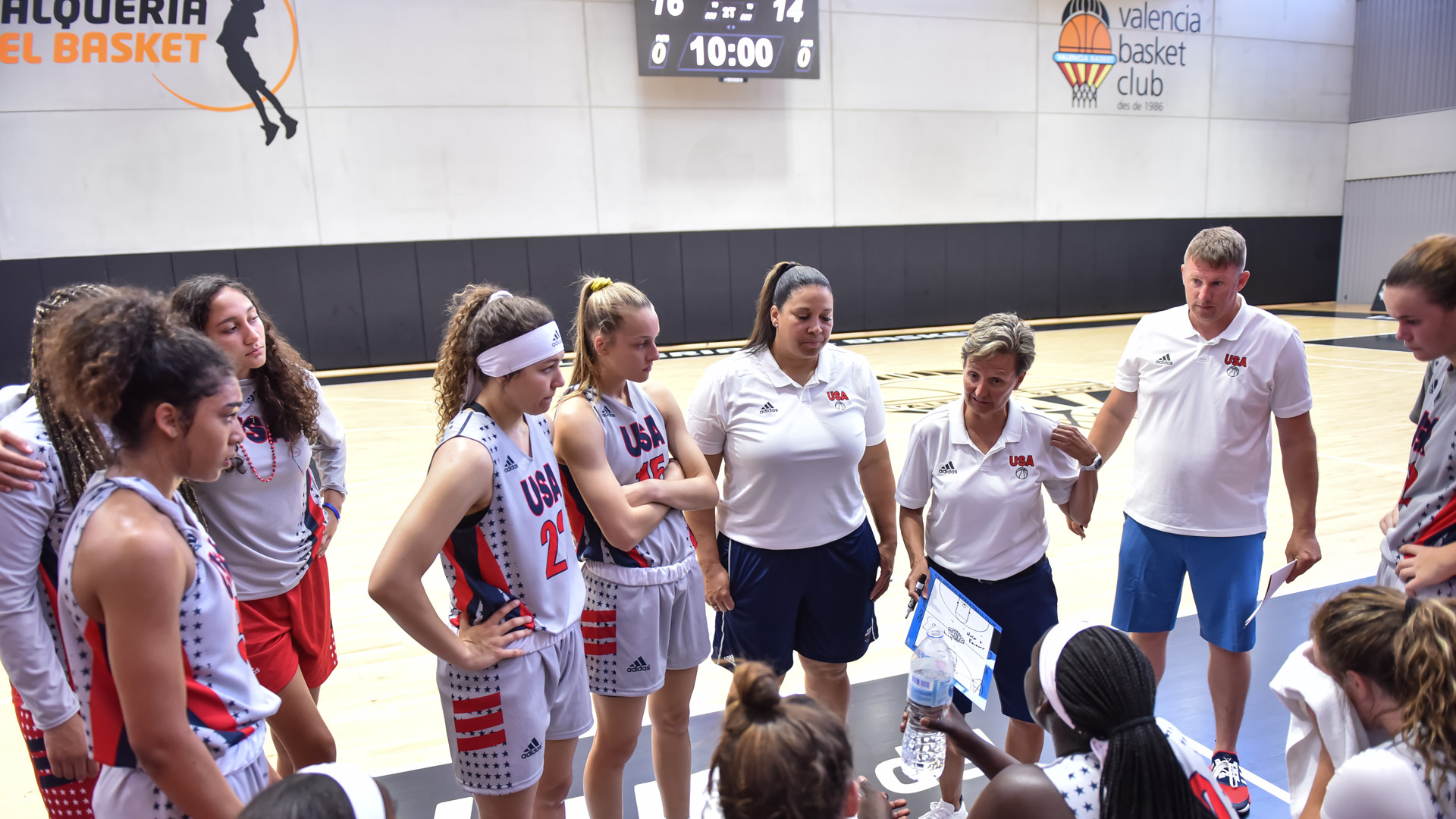 Grassroots basketball and coaches image by EuroProBasket
Grassroots basketball in America has it's critics to say the least. Two important basketball people come to mind when thinking about Grassroots basketball in America vs the European basketball system.
This section isn't a knock on youth basketball in the USA in general, but it should be a wake-up call for decision makers at the youth level.
Kobe Bryant on AAU Grassroots Basketball
"I just think European players are just way more skillful, They are just taught the game the right way at an early age. … They're more skillful. It's something we really have to fix. We really have to address that. We have to teach our kids to play the right way."
"AAU basketball," Bryant said. "Horrible, terrible AAU basketball. It's stupid. It doesn't teach our kids how to play the game at all so you wind up having players that are big and they bring it up and they do all this fancy crap and they don't know how to post. They don't know the fundamentals of the game. It's stupid."
"When you have limitations and you understand your limitations and you stay within yourself, you can be great," Kobe Bryant said. "You know what you can do and what you can't do. In America, it's a big problem for us because we're not teaching players how to play all-around basketball. That's why you have Pau and Marc [Gasol], and that's the reason why 90 percent of the Spurs' roster is European players, because they have more skill."
"Teach players the game at an early age and stop treating them like cash cows for everyone to profit off of," he said. "That's how you do that. You have to teach them the game. Give them instruction."
This quote was taken from an article done by Arash Markazi for ESPN
Mark Cuban on American AAU System
"If you look at the basketball education of kids starting at 11-years old in Europe and particularly Slovenia which is basketball oriented. If we took our best kids and seven years before they are McDonald's All-American, we sent them over to Slovenia to get an education, the league would be a thousand times better. They just learn how to play basketball, while our guys learn how to taunt and put together mixtapes."
Article by Geroge Efkarpides from Eurohoops.net
American Grassroots Basketball vs European Club Basketball
Brad Kanis
"You cannot speak about basketball in a region without discussing the grassroots and how that affects the level and style of basketball. I personally believe the grassroots system in Europe is superior to the American style due to these five concepts:
1) Coaches in Europe need a certification to coach any age of player.
2) Every coach is trained and certified by the same book/federation, and know what should be taught to players in each age group
3) Clubs have Sports Directors which oversea each coach and monitor the improvement of the players and the work of the coaches
4) The clubs (president, board members, sports directors) consciously select the coaches and trainers that work with their teams, and will replace them if they see fit
5) Youth players compete with players their own age as well as with players and teams at the professional levels. Example: Luca Doncic played with Real Madrid's second team as well as the 1st team his first two years in Spain.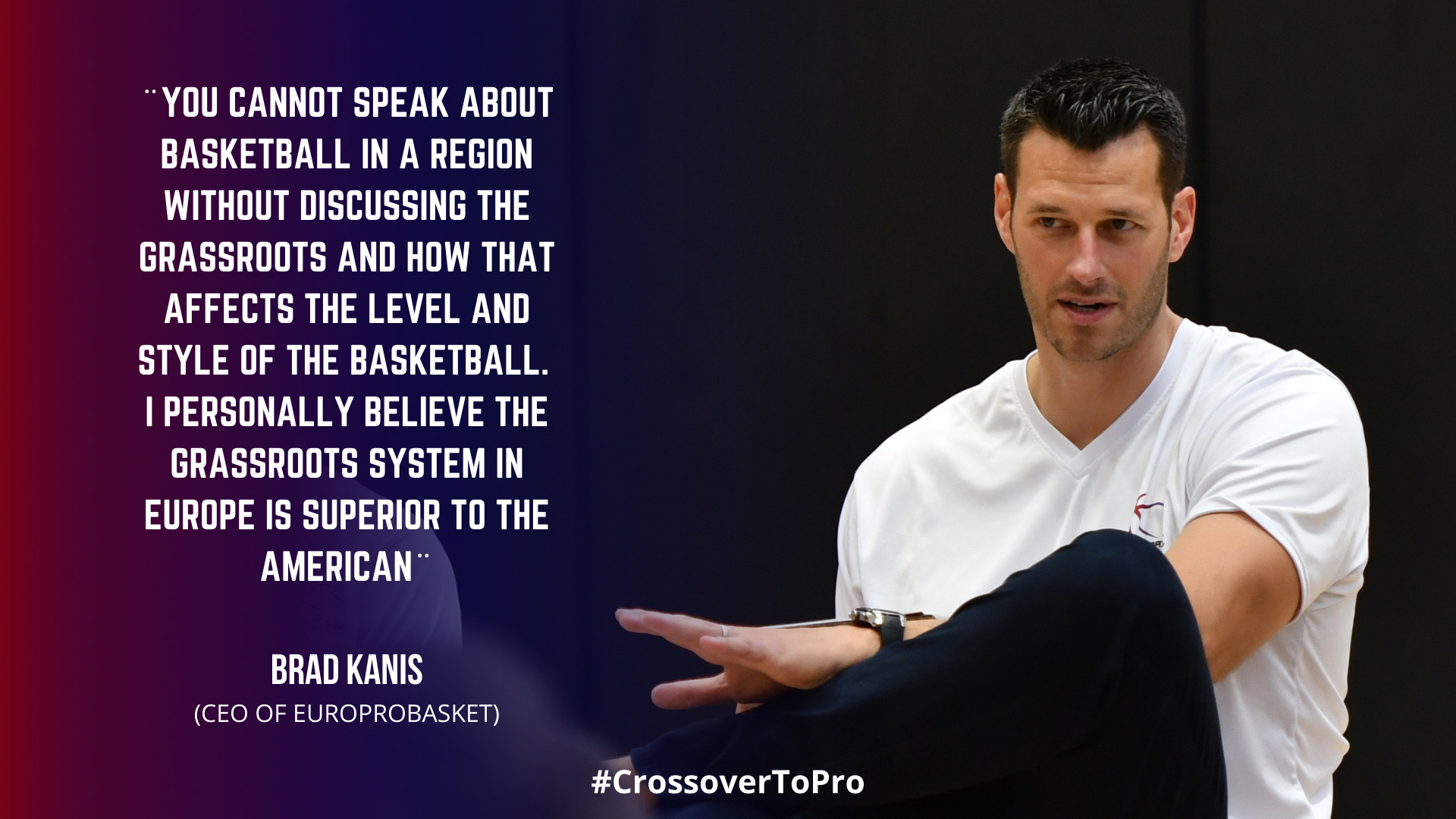 When I was a young player, I was lucky to have a father that played basketball growing up. He also played college ball, so the basic knowledge of basketball was there to teach me and my older brother.
He was also our coach growing up in all the teams we played for until middle school. We were the lucky ones though as many young players are coached by someone's father or uncle, who bless his soul, is coaching out of necessity or lack of a better option.
There is a massive lack of knowledge and experience in grassroots basketball in the USA. If you are a young player and switch between various teams or clubs, chances are you will be missing fundamentals that should have been taught to you at a young age. A lack of structure and certification in the grassroots of USA basketball allows anybody to be a coach.
This does not happen in Europe.
Every coach is certified so it does not matter what team you play for at what age. You will be taught the fundamentals of individual and team basketball. Even if you move to various clubs throughout your childhood.
If your coach is not a good fit for the team and there are poor results, he will be replaced. The Sports Director of the club selects the coaches and monitors their performance. Said sports director is usually a very experienced coach and or former player.
For example, in Spain there are three main certifications. Each takes about a year to obtain and requires essays, exams, clinics and even experience coaching a team. To finish all three and acquire your professional coaching certification is basically the equivalent of a bachelor's degree in basketball."
One of the main bonuses to growing up and playing in Europe, say around the ages of 14-18, is that you will be playing on multiple teams in your club. Players will practice and play games with players their own age, where they will gain confidence and excel. Then they can also play with teams in ages above them where they will be tested and bang with adult professional players. A 16-18 year old can potentially practice and play games on three different teams in three very different levels, gaining experience and confidence."
4. Environment & Facilities
Thomas Roijakkers
"This can be one of the most challenging situations for players. This goes especially for players/rookies who leave their country for the first time, not counting that 3 week holiday you once had. When you go to a different country or continent expect many things to be different! Some of the differences could include: language, time difference, mentality of the people, weather, food, and the kind of shops and restaurants there are. Two things to remember… 1. Know that you are in their country, meaning you are the one who has to adjust. 2. Remember different is just different, not better or worse, it's just different. If you have a growth mindset and embrace the opportunity to learn / see something new it can be a great experience.
Since I have been in the USA many times, I know the facilities you are used to are great. Big difference is that gyms in European countries are mostly owned by the government and are being used as multifunctional facilities and are rented out to schools and clubs. That means you will probably not have your own locker room, you will see different lines on the court (other sports), and a lot of times gym time can be limited, especially during the day. I would advise you to focus on what is there and make the most out of what facilities and time you have. Of course the higher level you play at, the better the facilities will be."
Europe's Best Basketball Facilities
There are exceptions when it comes to basketball facilities in Europe. Take L'Alqueria del Basket, Europe's largest and most advanced basketball training facilities, also home of EuroProBasket International Academy. Here's what NBA and NCAA legend Rick Pitino had to say about the facilities, don't worry, it's in English:
5. European Club System vs American University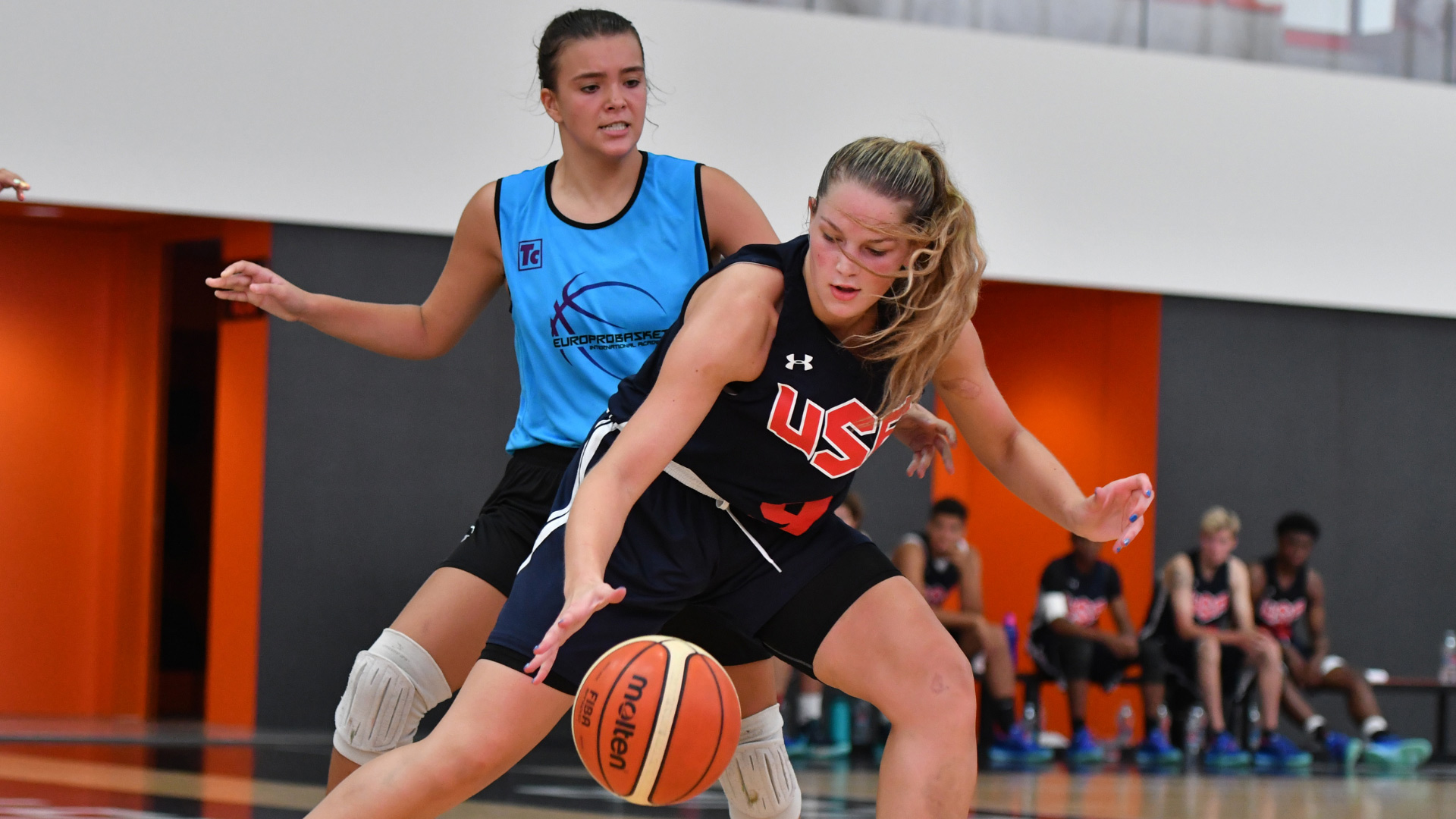 European Club vs American University System image by EuroProBasket
Brad Kanis
"I believe the University system in the USA is excellent for the development of players.
The coaches are some of the best in the World, and there is not just one or two per team. There are offensive coordinators, defensive coordinators, player personnel, player development, scouting, recruiting… the list goes on. Regarding many NCAA D1 programs, there can be 7-10 different staff members.
The strength and conditioning coaches are brutal. In the best way. They test you in every way. Every day is a struggle to get through workouts. Your toughness and character are tested and evaluated daily.
High level collegiate basketball will most likely be the most difficult training you have ever experienced. It makes players stronger and tests their limits. University basketball is probably the main reason many American players have great work ethics.
The resources that University players receive are better than most professional European clubs. Even with some organizations at the DII or DIII level. The trainers, training tables, supplements, recovery equipment…is top of the line and trumps most pro clubs in Europe.
The fans are diehard as well. Most fan's of a specific collegiate team stay with that team their entire life, for all sports in the University. Many of them donate to the booster programs. Arena's are massive reaching 20k+ seats that will fill for each game. Games are broadcast across the country to 300+ million people.
That's not to say that European fans are any less diehard. It's quite the contrary with countries such as Greece and some Eastern European countries ranking at the top for hooligans.
Young players develop with players their own age as well as compete with older players. We touched on this in the previous example talking about Grassroots basketball. It is worth bringing up again."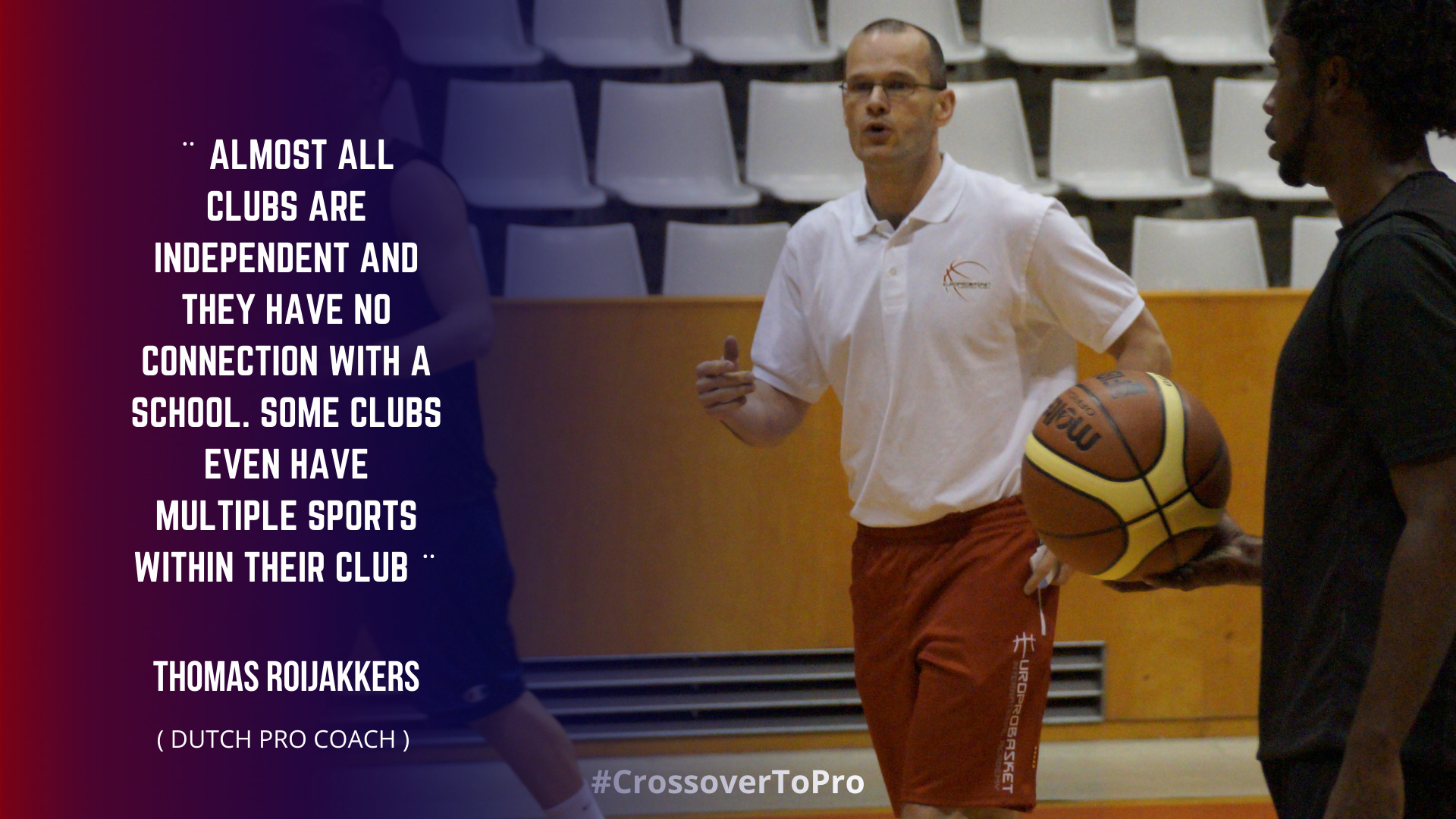 European Club differences image by EuroProBasket
Thomas Roijakkers
"Some teams are full professional and some teams are semi-professional. That means when you are on a semi-professional team your teammates could be going to school or working during the day. You might be, together with another foreign player, the only professional(s) on the team. Even though the team might be semi-professional, they still expect you to be a professional! Almost all clubs are independent and they have no connection with a school. Some clubs even have multiple sports within their club."
6. Season Schedule
Thomas Roijakkers
"A big difference is the length of the season. Many teams will start their pre-season in August and depending on the league and how far your team will get, you can go as long as the month June.
Some of the leagues are "open" leagues. Meaning that top teams can move up to a higher league the next season, and the bottom teams can move down to a lower division.
This makes the competition very interesting, however can also cause a lot of stress with clubs who do not perform well. Therefore every game is important and also winning the tie breaker is key for the rankings at the end of the season.
Coming back to being a good professional, if your team is not performing well, but you are being a good professional, you can understand that the decision to keep you is much easier than if you were not acting correctly.
My tip for you when you arrive in pre-season: get in good shape and do not use the pre-season to get into shape!"
7. Player characteristics
Brad Kanis
"American players: They can be categorized as strong, athletic, hard-working, and individually focused. Individualism comes from the way Americans are raised. When you are a baby, you most likely had your own room and slept in it the day you came home from the hospital. At 18 you are usually pushed out of the house to college or to work. Individualism is celebrated. Coaches in the US have been known to favor star or franchise players. Many serious American players will train all summer without taking long vacations.
European players: High IQ, technical and team oriented. Europeans are very family oriented. Individualism is not praised like it is in the USA. Team performance comes before individual performance. Many Europeans attend college while living with their parents. They live with their parents into their mid to late 20's without any social pressure to move out on their own. Europeans typically take full advantage of vacations. Many professional players will take weeks off in the summer."
8. Responsibilities besides the game of basketball
Thomas Roijakkers
"Depending on the club you play for, you might have to do some extra things besides playing basketball. Some clubs will have you run practices with a youth team and coach their games. Other clubs might have you do clinics at a school and some might have you do both. It is a great way to give back to the community and for those to want to go into coaching after their playing career it is a chance to see what coaching is all about. I hope I gave you some useful insights on the differences in playing basketball in Europe and playing in college. Hopefully this will help you to prepare better and have a great career. Wish you all the best.
In college your focus is on school and basketball, and you do not get paid. When you are a professional your only focus is basketball. You get paid and that comes with certain responsibilities.
You have to be a lot more independent. In college you have A LOT more people on staff (coaches, managers, trainers, D.O.B. etc. etc.). Players get help and they are being monitored in a lot of areas. Professional teams have less staff and coaches expect you get a lot of more things done by yourself. This does not mean you have to figure out everything by yourself and that you will not be supported, but now since you are being paid, teams expect a certain level of independence. Like in a regular job, the employer isn't going to "chase" and check up on his employer all the time to see if he is doing his job.
Learn how to be a good professional. You might have played 4 years in college, but you still need to learn how to be a good professional. Take this seriously, because this can be the difference between you getting or not getting a job. Some of the things a good professional will do are: fitting into the style of play, having a good lifestyle that supports your profession, showing good behavior towards staff, team mates and other club members and being a good example to the youth players of the club."