Sean Mcdonnell finished his collegiate career in 2017 playing at Westmont College in NAIA and advanced to LEB Oro, 2nd Division Spain, in 2020. We caught up with the former Europrobasket player and learned his method to being a consistent player in Europe. His beginnings were not too much different from most players as he played JUCO and NAIA. His motivation and constant effort is what got him to where he is now and will continue to propel him through the top leagues in Europe. Read on to learn how you too can make it to the top leagues overseas no matter your playing experience.
When did you start playing basketball?
I started playing basketball when I was 4 or 5 years old. My dad played and was a huge fan and he put the ball in my hand.
Who were your role models growing up? What kind of knowledge did they pass on to you to make you the player you are today?
My parents were huge role models for me growing up. They instilled a belief in me that I could do anything as long as I worked hard and believed in myself and I've taken that with me through life and for sure in my career. Also Kobe was a massive influence on me being from Southern California and his mentality always helped me push myself to strive for more and work like him. It's why I still wear #24 to this day.
Where did you play college basketball? How was your experience in college?
I played one year of community college at Big Bend CC and then 3 years of NAIA Div 1 at Westmont College in Santa Barbara, CA. It was interesting for sure, I came from being a 30 ppg wing/guard scorer in high school to playing center in college because of how tall I was. The adjustment to being coached that hard, attention to detail and position change were definitely challenging but I think overall it made it a much better person and player.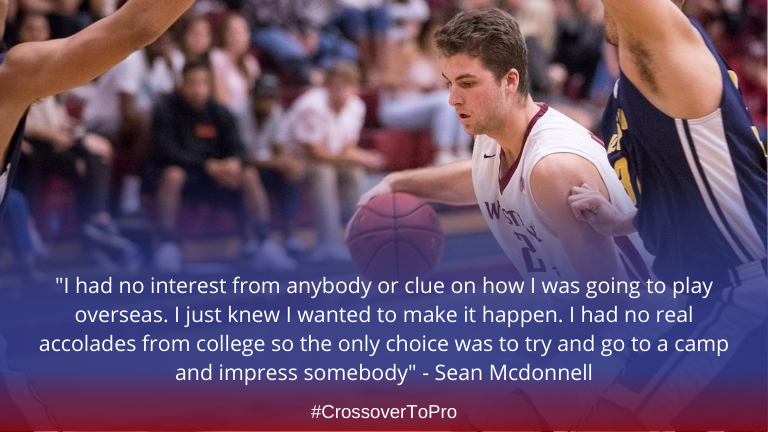 Did you receive interest from agents after college? Did you attend any camps or showcases?
I had no interest from anybody or clue on how I was going to play overseas. I just knew I wanted to make it happen. I had no real accolades from college so the only choice was to try and go to a camp and impress somebody. I did try to go to one camp in America and nothing came from it, just an empty gym with a camera.
What made you decide to attend Europrobasket?
I came to Europrobasket with a college teammate (Cory Blau) who had heard about it from a family friend. I figured it would give me the best shot to be seen to actually be in Europe (per Europrobasket: Sean Mcdonnell attended Europrobasket with former teammate at Westmont and friend Cory Blau. Both were offered to teams in Europe as a package and both signed with the same team in Spain)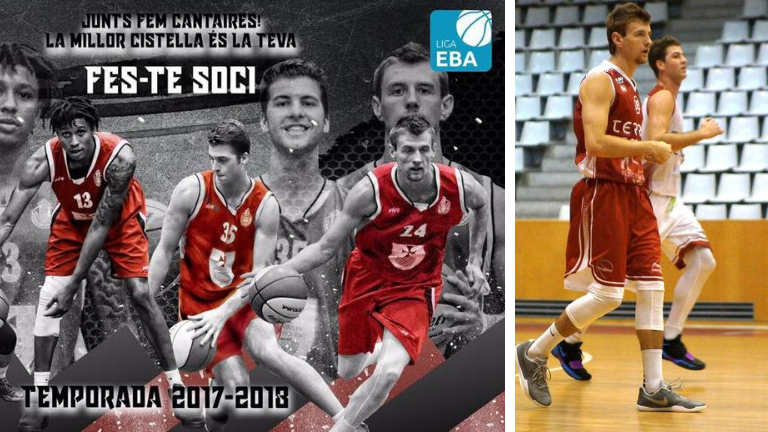 How was your experience in the academy? Was it worth the investment?
My experience at the camp was amazing. All the guys there were awesome and Brad and his crew run a super professional, honest and inviting environment. Not only that but you can actually look up and see 15-20 coaches, GM's and presidents in the stands.
What was the process to receive your first opportunity to play in Spain?
I attended the summer league at EuroPro and I believe after our second game Brad came to my room and said 2 teams want to talk to you and offer you. So he brought me down to the lobby of the hotel and I actually got to sit and talk with real professional staff face to face. From there I was able to talk with the Europro staff and make the best decision.
How was your first experience playing overseas? Was it what you expected?
My first experience overseas was definitely what I expected it to be. I knew because I didn't come from a big school with big numbers I was going to have to start at a low level and prove myself. It wasnt much but it was the opportunity I needed. I tell guys all the time unwillingness to play anywhere will keep you from an opportunity. You cant expect a lot to start when youre taking this route but you can work your way up to a really nice level and lifestyle and I think I'm proof of that.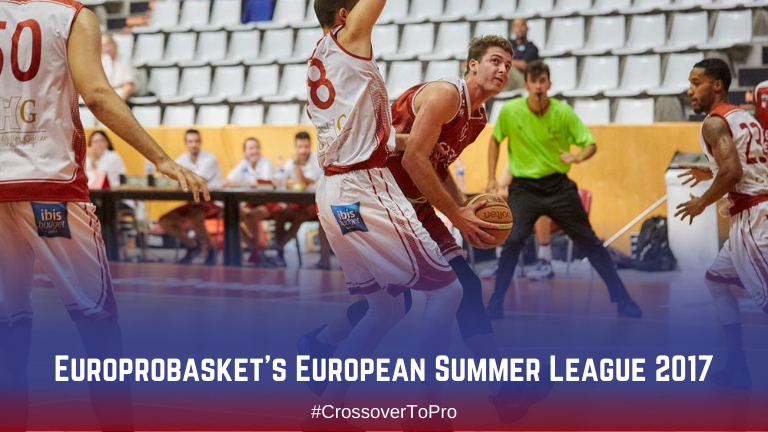 What adjustments did you have to make to live abroad?
Honestly I had traveled abroad a lot as a kid so I was fairly accustomed to the European lifestyle and culture. Obviously food is a bit of a change at first, being away from your family is hard but besides that as long as you keep the goal in mind there shouldn't be too much of an adjustment. Just know its going to be different and immerse yourself in the town.
How did you receive your second opportunity the following season?
So I decided to attempt to go the G league route and I got invited to some workouts with a few NBA teams, after nothing came from that I contacted Brad and his team about a week before the season started in Europe and he was able to find me a great situation on such short notice. He didn't charge me anything or ask for anything he simply wanted to help. Europrobasket got me my first two contracts in Spain in consecutive years.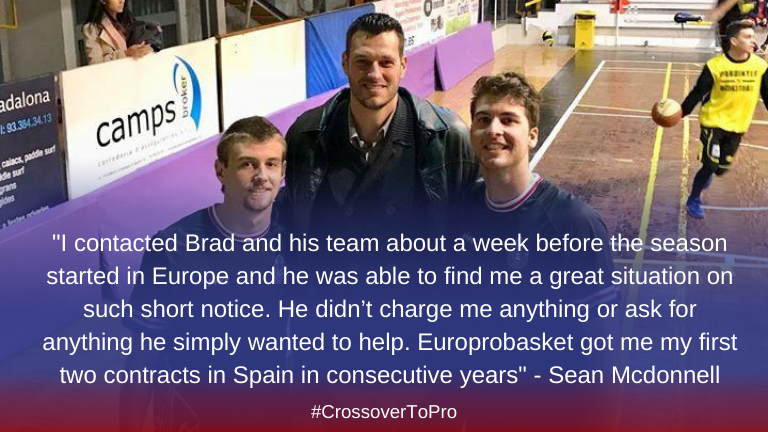 How was the experience different from your first season in Spain?
The team I ended up with that year had more experience running a professional team so things were a little smoother. We practiced twice a day but in turn were fed more, paid more etc. We ended up having an awesome group that year and won the championship in the EBA (4th div) which helped promote the team to Leb Plata (3rd div). It was an amazing experience.
What was the competition like in Liga Eba? What level/experience do the import players have?
The level in EBA is a good mix, you have a lot of veteran Spanish players mixed with a bunch of young and hungry ones. The imports were mostly from NCAA D1 schools and then you have some from D2's and NAIA's. The level of the imports is really high in EBA as its sort of a proving ground for Spain.
Have you started learning Spanish?
I have been continuing to learn Spanish, every year I've picked up more and more. Now teams will only let me do my interview in Spanish so I must be okay
You lead your team to a championship which moved them up a division to Leb Silver. What did that feel like? What obstacles did you have to overcome personally and as a team?
Honestly that was the highlight of my basketball career and still is. The feeling of winning in Europe is indescribable, we had the support of a whole town. It was vindication for the journey that far in Spain. For me personally that was an up and down year because I had turned down some deals in Europe to pursue the G league here in America so going back to EBA wasn't very appealing to me at first. But winning wiped that all away and it was a sign that I was headed in the right direction even though I had to spend two years in the same division. I cant say enough about that group of guys, truthfully everyone bought into their roles and we had very minimal issues. It really was a special group.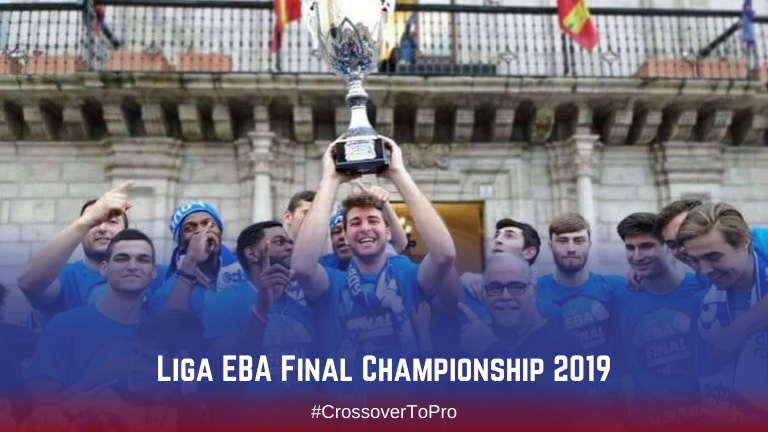 How was playing in Leb Silver different from Liga EBA?
The level obviously jumps up a bit, guys are bigger, faster, stronger at every position. I was lucky enough to have a huge role on my team so for me the transition wasn't that crazy because the ball was in my hands but definitely a noticeable change in level. There are no weak links on the floor at that point. And then of course the gyms are bigger and nicer, gear is better, apartment is better, more money, better travel, all of that comes with it.
What is the competition like in Leb Silver? What level do the American players have?
In silver the Americans are pretty exclusively from D1 schools and a lot of them from pretty big ones. We had guys from the Big Ten, Mountain West, ACC, Ivy league. So now you're talking about guys who came from big schools and had really nice careers. And as far as the European guys, a lot of them play for their national teams and have experience in higher leagues.
You have improved every season. Each year with a higher level of competition. How do you prepare yourself mentally and physically to keep improving?
Mentally its just reminding myself what got me here. Having a chip on my shoulder and something to prove has taken me a long way. I just try and remain humble and hungry, never satisfied is a good mantra. Physically I try and work smarter now. Taking care of areas in my body that are weak and doing sport specific exercises and also now having the resources to hire people to help with that.
You have been a very consistent player during your time in Spain. Why do you think that is or what do you do to make yourself perform consistently?
I think its just giving that 110% every single day and having confidence in myself. If I had been waiting for someone to give me anything I would have stopped a long time ago, you have to make sure you're leaving it out there every time you touch the floor. When you have confidence in yourself and your work ethic then teams will have confidence to give you the keys basically and let you do your thing. You have to prove that you're that guy first though.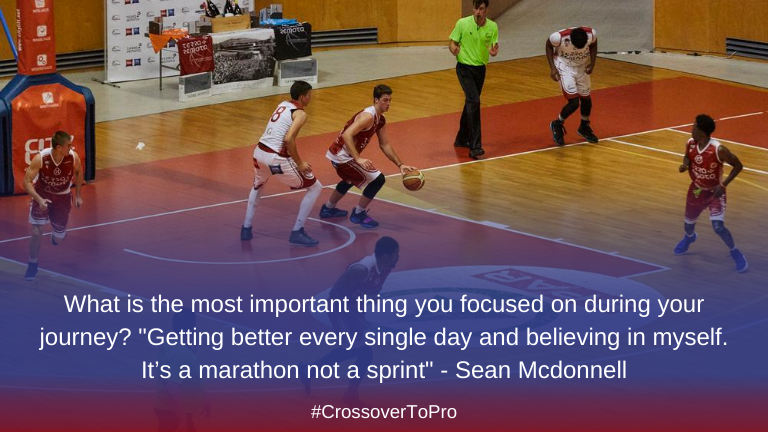 You went from an NAIA College to one of the highest basketball leagues in the World. What is the most important thing you focused on during your journey?
Getting better every single day and believing in myself. It's a marathon not a sprint
What advice would you give to players interested in playing overseas?
First make sure you really, really love the game because its not easy being away from home for so long. Be ready to grind it out at the lower levels. Make sure you're working every single day. And as I've mentioned throughout, you have to believe you can do it!
Read more about his journey in our previous article From NAIA in 2017 to LEB Plata. Here you can find Sean Mcdonnell's official signing press release: Click link.