We're going to explain how to make a basketball resume and why it is important to have one.
What is the first thing a potential future employer asks for when you apply for a job in their organization? A resume. Trust us, it is no different when you apply for a roster position on a professional basketball team.
If you are playing in the NBA and have stats and videos posted all over the web then you probably will not need a resume. Teams can easily access that information if they are offered your services. For everyone else, you will need to either make one yourself or hire someone to make a basketball resume for you
Another option is to make a website with all of your information. A LinkedIn profile or partial bio on a highlight video doesn't count.
Whatever you decide to do, make sure you do it before you pursue your professional career. Having a basketball resume shows you are serious about your career, that you're organized, and you value potential employers' time by giving them easy and quick access to your information.
It is important to remember that you are applying for a job that many other players are applying for as well.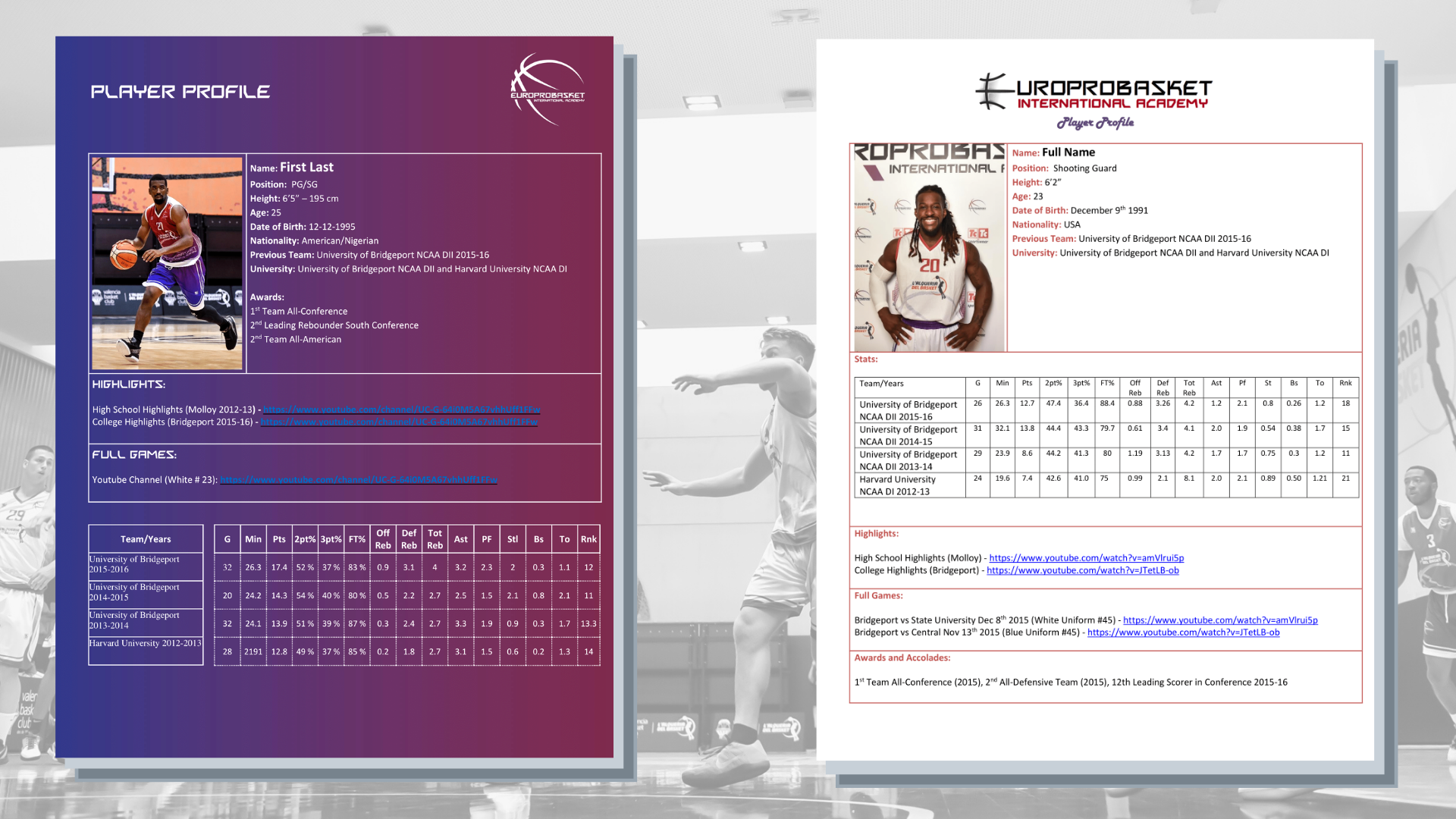 Step 1: Select a Format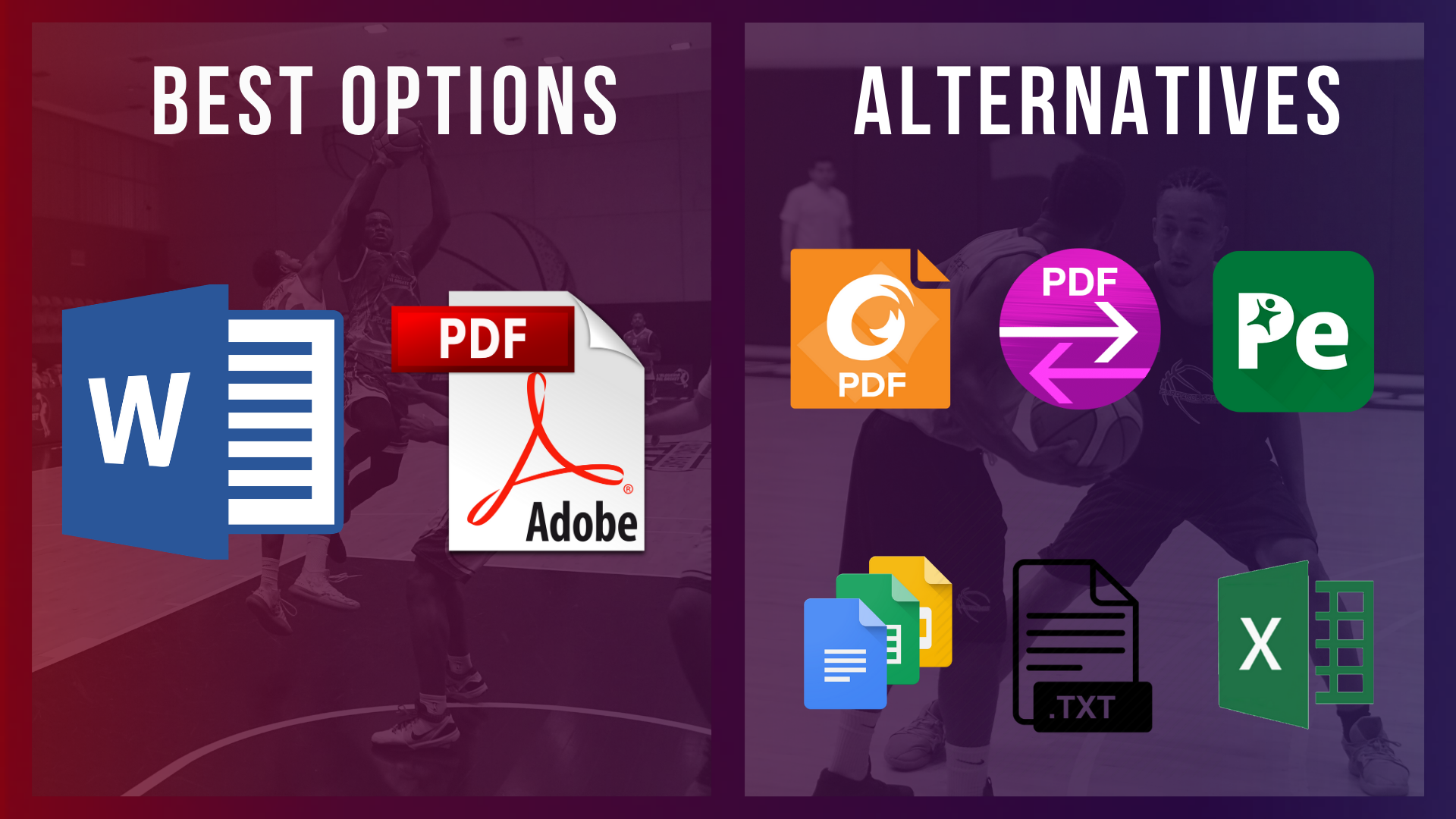 A PDF document is the best option. We typically recommend that players make their resumes, also called player bios or in Europe CV's (short for Curriculum Vitae), using Microsoft Word or a similar program. There are many templates that you can use or you can easily make your own.
The final version should be saved in a pdf form as a PDF Document, as this will keep it's formatting no matter how and where you send it. Keep it saved, as a word or text document, in a safe place so you can easily modify it each year.
Save a copy on your phone or on a cloud platform so that you can quickly send it to someone asking for it, no matter where you are. Opportunities in basketball happen fast and teams typically make quick decisions.
Timing can be the difference between getting interest from a team or missing out on an opportunity. Having your document ready at all times gives you an added advantage.
Step 2: Add Your Personal Information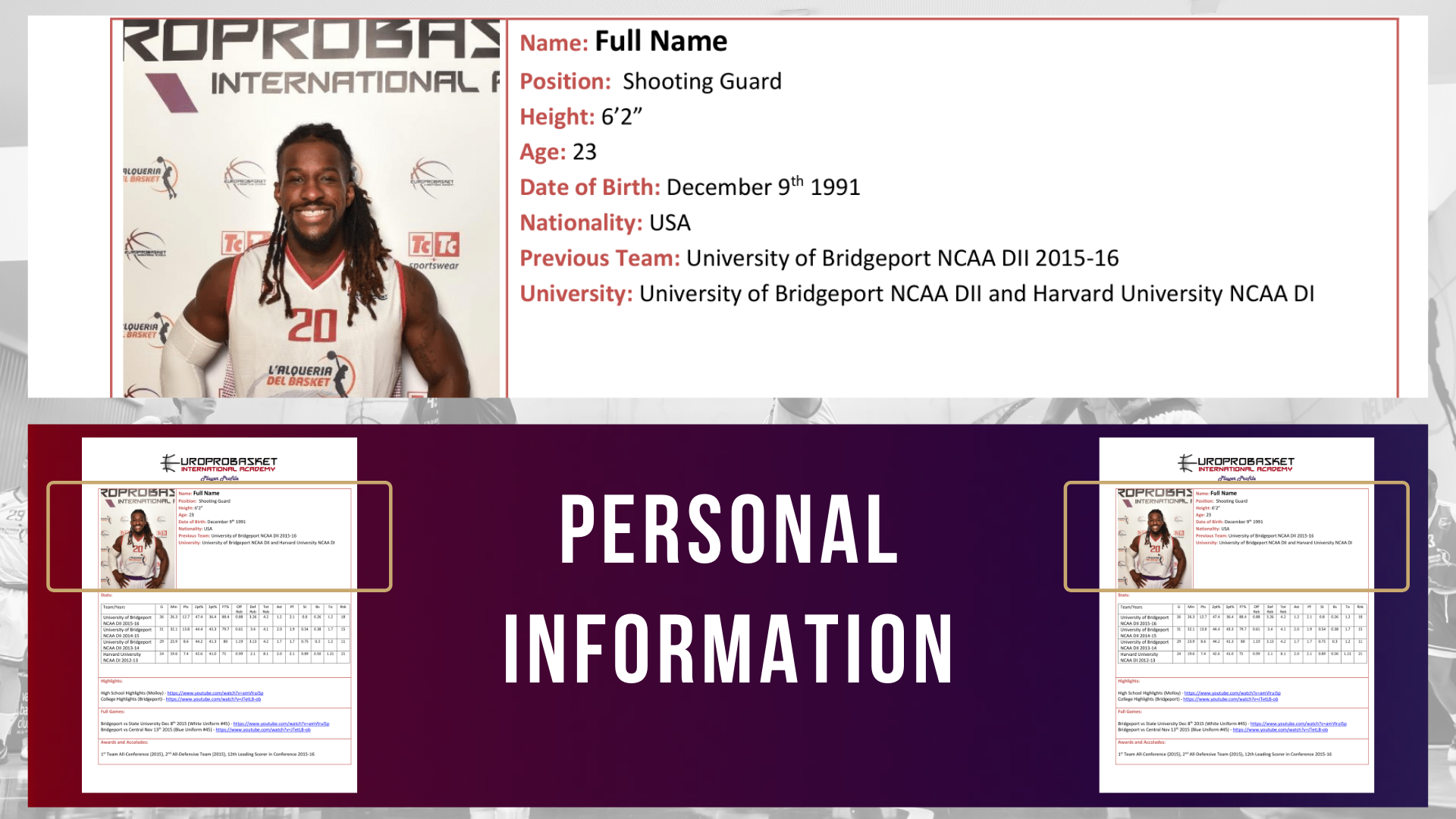 Your name height, birthdate, playing position and nationality should lead the player resume. Coaches and team directors are going to want to know what position you play, your age via your birthdate, height as well as your nationality and what passports you hold.
You can also add the most recent team you played for as well as if you played for a university team.
Other optional additions, but not necessary, could include the airport you would fly out of, where you reside and place of birth.
Many players add their contact information such as email address and phone number. Some agents don't want that information on there as teams may try to reach out to you directly instead of using the agent.
If you are working to promote yourself without an agent then add your contact information. If you are working with an agent or agency you should add the name of the agency and their contact information.
Step 3: Add a Photo of Yourself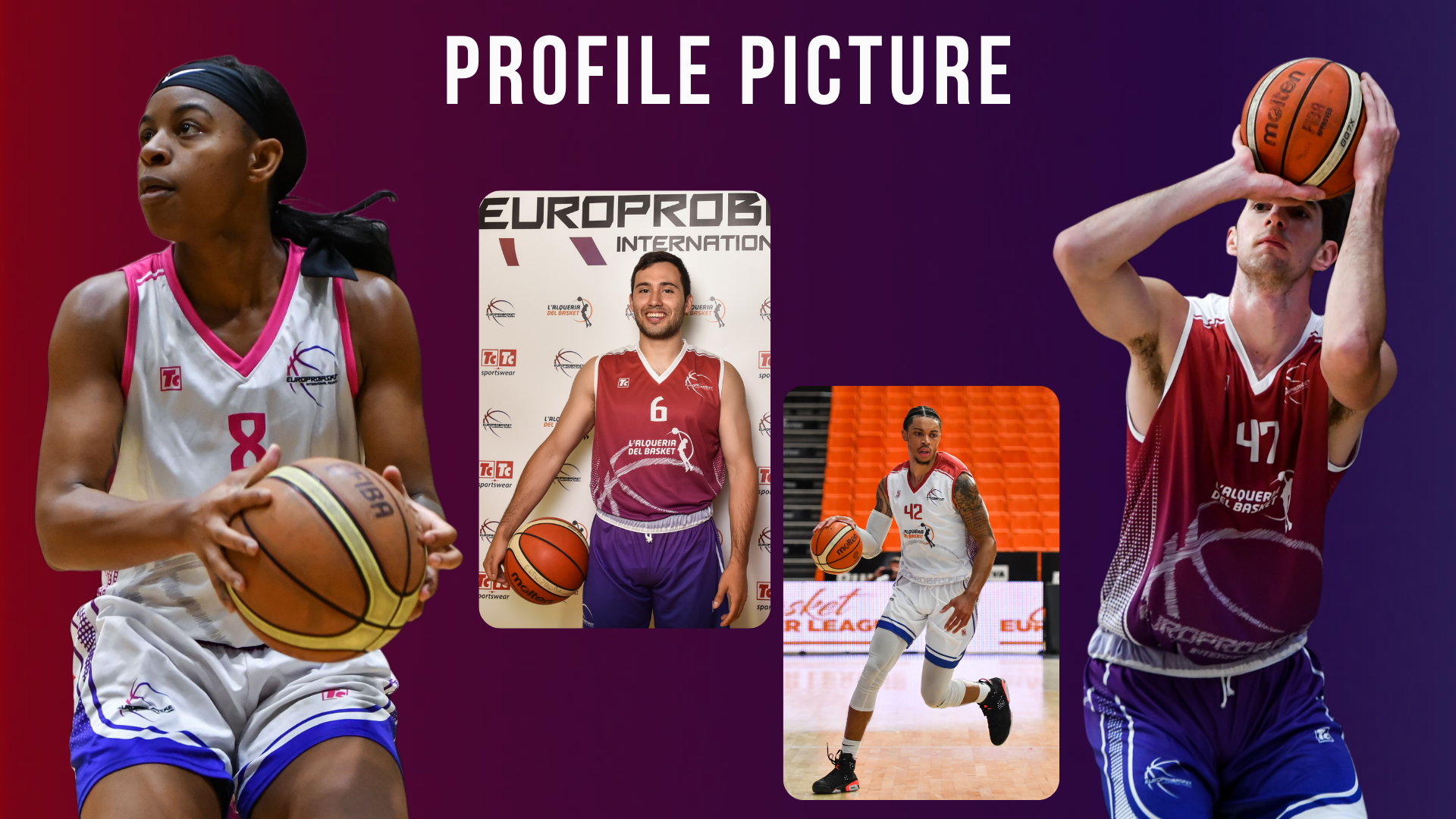 A game picture or one in formal attire. We recommend that you select a photo where you are in a game situation, so that you can show your athleticism and physical condition.
If you do not have an action photo, a picture in formal attire (suit or dress) works fine. If you have attended a University you will most likely have a head shot.
Step 4: Input Your Stats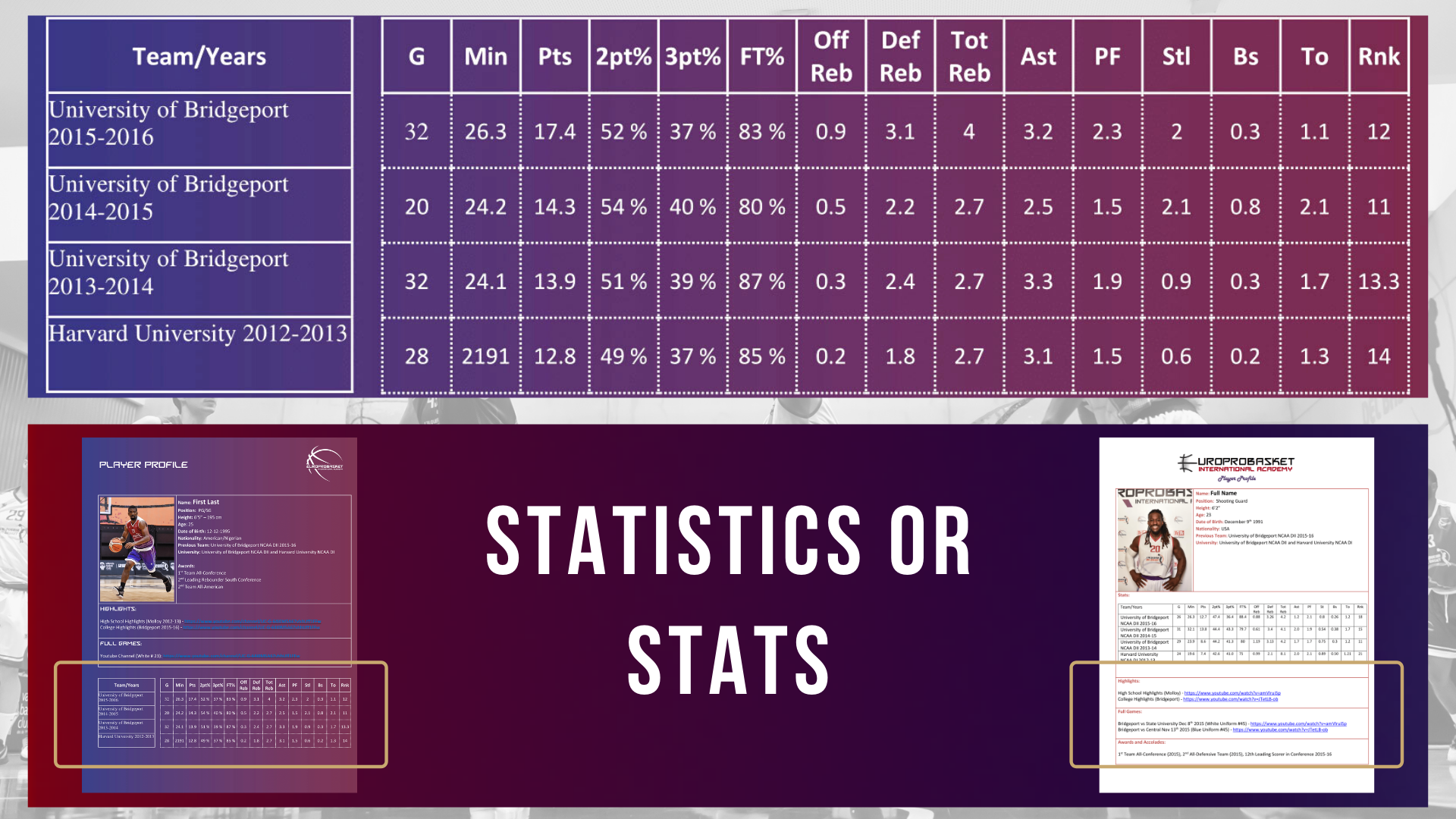 Input all statistics from previous teams. We like to see tables in our players resumes. It keeps things organized and in order. Make sure to put each team name, league or division, and year in the description of your stats.
Be very thorough when inputting your statistical information. Whether it was a good season or not, you need to have all of your information in there.
If you are missing a season in which you have stats for, teams will look at it as a gap in your resume which could make them lose interest in you. Poor stats are better than no stats. At least it shows you were active and playing in a competition.
Be honest and make sure your stats are accurate. At EuroProBasket we have had situations where our players exaggerated their stats and it led to teams not trusting them and ending up not signing them. Keep it real!
Add links to trusted online stat sites like eurobasket.com, realgm.com, your university player bio or federation player profiles to show your trillness.
Step 5: Insert Video Hyperlinks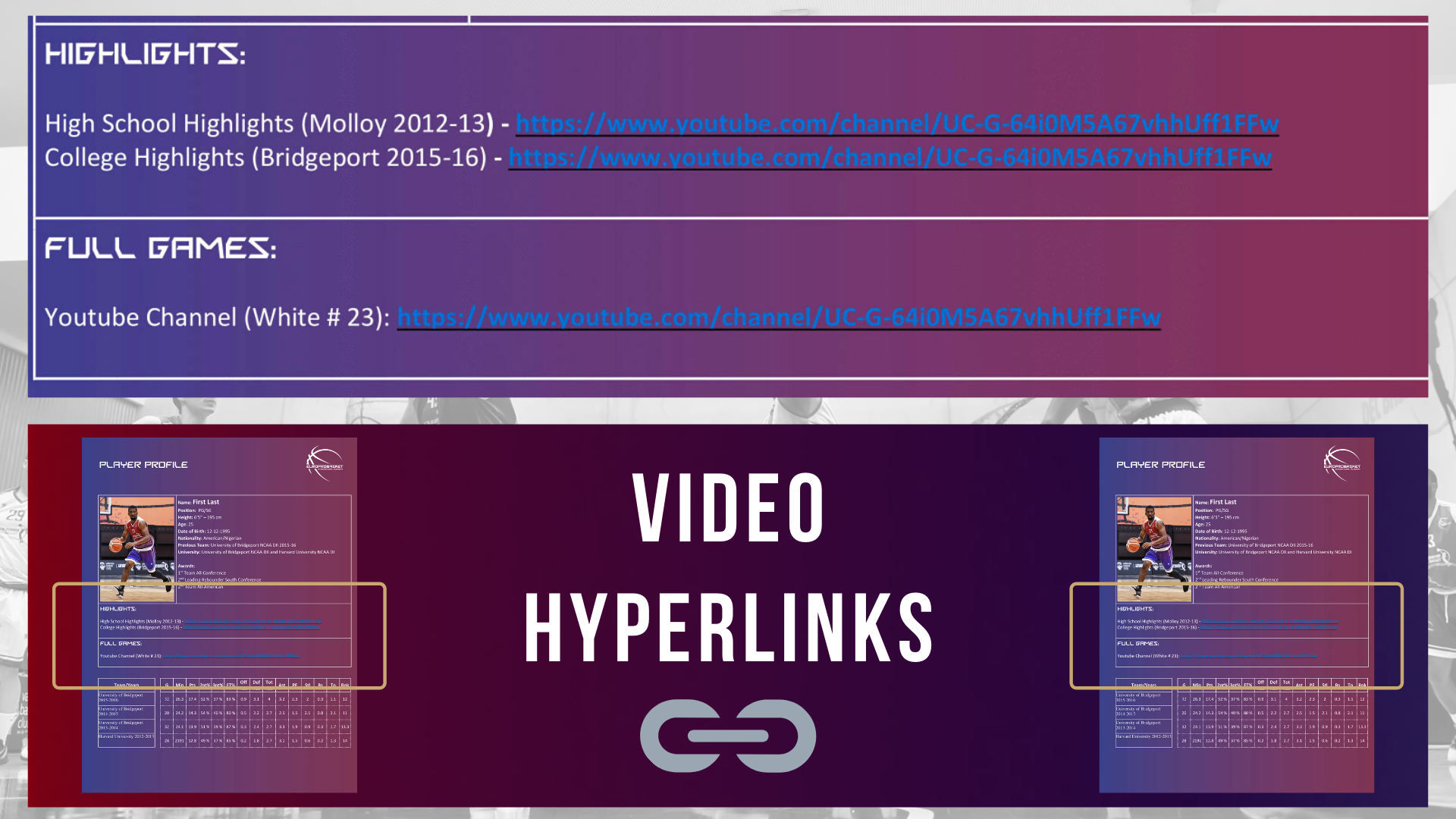 Game film and highlights are crucial to getting professional basketball opportunities and are going to show teams what you can do for them. Make sure all good quality game film and highlights are uploaded to a youtube channel, or other online database, that you have access to change or modify.
Add your name, date and personal information to the title and description so people interested in finding a video about you in a google search have access to it.
We recommend having a highlight made for each season you played, as a type of resumen of your season as well as a promotional tool for future opportunities.
Highlights can only give a brief glimpse into what type of player you are, your athletic ability, shooting form, quickness and other qualities. It will not be the deciding factor on whether you get a contract or not.
Your full game film will be the decision maker for teams interested in you. The quality of this video, or better put the competition in this video, is extremely important. Make sure you have at least two full games, good quality, from the previous season. Game film from two, three or four seasons ago are not useful for teams looking to sign you this season. It needs to be from this past season or even current season.
You'll need to upload it to youtube, add your uniform color and number to the description as well as the team name, league and date the game was played. On your basketball resume, add a short description of each video and the hyperlinks, which are clickable and will take the clicker directly to the video.
This is a very important step, do not forget to add the hyperlinks to your videos.
Coming Soon – We will do another article/video on what game film qualifies as "good enough" for professional teams overseas. Not "whatever" film will be accepted and evaluated. Open gyms, workout videos and most combines will be completely ignored by professional teams. Your game film or video needs to be from a respected competition. Stay tuned for that article/video.
Step 6: Showcase Awards and Accolades
This is a good opportunity to mention all of the accomplishments and accolades you have accomplished throughout your career.
This is the place to add a little swag to your resume. 1st team All-American, 2nd All-Defensive team, Conference Champions, MVP of the league…you did you and now it's time to let everyone else know it! In all seriousness this is all valuable information for scouts, recruiters and decision makers on teams
Things to Remember about making a basketball resume – Do's and Dont's?
Make your information easily accessible
With a pdf that has all of your information, it is very quick and easy for an agent to send your information to teams or coaches that request a player to fill their roster spot. It also makes it easy for the coach of a team to share your information with the decision makers in that team or organization.
In almost all professional teams many people (coach, GM, sports director, board members) come together to make the decision to sign a specific player. Make it easy for them to have access to your information, and share it, so they can make a decision on whether to sign you or not. If your information is scattered in emails and messages things will get lost and you could lose interest from the team.
Hundreds of Applications for One Position
You don't want to make teams go online to search for information about you. Chances are they will after they take interest anyways but the key is to spark some initial interest.
Professional teams evaluate hundreds of players to sign throughout the course of a season. If information about you is difficult to access then they will just move on to the next option.
Don't get overlooked because someone else has their information all in one place and you don't
Clarity is Key – Universal Language
Make your basketball resume in English. It is a universal language that is used all over the globe.
You should be aware that in the case of most overseas basketball teams, English is a second, third or even fourth language. Many coaches or team managers have a low level of English or no level at all.
Descriptions about yourself or comparisons to other NBA players are pretty useless and can just be confusing. Leave those out. Numbers are the most universal part of a language.
You have all heard the phrase "Numbers don't lie". Well, they are also easy to understand for most everyone. Stick to using numbers.
Short and Sweet
Try to keep your basketball resume to just one page. For most people and in most cases, all basketball information should be able to fit on one page. We have seen resumes with upwards of 10 pages! That's way too much to scroll through and very confusing for people looking for a few key things to evaluate you.
Don't add too many photos
One picture is sufficient. If you have space to add more or the design of your resume makes it so you can add more than one picture, then feel free to do so.
Just make sure those pictures are the highest quality you can get and that they are either of you playing basketball in a game situation, practice environment or in some formal attire.
Another thing to remember is that organizations hire positive people that will bring good energy to their team. A picture smiling is worth way more than one mean muggin'.
Basketball Player Resume Examples
Take a look at these various basketball resume examples.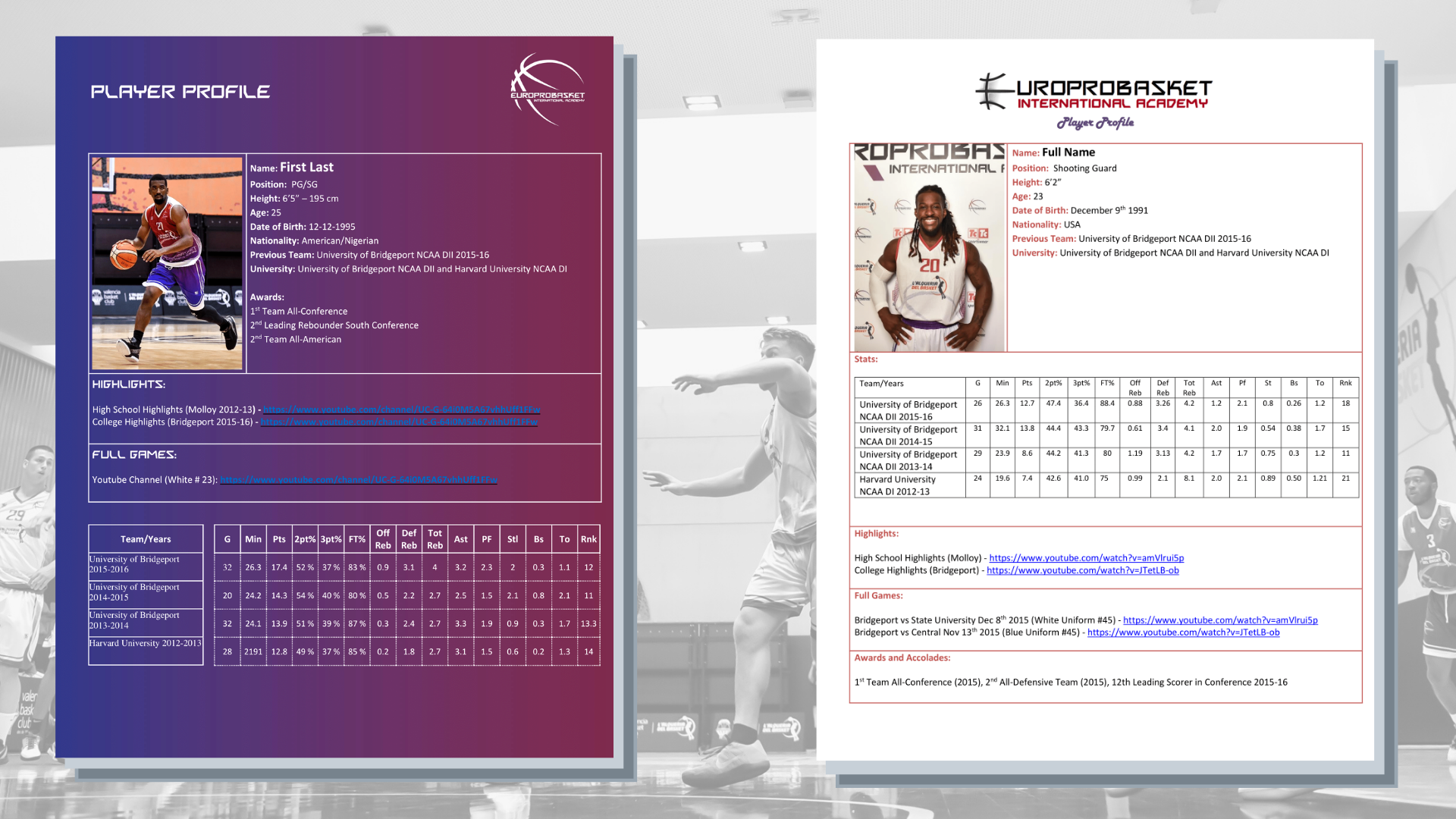 For more information on how to play professional basketball overseas, follow us on instagram, facebook, youtube or twitter. We make articles such as this one and post it on our website weekly. You can find other articles here.