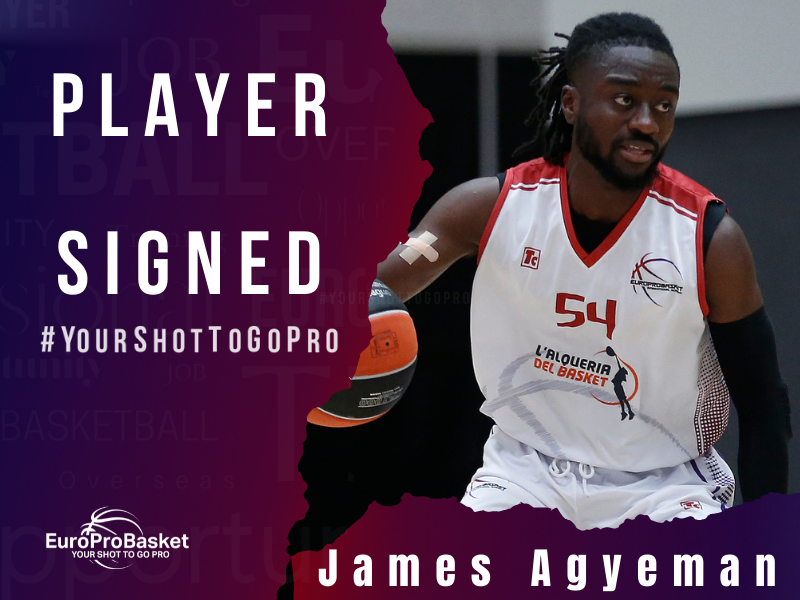 JAMES AGYEMAN
Position: Point Guard
City: Santander, Spain
Year: 2021-22
James Agyeman, 5'10" Canadian/Ghanaian Point Guard from UNBC Canadian USPORTS, signed in Spain's Liga EBA for the 2021-22 season. This will be James' first experience playing basketball overseas. He came to EuroProBasket following a successful collegiate playing career at University of Northern British Columbia which competes in Canada's USPORTS, the top collegiate league in Canada. During his senior season James had solid stats averaging 10.2 points, 4.8 rebounds, 3.2 assists all within 24 mins of playing time.
James attended EuroProBasket's Pre European Summer League program which started in May 2021. During his time in the program he trained with a group of likeminded, focused individuals led by professional European trainers and coaches. During the European Summer league James averaged 11.8 points, while shooting 63% from the 2 and 57% shooting from the 3. This garnered attention from the agents and teams in attendance which led to multiple offers. With multiple options he selected the best offer and will be making his way back to Spain in August.

What James Agyeman had to say about EuroProBasket (via google reviews):

"Playing at EuroProBasket was a great experience for me. The environment was very professional and well organized. I was able to play in one of the best facilities in Europe at L'Aqueria del Basket in Valencia. I was able to connect with agents and coaches that helped me start my professional career. I highly recommend EuroProBasket to any hooper that wants to play professional basketball, because you will get the opportunity to play in front of coaches and agents , who can help you play at the next level. EuroProBasket will prepare you for the next level. Just do your part and be prepared to work hard."

For James' full video review and testimonial check out the video below.
General info
Born: June 25th 1994
Nationality: Canada/Ghana (Cotonou)
Height: 5'10" - 177cm
Previous Team: EuroProBasket's European Summer League 20210
University: University of Northern British Columbia 2016-2019

Previous experience
June 2021: EuroProBasket's European Summer League - 5 Games, 11.8 pts, 3.6 rebs, 63% 2pt, 57% 3pt
2018-19: UNBC USPORTS Canada - 20 Games, 10.2 pts, 4.8 rebs, 3.2 asts, 37.8% 2pt, 24.5% 3pt
2017-18: UNBC USPORTS Canada - 20 Games, 11.2 pts, 4.2 rebs, 3.3 asts, 46.8% 2pt, 48.3% 3pt
2016-17: UNBC USPORTS Canada - 20 Games, 7.5 pts, 3.6 rebs, 4.2 asts, 38.8% 2pt, 20% 3pt

Video Highlight