Playing professional basketball in Europe is a goal many players around the globe want to accomplish. Regardless of your playing background and experience, the first thing you need to understand is what coaches will be expecting from you and their thought process when recruiting talent in non european players.
This will be the first article of a series on which we are going to go deeper into the specifics of what professional european coaches look for when signing an import player. Obviously, not all positions are the same, and each role from 1 to 5 will require distinct abilities which we will cover thoroughly. We will discuss all you need to know about what professional european coaches seek in Point Guards, Shooting Guards, Small Forwards, Power Forwards and Centers, and, since a lot of players from the US pursue opportunities in Europe, we will go over the main differences between american and european basketball.
For these articles we have had the collaboration of coaches: Manuel Póvea (Araberri Basket Club, Spanish LEB ORO), Markus Röwenstrunk (Dragons Rhondorf, ProB Germany), Nikolai Gospodinov (Bulgaria National Team Assistant Coach), Pascal Meurs (Sparta Bertrange, Luxembourg 1st Division) & Thomas Roijakkers (Spirou Charleroi assistant coach, Belgium 1st Division). They go through the process of recruiting and signing overseas talent constantly, and they have numerous years of experience dealing with players from all over the world. Their knowledge is something you should consider very highly.
On the very first edition, and before we dive into specific requirements by role, we want to give you a guide of what abilities you need to have, regardless of your position on the court.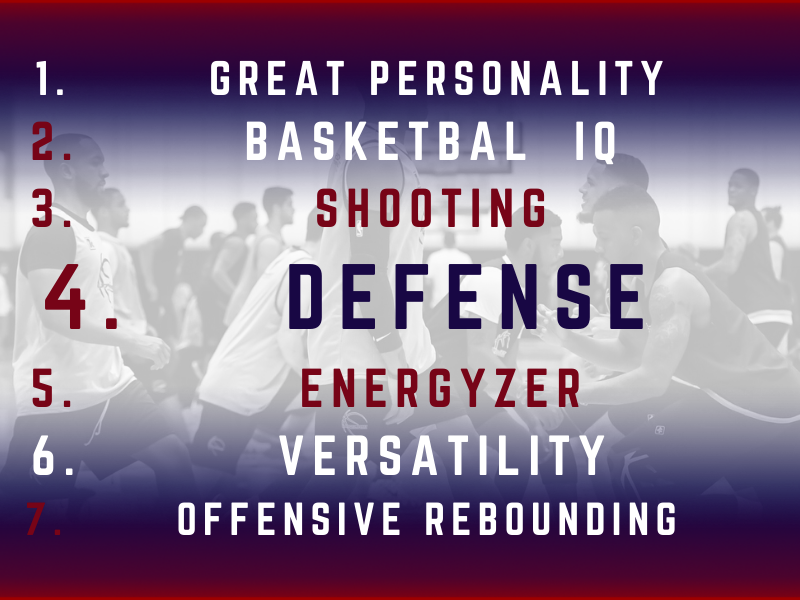 1. Great Personality
First and foremost, you won't make it without having a great attitude, both on the floor and off the floor; "In the local community you represent your club. From the moment you wake up to the moment you go to sleep." says Pascal Meurs. 
Numerous players with a lot of talent but selfish or reckless attitude have been cut from teams over the years, don't be that guy; Thomas Roijakkers recommends to work towards "fitting into the style of play, having a good lifestyle that supports your profession, showing good behavior towards staff, team mates and other club members and being a good example to the youth players of the club". 
Don't think you can fool coaches and recruiters with a nice smile every now and then, since they are going to do their homework; "I usually try to know as much as I can about each player I'm scouting, also in terms of personality and character, life stories or family. So I read a lot about them, and usually call former coaches to know them the best. I believe every player is a person first, so I want to know well the people I'm going to work with." indicates Manuel Póvea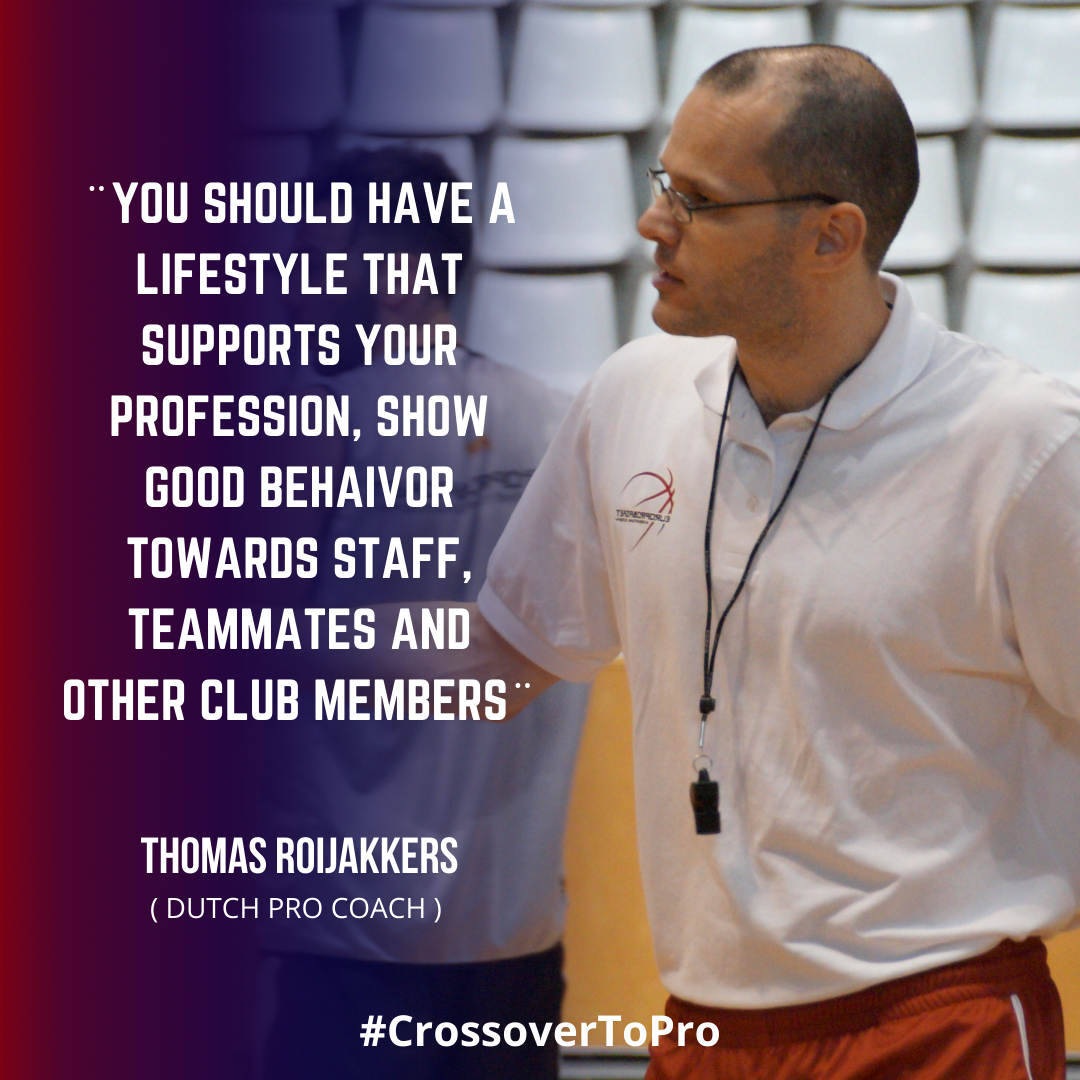 2. Basketball IQ
Playing professional basketball in Europe requires an above average basketball IQ: you gotta have it. "You understand the concepts of timing and spacing well.  You pick up new tactical things fast.  You're flexible in adjusting to the basketball philosophy of your coach.  You don't get annoyed by mistakes by youngsters on the roster, but where possible you guide and help them to become better." points Pascal Meurs. Remember, physical and technical abilities are important, but being a basketball savant makes the difference. Work on getting better at it everyday. 

3. Shooting
Well, the third one is no secret: Shooting. You have to be able to shoot the basketball and do it at an efficient percentage. This is essential to anyone interested in playing professional basketball in Europe. According to Manuel Póvea "Players must be good enough in their shooting ability at all positions except the 5, where I consider it an extra. Only a 4 man who does not shoot can make me look for a 5 with shooting ability. As I said, I don't need great 3 pointers at all positions, but players have to be able to score with some advantage, such as wide open shots.". Shoot, shoot and shoot again, target over 65% field goal percentage in practice to be able to make it happen in game action.
4. Defense
Playing and showing up on defense doesn't always mean to go at it 1on1. You gotta be able to read the offense and rotate; "Of course activity and desire are important, but I look for something else. Knowing the right position in each situation; reactions on time, even previously to the offensive move; understanding the defensive rotations according to the teammates, etc. At a high level, coaches don't care about passports, but about what players bring to the team, and that includes defense." in the words of coach Manuel Póvea. 
5. Energyzer 
Chances are you are the most talented player on the team: lead by example. Pascal Meurs emphasizes "Two practices a day is your job.  The staff will expect you to come early and with a big smile, every single day.  You set the bar for the intensity for every practice.  You're the most vocal player in the gym.  You connect with the local players and make an effort to understand the local language.  No days off, no excuses." 
6. Versatility
The competition for a job is always high, make sure that your all around game is as strong as it can be. Coaches look for versatility and guys that can play and excel at multiple positions "Even though in modern basketball the player positions are not as rigid any more – e.g. a Lebron James with a body of a forward can be the playmaker or a forward like Draymond Green can play the center position -, the dimensions of the court and particular rules make certain combinations of roles and player skills more effective than others. In general, I like to recruit 2-way players in the sense that they can play 2 different positions as well as are capable and willing to give a 100% on offense and on defense." states Markus Röwenstrunk

7. Offensive rebounding
Often overlooked, offensive rebounding is another key aspect you need to master when playing professional basketball in Europe. From an intensity standpoint, it sets the tone; from a playing standpoint, it gives extra chances to your team to add up points to the scoreboard. "There is another aspect that is important to me: offensive rebounding. This is one of my "playing rules" in all my teams, so it's also a skill I always consider to make my choice." underlines Manuel Póvea  

A Final Note from Europrobasket CEO Brad Kanis
These three P's are essential to any player, especially if your goal is playing professional basketball in Europe. Without these you will NOT be successful at playing professional basketball abroad. Most of you already know but for the ones still learning, just starting their journey or have been unsuccessful at landing an opportunity, please pay special attention to these all important elements.
Physical Conditioning – BE IN SHAPE! We have not added this to the 7 Fundamentals but it is so important and so overlooked that we feel the need to mention it. Before attending any tryout or exposure camp, make a plan leading up to the event. This should be daily, weekly and monthly. In it you need to include different conditioning workouts, basketball skills workouts and if possible 5v5 competition. An example of these training sessions would be Monday-Friday, rest days on the weekend. Monday (Run 5 miles, Leg weight session, Ball handling drills, make 800 shots), Tuesday (Ride bike 20 miles, Upper body workout, make 1200 shots), Wednesday (Swim 30 laps, Plyometrics, Open court run, make 800 shots)…this is just a very basic example but you know what we are getting at. Due to the fact that you designed this plan and wrote it down, you will be more inclined to follow through with it.
Punctuality – BE ON TIME! Also another item left off of the list due to it being so obvious but still not respected by many import players abroad. Remember, import players are held to another standard. Just because your local teammates show up late to practice does not mean that you can. They have families, jobs, school and other things in their lives that might allow them to have a different schedule than you. You are the professional, you are the one that is looking to move up and improve your career. Being late will get you fined and ultimately released from a team overseas. Show respect to the club, your coach and your teammates by being early and leaving the gym last.
Passion – HAVE A LOVE FOR THE GAME! If you absolutely love what you do and everything that it entails, you will be much more successful at doing it. Love the game of basketball so much that you study it everyday. Watch basketball and evaluate individual players that are successful. Love your conditioning, strength training and court skills workouts. Enjoy getting up early and working on your craft with a vision and goal in mind. Embrace travelling to distant countries and adapting to new cultures. Make strong bonds with teammates, coaches, team managers and board members. Basketball is more than a game, it's a lifestyle!