Taneka Rubin is a Professional Basketball Player, Author, and Life Winner. She is also a Europrobasket International Academy alumni who last played for Baloncesto Miralvalle in Plasencia, Spain. Here you can read our full conversation with her and discover more about playing basketball overseas.
When did you start playing basketball?
I picked up a basketball when I was 4, and played my first organized game when I was 7. My parents realized I loved the game at a very young age, so they really pushed me in that direction early. 
Where did you play college basketball? How was your experience in college, did you receive interest from agents after college?
First I went the junior college route, playing for Glendale Community College in central Arizona. Two years later I earned a scholarship to play for Florida A&M University. College was a grind for me. I viewed junior college as the D-League, and I had to fight pretty hard to make it to the D1 level. I'm grateful for my junior college experience because it prepared me for the rigors of the next level physically and academically. I didn't have a ton of interest from agents after college. I remember 2 or 3 agents contacting me, as well as some invites to combines across the U.S. 
What made you decide to attend Europrobasket?
I came across Europrobasket online while searching for another combine to attend (honestly, I was tired of combines, but I didn't think I had any other choice). I saw the website and facilities, and I was impressed. So, I did some research and looked up reviews and reached out to former players. I even contacted other programs in Europe that offer similar services. It was a big investment for me so I wanted to be sure it was the right decision. At the end of the day, Europrobasket felt like the best option to kickstart my career playing basketball overseas.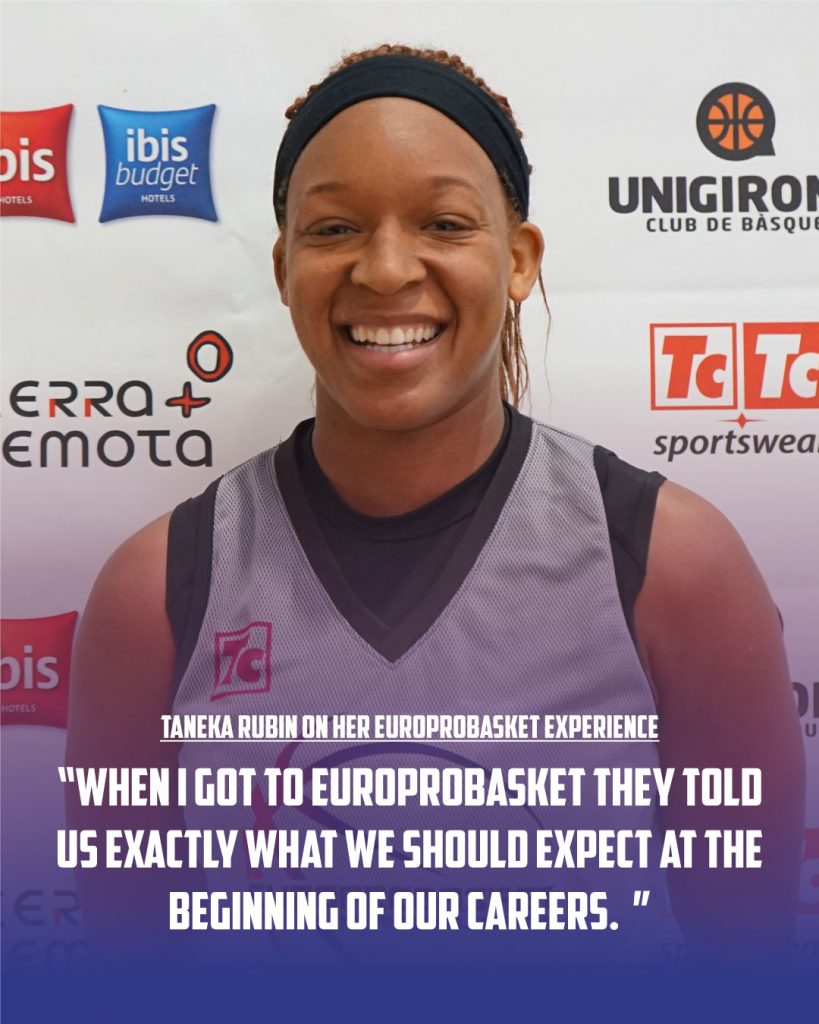 How was your experience at Europrobasket?
I've attended a lot of camps and combines. Europrobasket was the most professional organization I've worked with. I realized it's called an academy for a reason. The first thing I noticed was how nice the facilities were. People who've never been to Europe may not realize it's hard to find basketball facilities like that overseas. The next thing I noticed was how hard we worked. They brought in professional coaches and trainers to take us through several workouts a day, and it was no joke. I enjoyed making connections with everyone there, and I appreciated the honesty they provided about overseas basketball. I was only there for a short time because they got me a tryout in 3 days, but I learned a lot in that short time. 
Do you believe your career would have been the same if it were not for your experience in the program and the advice that was given by the staff?
Truthfully, no. Because it's very hard to find honesty in the world of overseas basketball. When I got to Europrobasket they told us exactly what we should expect at the beginning of our careers. Brad also shared some stories of his humble beginnings as a pro playing basketball overseas. That kind of straight talk got my mind prepared for a long road ahead. I was either going to decide I didn't want to go through with it, or get ready to persevere. They gave me the opportunity to be ready for that. 
Have you learned Spanish during your time in Spain?
I tried! I took a Spanish class for a couple of weeks at the local school of languages with our other American, Stacia Robertson. That was pretty cool, but most of what I learned came from interacting with our team and the other people in the community. I also had the opportunity to take on some English clients too. It gave me a chance to meet new people in the city.
Do you have an opportunity to work with kids in your club or town?
Yes, we spent a lot of time going to local schools in Plasencia. We would spend time running drills and playing games. Then at the end, they had time to ask us questions. The kids always went crazy whenever we came to visit them. We played in a small town, so whenever they saw us out and about they would scream, "Hola Taneka!" It was great. The majority of our fanbase were kids.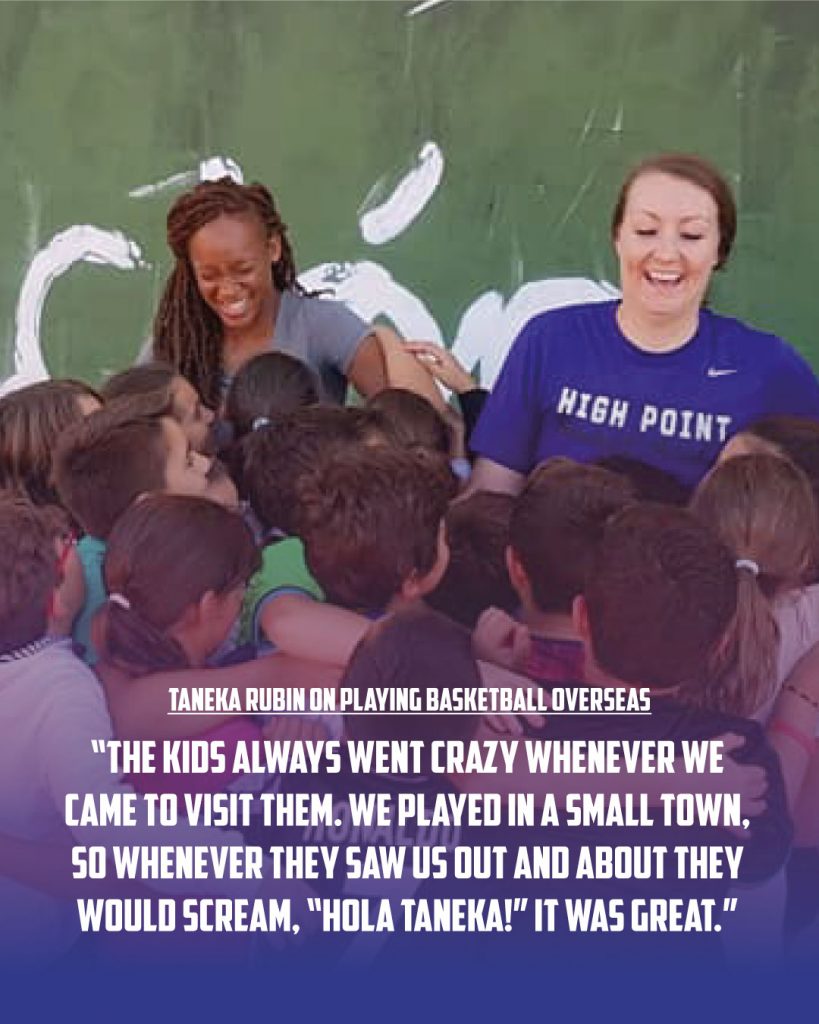 What do you think are the main differences between American basketball and European basketball?
So far, I would say European basketball is more about finesse. Footwork is big, and you really have to know how to think the game. European coaches want smart players more so than strong and fast players. American basketball has a lot more big, athletic players. You still have to think the game, but I've noticed athleticism is prioritized. One of the things I've noticed about myself while playing in Europe is my pick and roll decision-making has gotten a whole lot better. For some reason, I didn't have to run the pick and roll too much in college. If you can't run it playing overseas basketball you'll be at a huge disadvantage skill-wise.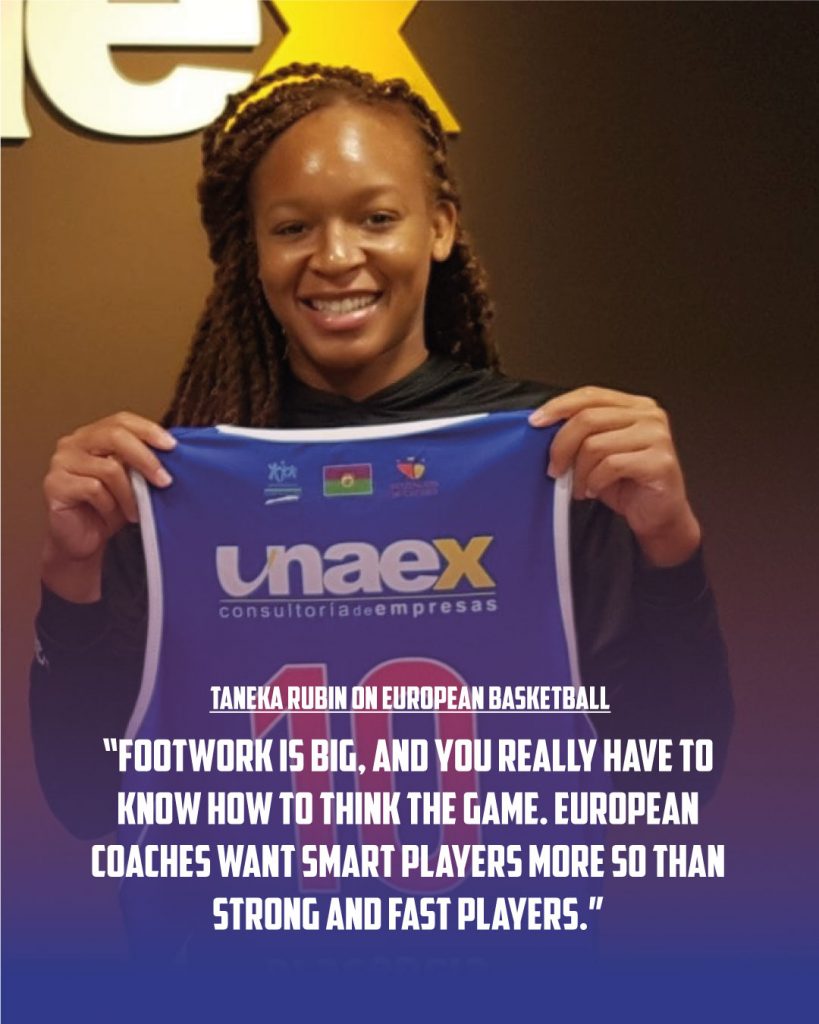 You've started an online blog, can you tell us about what you write about and your motivation for doing so?
Yes, my blog is on my website tanekarubin.com. I've always enjoyed writing, but I realized I've learned a ton of life lessons from my experiences pursuing my career. A lot of other athletes can relate to the same themes I discuss such as perseverance, fear of failure, and having faith no matter the circumstance. I decided to take what I'm learning and share it with people. It's also important that I establish a foundation for myself outside of basketball, so that was my motivation as well. 
You've also written a book. Can you explain what your book is about?
I wrote Winners Win the summer after my season playing in Portugal. It's ultimately about unleashing the winner inside of you. My faith plays a big role in everything I do, and I believe God hid something inside of each of us that He wants to get out into the world. Winners Win shows the reader how to tap into that by sharing some of my life experiences. A lot of people don't know their life's purpose. So they kind of float around aimlessly. I get pretty transparent in the book in hopes that people can see that anything is possible for them.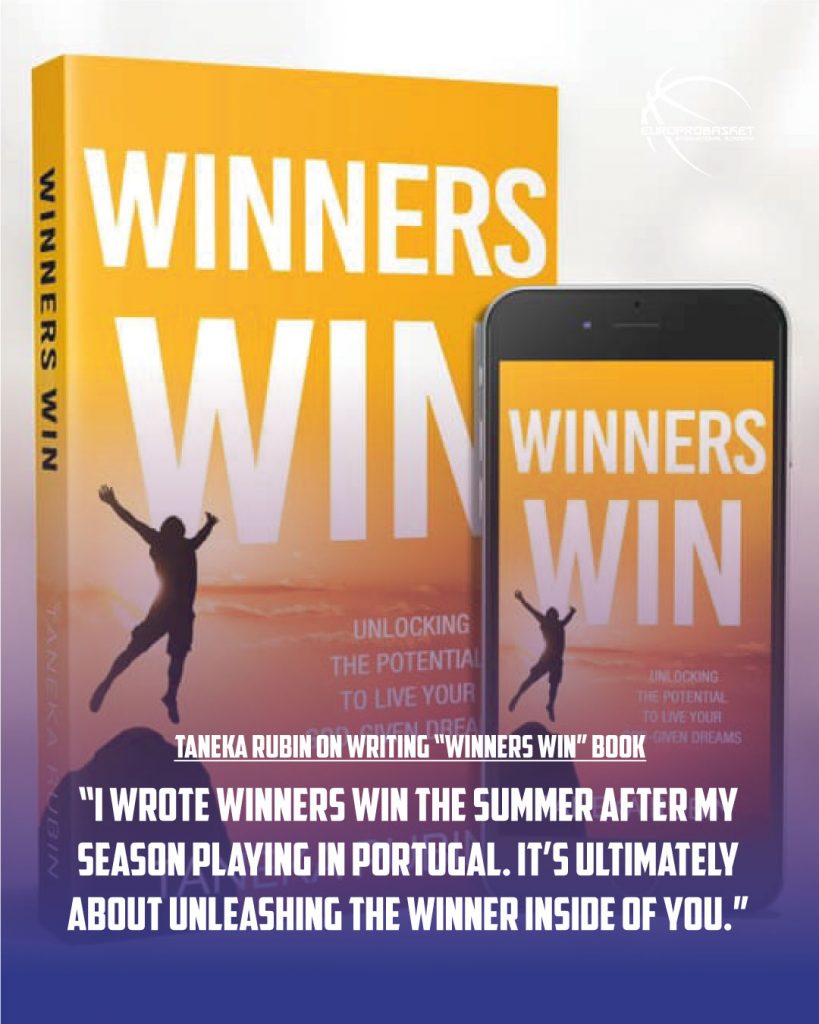 What are your future goals?
That's a tough question! I have so many things I want to do, but I'll keep it short. In basketball, my goal is to raise the bar every year. I want to play in a higher division next season, and continue building a name for myself in European basketball. Outside of basketball, I want to be a serial entrepreneur. Business is my background and I have a few business ideas floating around in my head as we speak. I also love kids, and I understand that they're the future. One of my goals is to create a nonprofit in the near future that will empower children, and address serious issues such as child hunger.
What are your keys to being successful playing basketball overseas?
1. Be a good person. The team that signs you wants to know that you'll get along with the club and represent them well. Sometimes that means humbling yourself when things happen that you're not used to. 
2. Be in shape. This is self-explanatory, but as the import player, you will have to play the most minutes. Your coaches will expect you to be able to handle a heavy workload. 
3. Get to know your teammates. This is your family for the next 8 months or so, so you want to build a solid relationship with them. Even if they don't speak English. 
4. Enjoy yourself. The season will be long especially after the Christmas break mark. Traveling and meeting new people will help make it easier. 
What advice can you give to players interested in attending a Europrobasket program?
I would say to come ready to play and be in the best shape possible. It's hard work and you really want to stand out. Also to show your personality, and get along with everyone. Like I said earlier, European coaches want to hear good things about you. They want to know that you'll add to the team in more ways than just on the court. Teams have sponsors in the community, and everyone is paying attention to you. Europrobasket will be able to speak on your behalf if you show that side of yourself. Lastly, understand that you have to know someone who is connected to the teams you want to play for, and Europrobasket is connected. Try to keep in touch with the staff even after you leave, because you never know what could happen.