The shooting guard position is often associated with flashy, electric and self assured offensive players that focus mainly on scoring the ball. Does this presumption translate to the European game? Truth be told, the shooting guard skills in Europe will be expected to be those of a point guard (which you can read here) while also being an above average productive scorer. Thus, more than an aggressive volume shooter, you will need to be an efficient and versatile player. In this article we will cover 5 shooting guards skills essential ideas you need to master to be able to upgrade your credentials. We will also include 7 players you can study to see these concepts in use.
Let's get to it.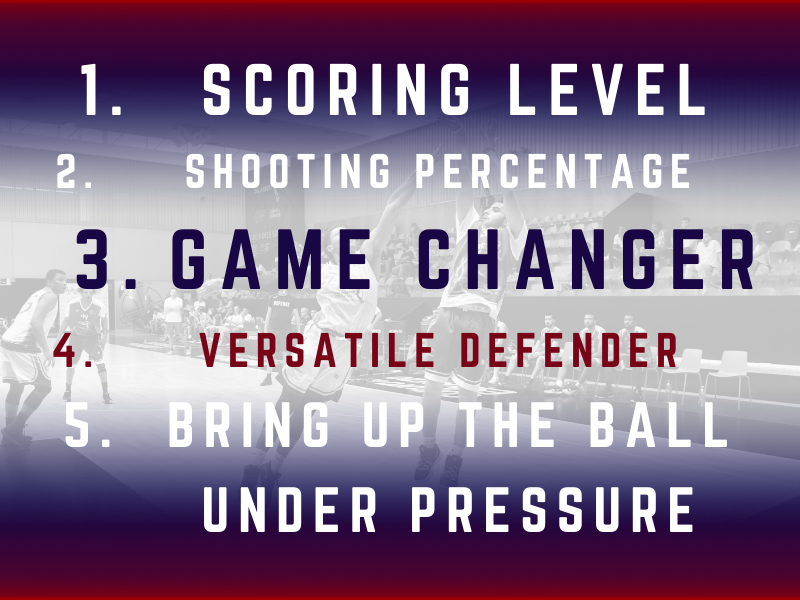 1. Scoring Level 
You will need to display an above average scoring level arsenal. Shooting, finishing at the rim and threatening defenses consistently. "In the shooting guard position I look for almost the same skills of that in point guards'. The main difference is perhaps about the scoring / organization level, in the sense of a possible higher scoring level and a lower organization level in the shooting guards." Manuel Póvea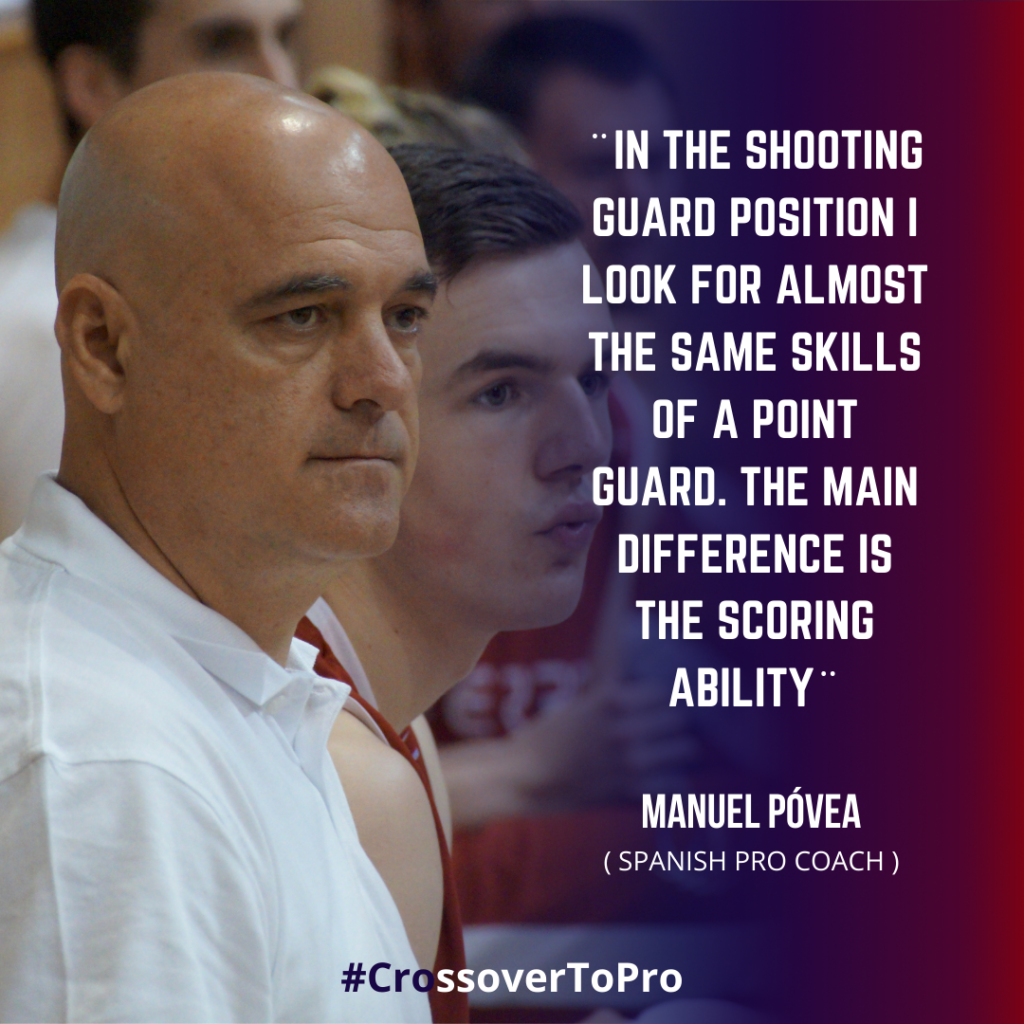 2. Shooting Percentage
Basketball is a game of percentages, and if you play at the 2 spot, you will have to prove your shooting percentage is a reliable one. "Long-range shooting has become vital to the game of basketball and for any guard as well as forward it is a very big plus to be able to. This means to shoot a 3 point percentage of 40 or higher in the game respectively 80+% in practice." Markus Röwenstrunk
"If a team invests for an import on this position, they expect a player that consistently shoots at a substantially higher percentage." Pascal Meurs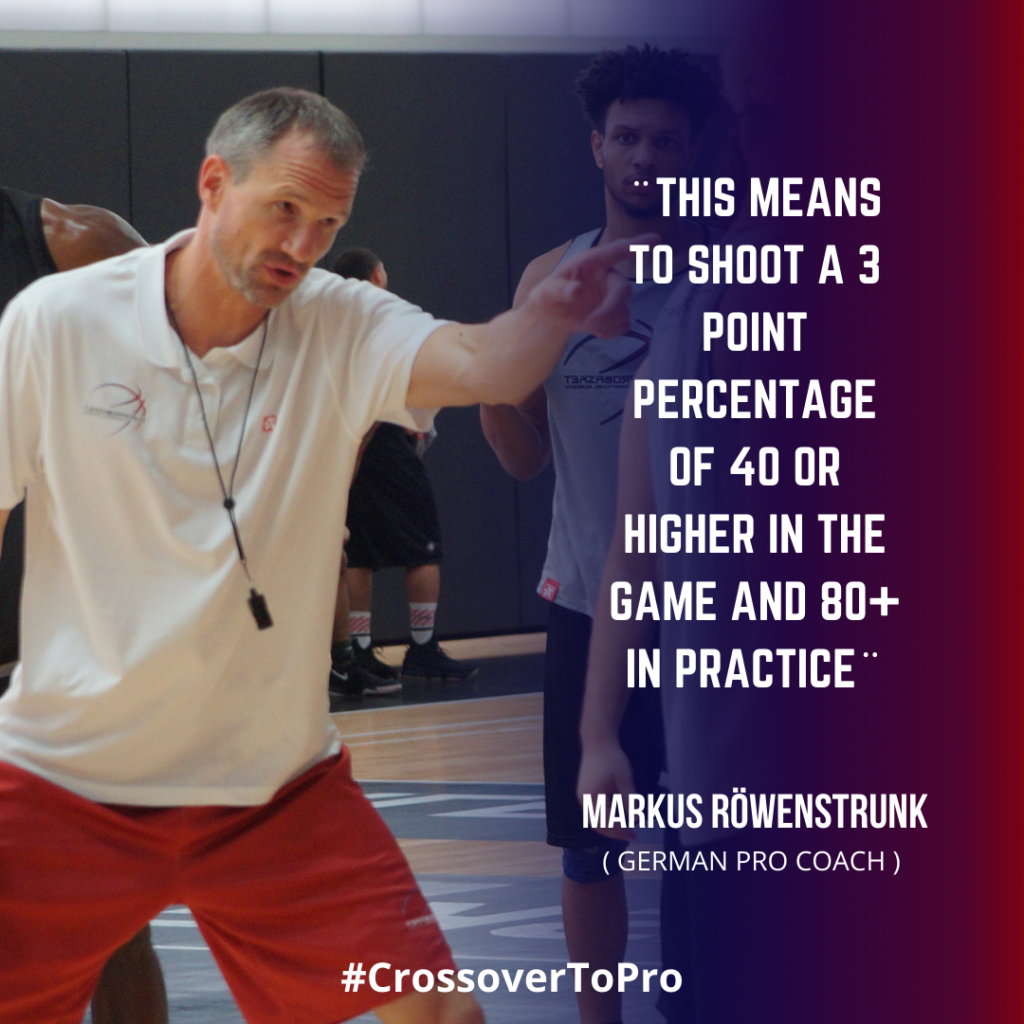 3. Versatile Defender
Scoring the basketball is the glamourous aspect of playing the shooting guard position, nonetheless, it is necessary that you are a versatile defender every night. You will be required to cover point guards and rotate efficiently. "Defensively, you can guard positions 1, 2 and 3." Pascal Meurs
4. Take Over the Game Guy
There will come a time when your team will need a bucket. Your coach will rely on you, your point guard will look for you, and your teammates will expect you to take the big shot. You have to be ready to take over the game. "Scoring Wise, you can take over late in a game to pull out a victory" Pascal Meurs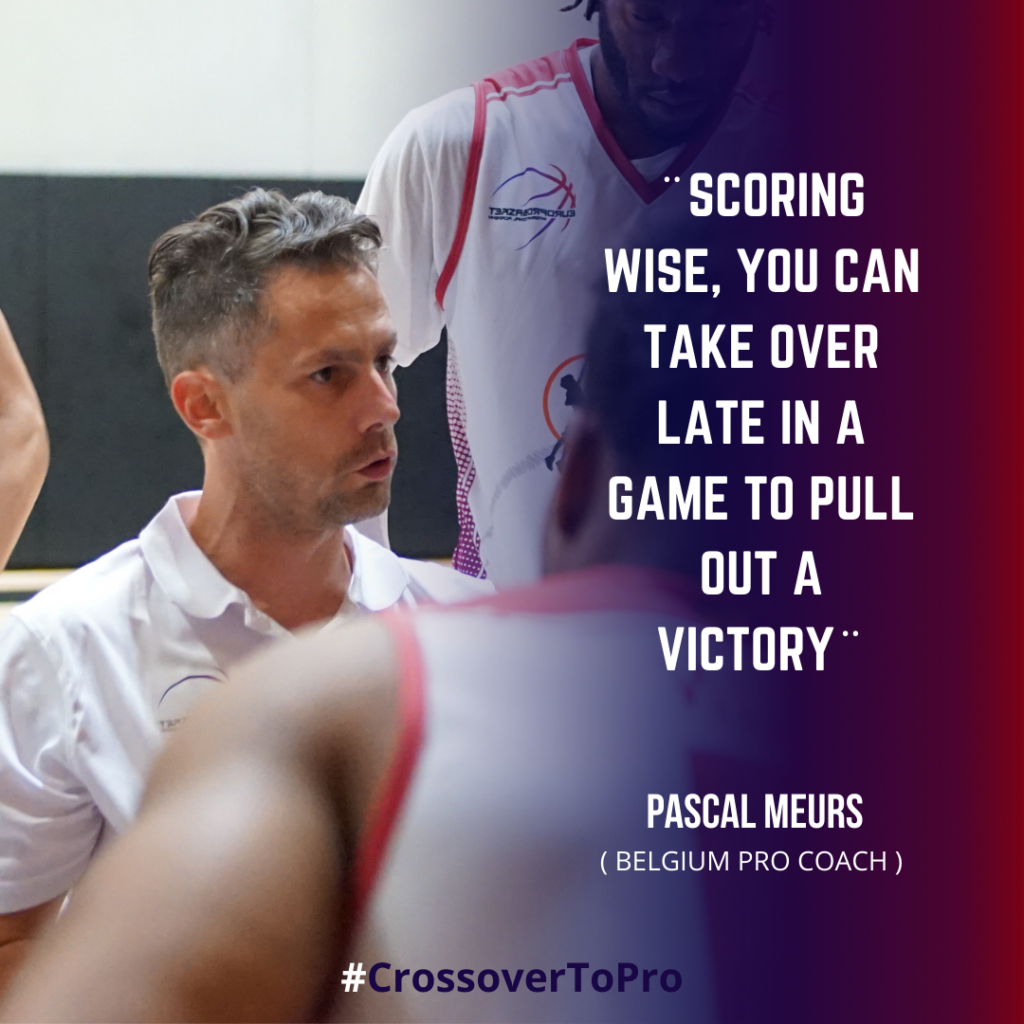 5. Bring the ball under pressure
In Europe full court pressing defenses are usual in some phases of the game. You have to be ready to bring up the ball if necessary. Your point guard might be covered and you have to be able to take his role and organize the offense efficiently. "If necessary, you can bring up the ball under pressure and organize your team." Pascal Meurs
Players you can learn shooting guard skills from
7 shooting guards that you can study to improve your shooting guard game: Alexey Shved, Jaycee Carroll, Kostas Sloukas, Vasilije Micic, Cory Higgins, Bogdan Bogdanovic & Goran Dragic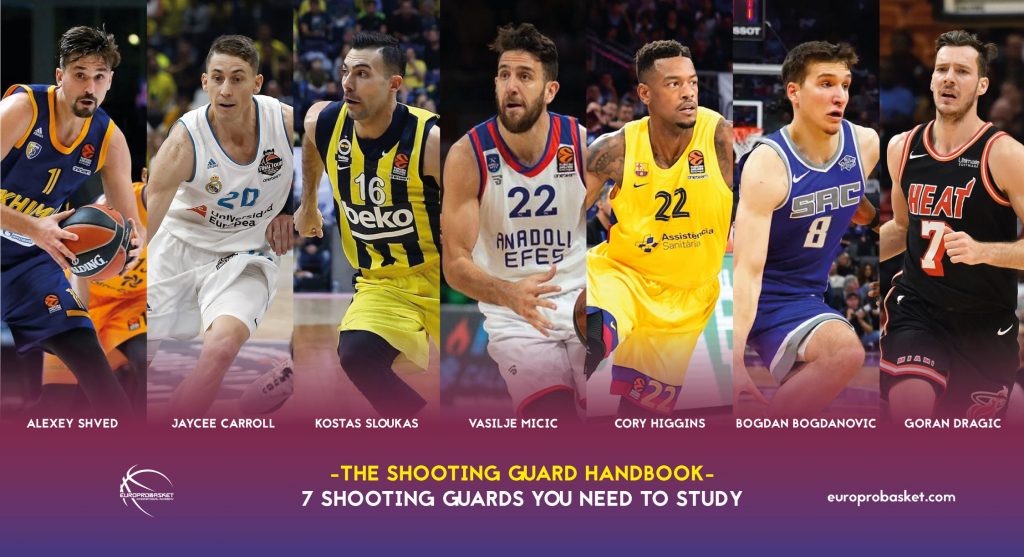 Europrobasket CEO Brad Kanis' Input on shooting guard skills
Studying and implementing these 5 shooting guard skills is crucial to have an edge over other players. In Europe you may only get a handful of opportunities to shoot the ball. You need to make sure you capitalize on those opportunities. That means percentages are much more important than the points scored at the end of the game. Everyone in Europe can shoot the ball, from the point guard to the center. Every great shooter I have known personally has put incredible amounts of time in their shooting. If you are not making 600-800 shots 5-6 times a week, you will most likely not be an elite shooter.
I like to see a consistent shooting form that does not change each time the ball is released. A good base (feet set and good body balance), good elevation (jumping height), good rotation and a good arc. I am also looking for a quick release as defensive pressure is intense in Europe. You will not get space or time to get comfortable shots off. I understand not every game can be a great shooting game. I like to see a player on an off day realize that he is struggling and work through it by making good plays on defense, offensive penetration, or setting up their teammates in order to gain confidence to make an important shot at the end of the game. 
Lastly, I am looking for a game changer. Teams want an import player that can change a game and pull out a win based on their performance. You need to be the one that wants the ball at the end of the game and have the confidence to make the shots that win it!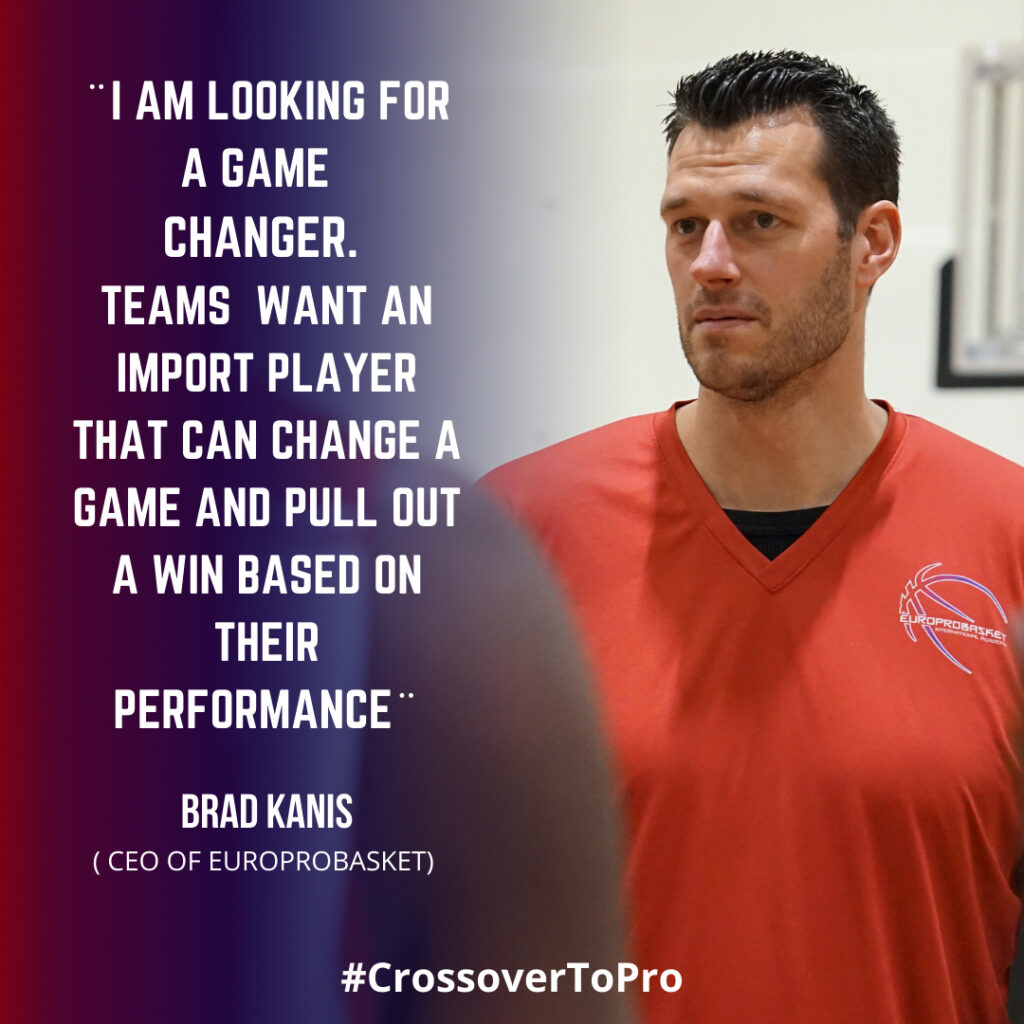 What can I do to be a better shooter?
The obvious answer to that question would be to get on a court and shoot more. Like stated before, set a goal to make 800 shots before you leave the gym. The shots can be from just a few feet from the rim. You don't need to make 750 3's and 50 free throws every day. One of the big mistakes many players make is to walk into a gym and start shooting 3's cold. Many of the greatest shooting coaches would start you just feet from the rim and have you gradually move out to the 3 point line. You should also be working on shooting on the move. Coming off screens or picking and popping. 
Make sure you are elevating every time you shoot. Players have a different energy and adrenaline in a game which makes them elevate quicker and harder. If you don't practice the same shot that you take in the game, how do you think it's going to play out for you when the ball is in play? Some of the best shooters have had terrible, hideous shooting fundamentals. That means that they practiced their own ugly form, an exponential amount of times, to perfect it. Focus on these shooting guard skills and abilities to take your game to the next level. So, are you ready to do what it takes to be an elite shooter?