Arguably the most important position in basketball, the point guard is the keystone to build a successful team. Coaches will trust them to implement and execute the game plan on the floor, while other players will rely on their leadership and decision making to be able to perform at their best.  
If you are a point guard that wants to make it in Europe, you need to understand that the skill set you are expected to bring to the table is a broad one. In this article, we will go through all the aspects that make a floor general in the old continent. We will also single out 7 players you should follow to recognize these concepts being displayed successfully. For this article we had the collaboration of coaches: Nikolay Gospodinov, Manuel Póvea, Markus Röwenstrunk & Pascal Meurs. Keep reading to discover the european point guard abilities.
This is the Point Guard Bible to play in Europe. 
1. Master the fundamentals:
"A Playmaker must have perfect passing, dribbling, and shooting skills. They will have control of the ball 60% of the time."  Nik Gospodinov
"The point guard has to possess extremely good ball handling"  Markus Röwenstrunk
2. Be on Optimal Physical Condition:
"A playmaker must play harder and longer than anyone on the squad. Train and stay in condition year round."  Nik Gospodinov 
3. Must possess poise:
"A playmaker must be able to think under pressure and be under control. They must stay positive and play through adversity at all times. Don't ever allow a bad play or bad call disrupt or ruin your game."  Nik Gospodinov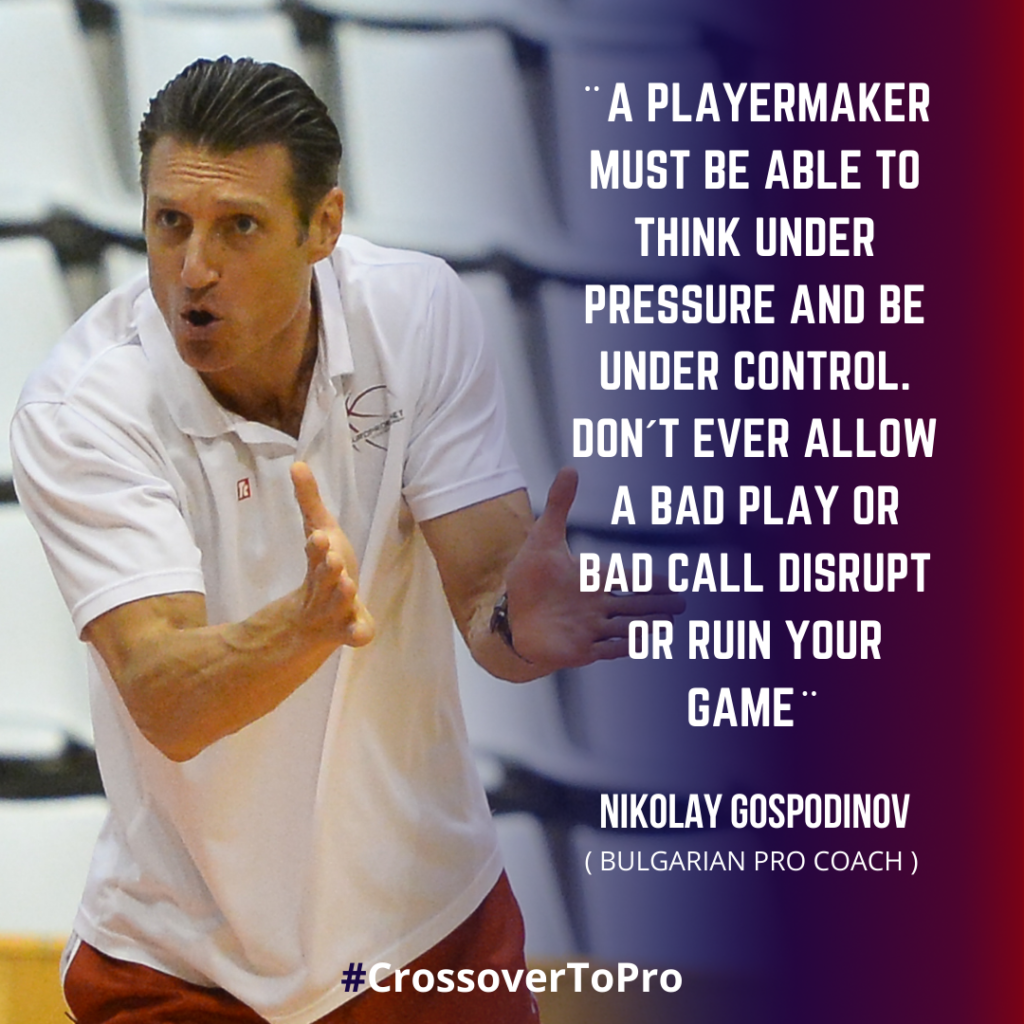 4. Floor General:
"Collective organization: This is something the best point guards take time to learn, no matter where they come from. It means the ability to think collectively, to understand the whole thing, the purpose, the goals. It means to understand what the coach wants for that moment, and this ability can make a huge difference between a team which works and one in which does not."  Manuel Póvea
"A point-guard in Europe must be the absolute floor leader."  Pascal Meurs
5. Knowing Teammate's abilities:
"You must know your teammate's abilities. The playmaker must know and take advantage of each teammate's strengths and capabilities."  Nik Gospodinov
"The playmaker needs to create good scoring options and mis-matches for his teammates."  Markus Röwenstrunk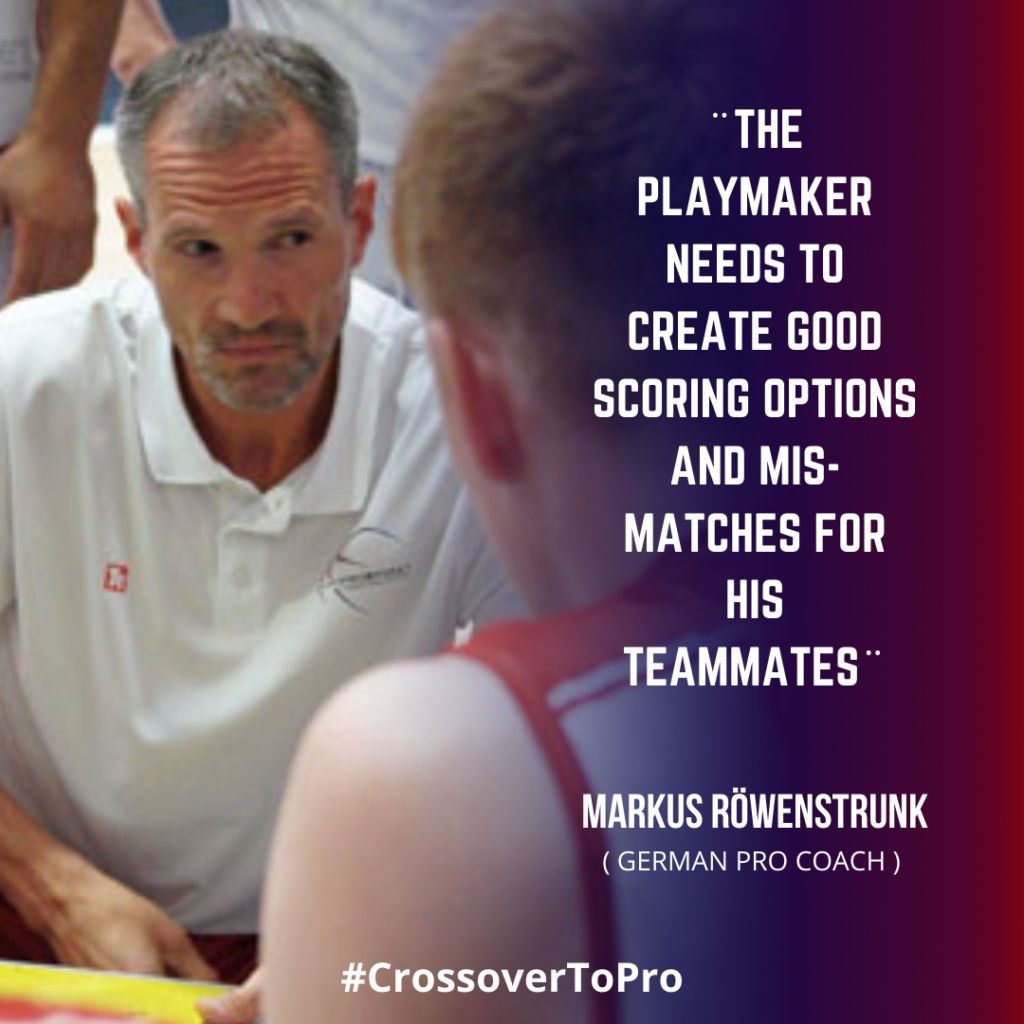 6. Court savvy:
"A playmaker must be able to recognize opponents' defensive deployment and defensive mismatches at all times. They must also be alert to the score, time, team foul situation and timeouts remaining."  Nik Gospodinov
"If you want to be the best point guard possible, you have to have a good understanding of the game"  Markus Röwenstrunk
7. See the entire floor:
"Keep your head up and eyes focused at the basket area in order to see all cutters and openings. They must move the ball and get  the ball to the open player. The playmaker should never dribble when it is possible to pass. Avoid the trap dribble and always end dribble with a pass or shot."  Nik Gospodinov
"Often agents tell us that a point guard is a good passer because he is able to assist. Well, that's important, but assists are not the only thing. Of course having the ability to score + assist is a good point. But passing also includes the ability to find the wide open man, read miss-matches, or share the ball to get teammates involved in the offense."  Manuel Póvea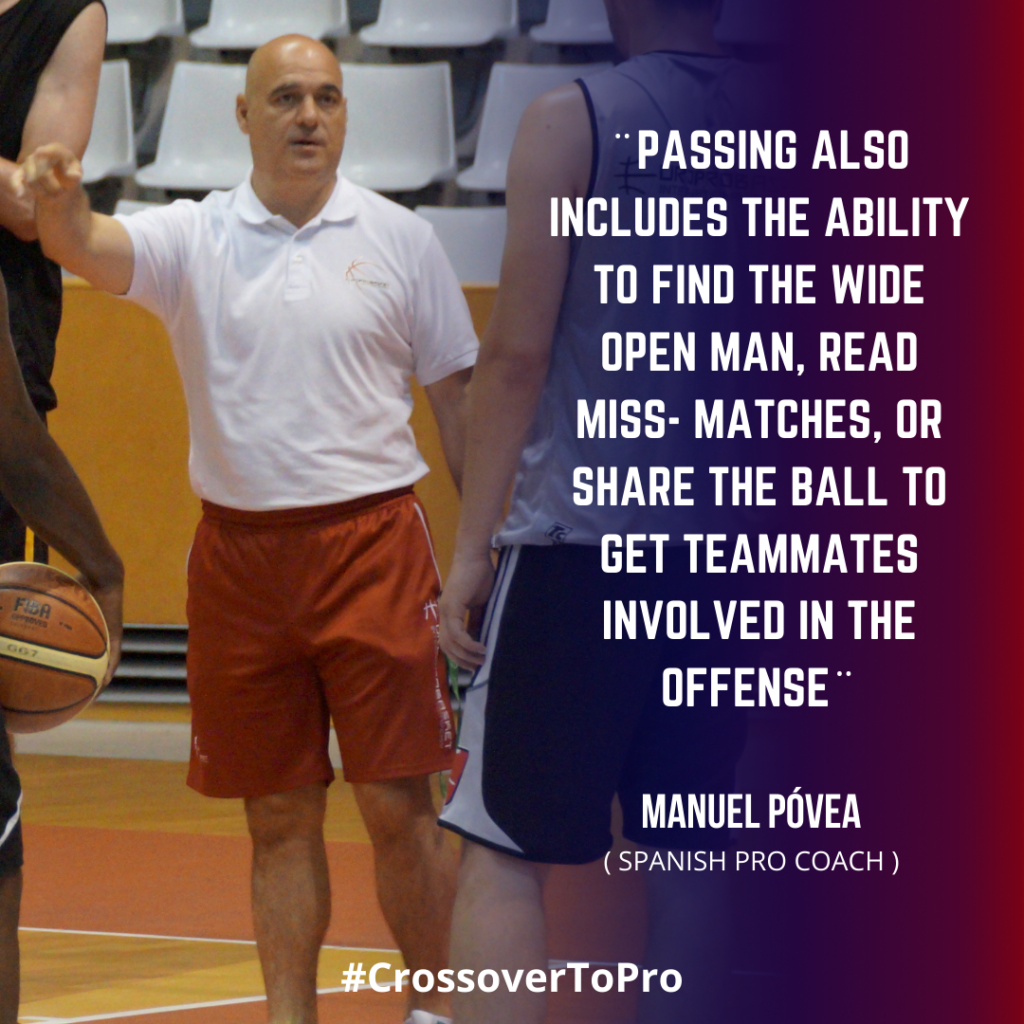 8. Decision Maker:
"Good playmakers rarely turn the ball over. Take pride in passing and create open shots for receivers."  Nik Gospodinov
"Can take charge and run the team as well as decide for the right plays. – As a side note, taller guards have the advantage to see the game better and pass over defenders to find their teammates, while shorter players always have to be extra quick and good."  Markus Röwenstrunk
9. Excellent at Pick & Roll:
"As a very important way to create for others, as well as for oneself, point guards need to dominate p&r situations. Of course that's related to passing ability and the collective idea of the game."  Manuel Póvea
"Another very important skill is the ability to need to have is running efficient pick&rolls."   Markus Röwenstrunk
10. Be clever, not fancy:
"Set up receivers for easy shots or pass reception. Be creative but do not "show boat." Having the ability to make the sharp, accurate pass, cannot be overemphasized."  Nik Gospodinov
11. Wise Scorer:
"Do not press to set up your own shot opportunities, but shoot often enough to keep defense honest. Keep teammates happy by giving them a share of scoring opportunities."  Nik Gospodinov
"Nowadays all players from 1 to 5 must have some scoring ability. This is even more important in perimeter players. Point guard scoring style determines the options for other players.. That to me is the most important detail about scoring for that position. Anyway, a point guard needs to be offensively dangerous, otherwise his defender would be too available to help."  Manuel Póvea
"feel when to take over respectively when to involve his teammates. Someone who is a "ball hog" and only after his stats is not what I am looking for, it's always about winning and that only works if the team is a functioning unit"   Markus Röwenstrunk
"You have to be an above average shooter and finisher yourself."  Pascal Meurs
12. Praise and reward teammates:
"The best point guards encourage and motivate teammates as much as possible. Acknowledge good effort. They will be motivated to work harder if they are confident that they will receive the ball when they are open."  Nik Gospodinov
13. Tenacious Defender:
"Playmakers must not be a leader on offense, but must also lead the team in individual and team defense."  Nik Gospodinov
"Probably is the position where I find more trouble to hide a lack in defense. So I look for a point guard able to maintain an acceptable defensive level. If it's a high level, much better."  Manuel Póvea
"Remember that as a point guard, you set the tone in defense."  Pascal Meurs
14. Must lead off the court:
"Playmakers must be role models and leaders on and off the court. Must be loyal, honest and respect others."  Nik Gospodinov
"A leader by example as well as vocally is just as important to have for a functioning team as someone who can take over and score. It can be anyone on the team but usually it's someone with a long time achieved standing or exceptional skills."  Markus Röwenstrunk
15. Long-range shooter:
"has become vital to the game of basketball and for any guard as well as forward it is a very big plus to be able to. This means to shoot a 3 point percentage of 40% or higher in the game respectively 80+% in practice."  Markus Röwenstrunk
16. Height and range matters:
"Also on the defensive end it has some benefits to have taller/strong guards so that switching works well."  Markus Röwenstrunk
"It's a big plus when you have the size and strength to guard opponents on the 2-3 spot too."   Pascal Meurs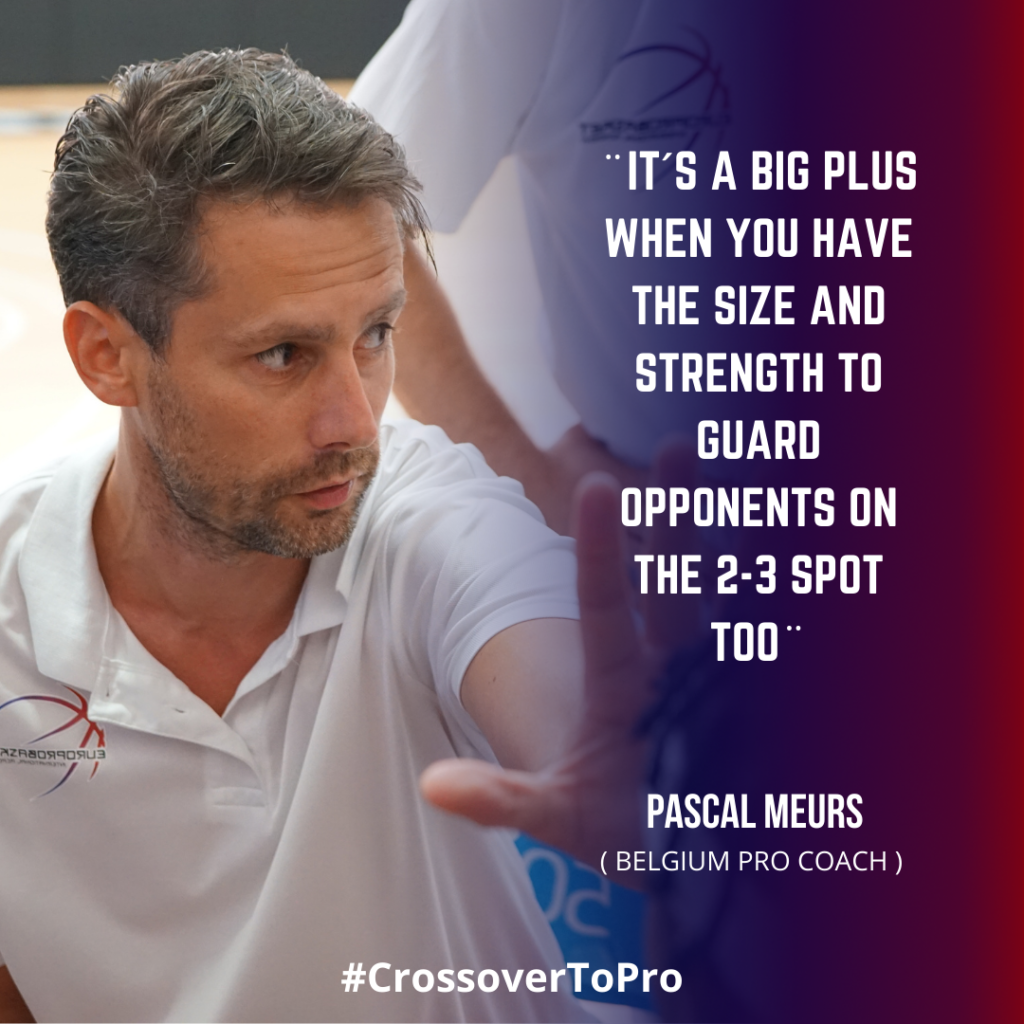 17. Players you can learn from:
If you want to see these european point guard abilities. and concepts applied go and check out some film of the following 7 point guards. Each one has his own approach to the game of basketball, but their craft translates perfectly to the european point guard style. Check out the best point guards in Europe: Shane Larkin, Ricky Rubio, Nick Calathes, Sergio Rodriguez, Nando De Colo, Facu Campazzo &  Milos Teodosic.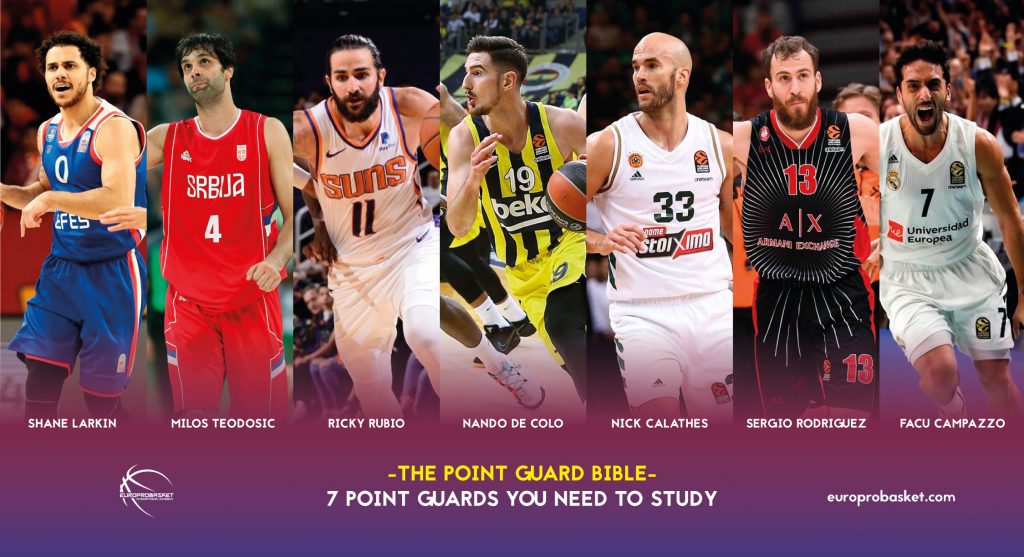 A Final Note from Europrobasket Director Brad Kanis
In all my years I have come across thousands of players who believe they are point guards by nature due to their height. In no way shape or form should you base your position on your height alone. The point guard position is the most difficult in the game of basketball. If you do not have the character to be a leader it is very difficult to be a great point guard. You have to be the type of person to get on your teammates when they are lacking effort and hold them accountable. Calling huddles to address concepts or to motivate your teammates. Calling out orders during game play and making sure all of your teammates are in their correct positions on offense and defense. This means you need to know all of the plays, in every position. You are the coaches right hand and his general on the court. It is your job to control the tempo of the game. To know when to play fast and when to slow it down for one last shot at the end of the quarter.  Your effort on offense is necessary but your effort on defense is vital! You have to set the example for your teammates. The harder you work and the more you disrupt the opponents point guard, the more difficult it is for them to set up their plays and run a good offense. Much of European basketball revolves around pick and roll so coaches recruit players based on their ability to take advantage of pick and roll situations. A point guards main focus should be to organize their team, not to score points. The ability to balance both team organization and efficient scoring is key to the success of a pg.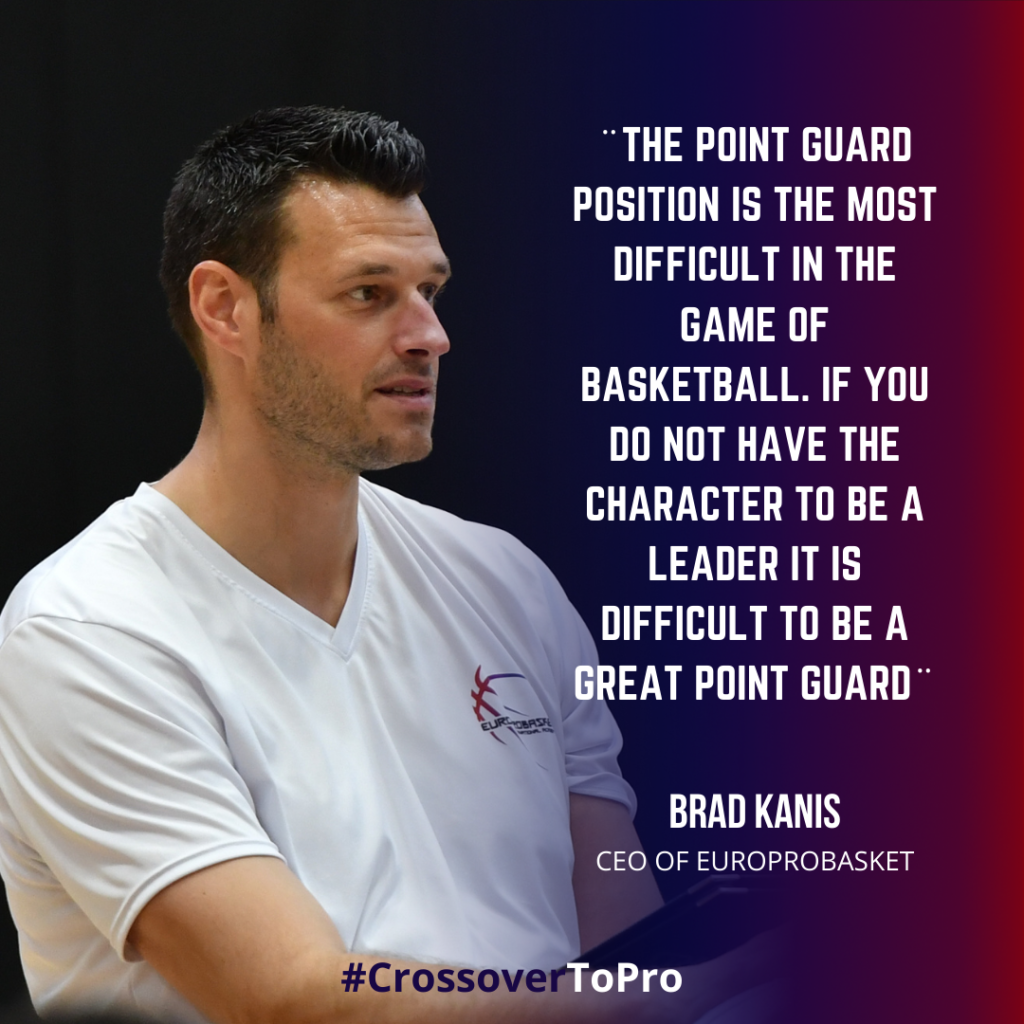 Physical attributes are also important, however, not as imperative as the mental aspects. Taller point guards have a big advantage as long as they are quick enough to defend smaller pg's. They can pass over and around smaller defenders, as well as shoot over them. They can post up smaller defenders as well as rebound over them. Being quick gives them an advantage to drive by their defender and create openings by bringing the help side defense. Having a good shot, will make the defender stay close which in turn will create opportunities for teammates as well as for themselves. A good balance of speed and physical strength is important. Too much muscle will slow a player down. Weak players will get bodied and find it very difficult to defend or finish at the rim.
As stated before, the point guard position is arguably the most important and also the most difficult position in basketball. Focus and work on the concepts in this article and you will be on your way to the elite level you desire.