The goal of any athlete is to make a living playing the sport they love. In basketball, if you don't make it to the NBA or the NBA G League, there are hundreds of other leagues around the world where you can live out your dreams of making good money playing basketball. This step-by-step guide will break down the steps on how to play basketball overseas.
Step 1: Play at the highest level in your home country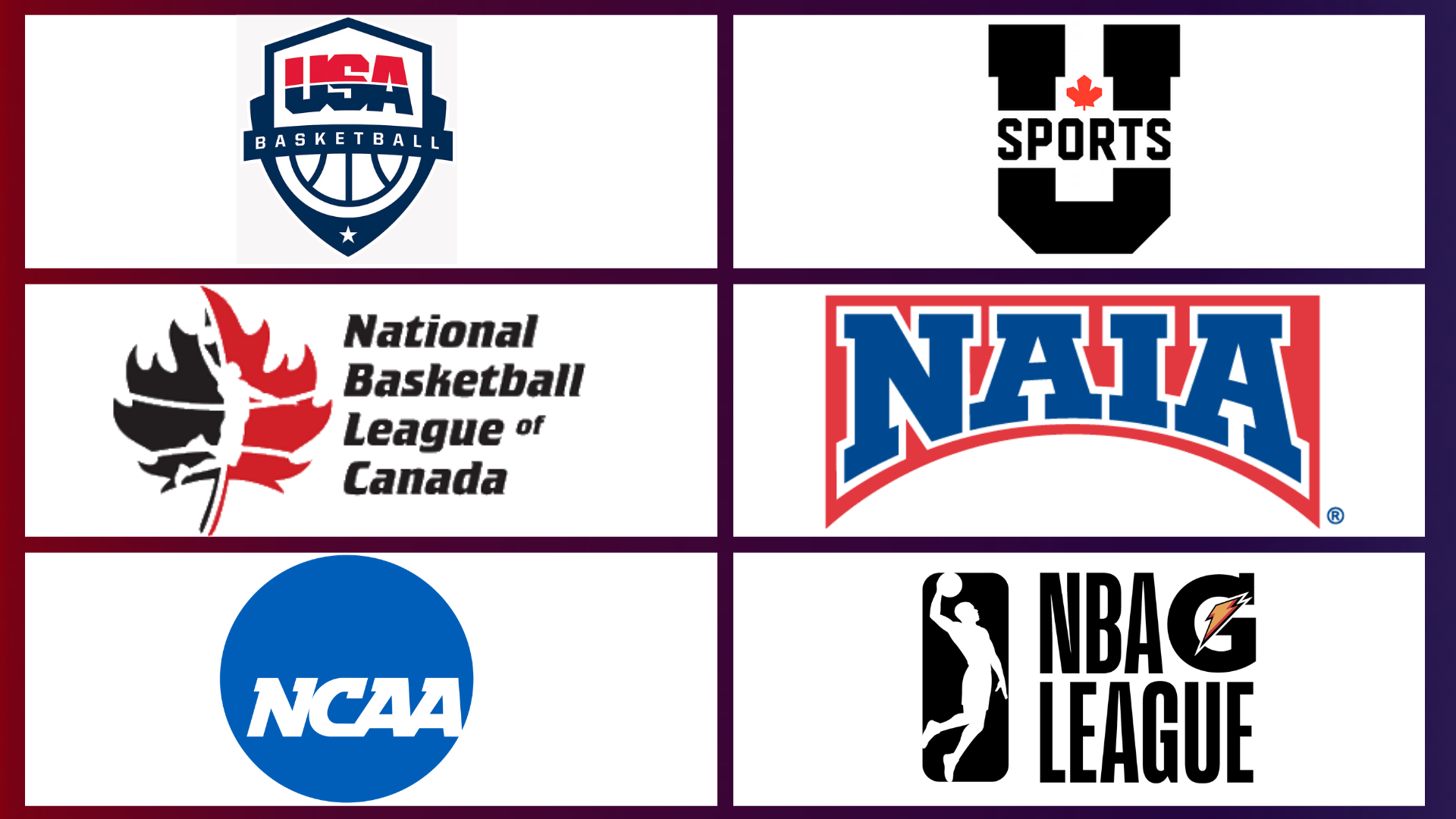 How to play basketball overseas for Americans image by EuroProBasket
You need experience playing at the highest level to get the most interest from teams overseas. So your goal should be to make it to the top level wherever you are currently living and playing.
American Players
Ncaa D1 – Teams overseas know that there is a ranking system in the USA that has Ncaa D1 at the top followed by Ncaa D2 and Ncaa D3. NAIA is still not completely clear to a lot of teams overseas but can still provide good experience.
Canadian USPORTS is becoming more known to teams across the pond. The Canadian NBL is a great option for quality experience.
Juco and high school experience is usually not enough to get serious interest from teams overseas. That is if you are not ranked in the nation such as LaMelo Ball or Brandon Jennings. Go for a 4 year University program at the highest level possible.
AAU and shoe sponsored club teams will help you get exposure to Universities but will rarely get you enough exposure to get overseas.
If your time has passed with University eligibility or it's just not for you, the best option is getting on a semi-pro team. Make sure you read the last section of the article if you fall under this category.
International Players
Club Teams – For International players, this is the only way to play basketball competitively. Work to get on the best club team in your city or town.
Junior National Team – Your goal should be to play for your country's national team. The senior team would be the ultimate goal but junior teams will get you exposure.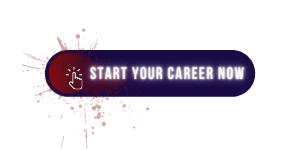 Step 2: Get Stats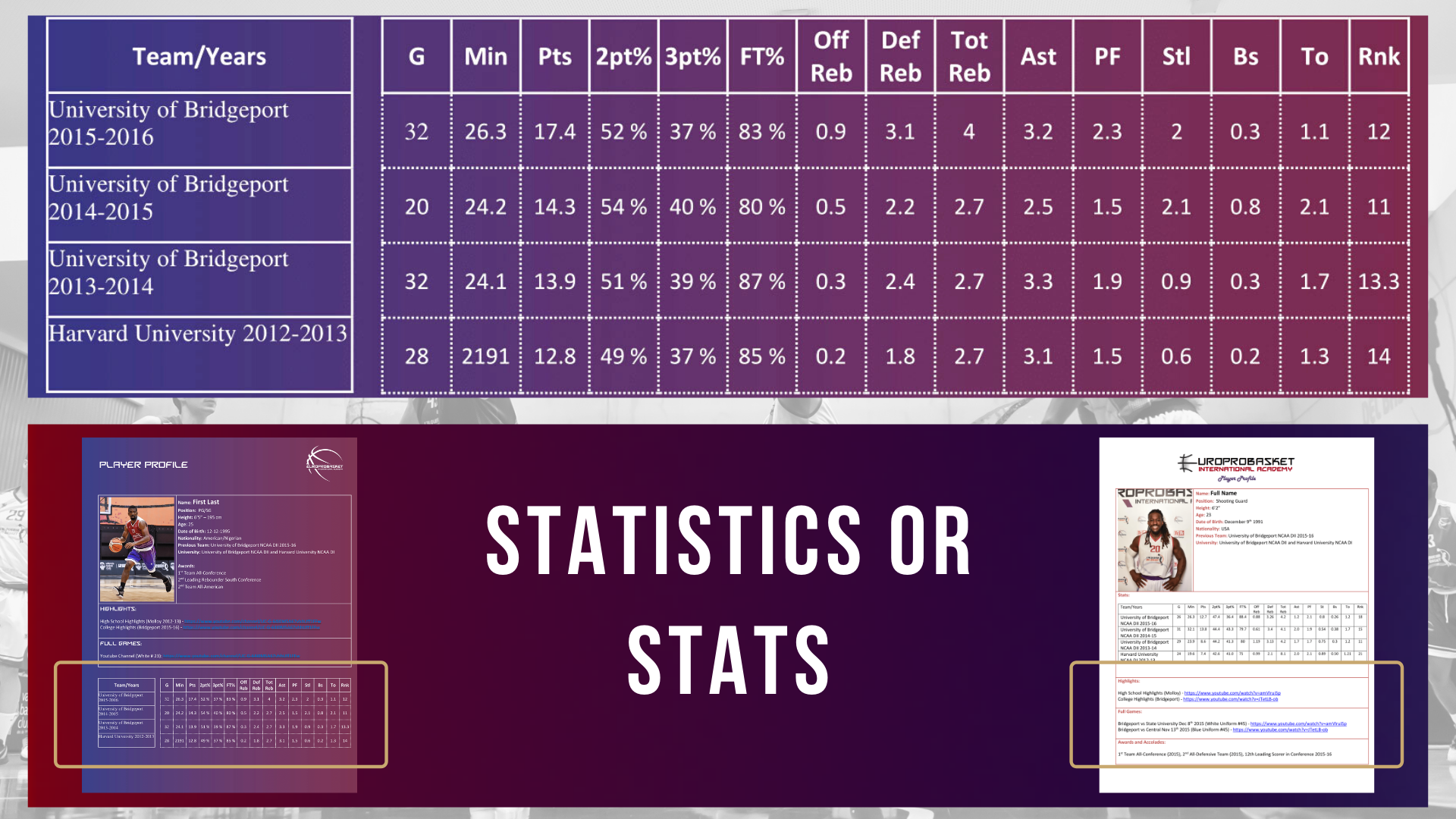 Get stats – How to play basketball overseas image via EuroProBasket
If you go Ncaa D1 and don't get any minutes, struggle to get stats, then you will also struggle to get interest from teams overseas.
Go D2 and be an All-American. That will get you great playing experience, and quality stats, which could lead to a professional contract.
NCAA, NAIA, USPORTS, international club teams and leagues; got those numbers up while adding value to your team.
Make sure you know where to locate your stats. Keep track of them and add them to your resume at the end of every season.
Step 3: Get Video
Game film is your way to show your talent, athleticism and decision making skills to teams around the world. Video is the 2nd step in your search of how to play basketball overseas.
One Highlight Per Season – Sum up every season you play with a highlight. Teams, coaches, agents…like to get a quick glimpse of how you move and shoot. This will peak their interest and get them to consider watching some of your full games.
Two Full Games per Season – This is pretty self explanatory but you need two full games per season played. this is a minimum. Some teams may ask for more. Make sure they are the best games you have played, both on offense and defense.
You should be in control of your own film. Make a YouTube channel, vimeo or sign up for another streaming service. Membership is free and you can upload as many videos as you want.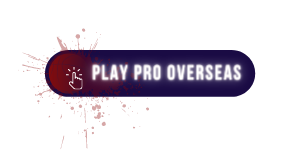 Acceptable Video – YOU Need to Read This
The quality of the competition is absolutely critical to getting a team overseas to watch your video. Low level and disorganized competition will not gain any attention from clubs overseas.
Open gyms, open runs, YMCA, Juco or high school is not high enough quality to get the interest from contacts overseas. You need to get the highest competition possible. Playing against adults in an organized competitive environment.
NCAA, NAIA, USPORTS are the best options for players from America. International players can use their country's local competitions. The higher the level of competition the better.
Semi-Pro Leagues in the USA can be good options as well. Not all teams overseas will consider it but many will. It is important your team is organized and the competition is high level. Good effort on defense. Running organized sets and plays on offense.
Overseas Basketball Combine , exposure camps, and showcases in the USA will not get you a team's interest. Take our word for it, or read this article for reasons why teams do not consider it a viable option to scout players.
More information on why USA overseas basketball combine film will not help you get overseas below.
Overseas Tour game film can work well due to the fact that you are usually playing overseas teams. Be selective on which tour you go on. If you take a tour to Latin America, don't expect to use the film to help you get on a team in Europe.
Workout videos or clips of yourself working out will rarely get you anywhere. If you have some solid game film and you have had a few months off, it is possible that a team will want to see some workout film to make sure you are in shape. This is usually not the case though.
Mixtapes and slow-mo video clips are cool but not beneficial for coaches and scouts. It will get you some props from your friends and IG followers but will do nothing to get you signed.
EuroProBasket game film – Players in the EuroProBasket program play weekly games against European teams. The leagues that EuroProBasket team plays teams in are recognized around Spain and the rest of Europe. If you are asking yourself How to Play Basketball Overseas, we have your answer here in Valencia, Spain: Register to be part of EuroProBasket's Professional Placement Program here.
Step 4: Get a Passport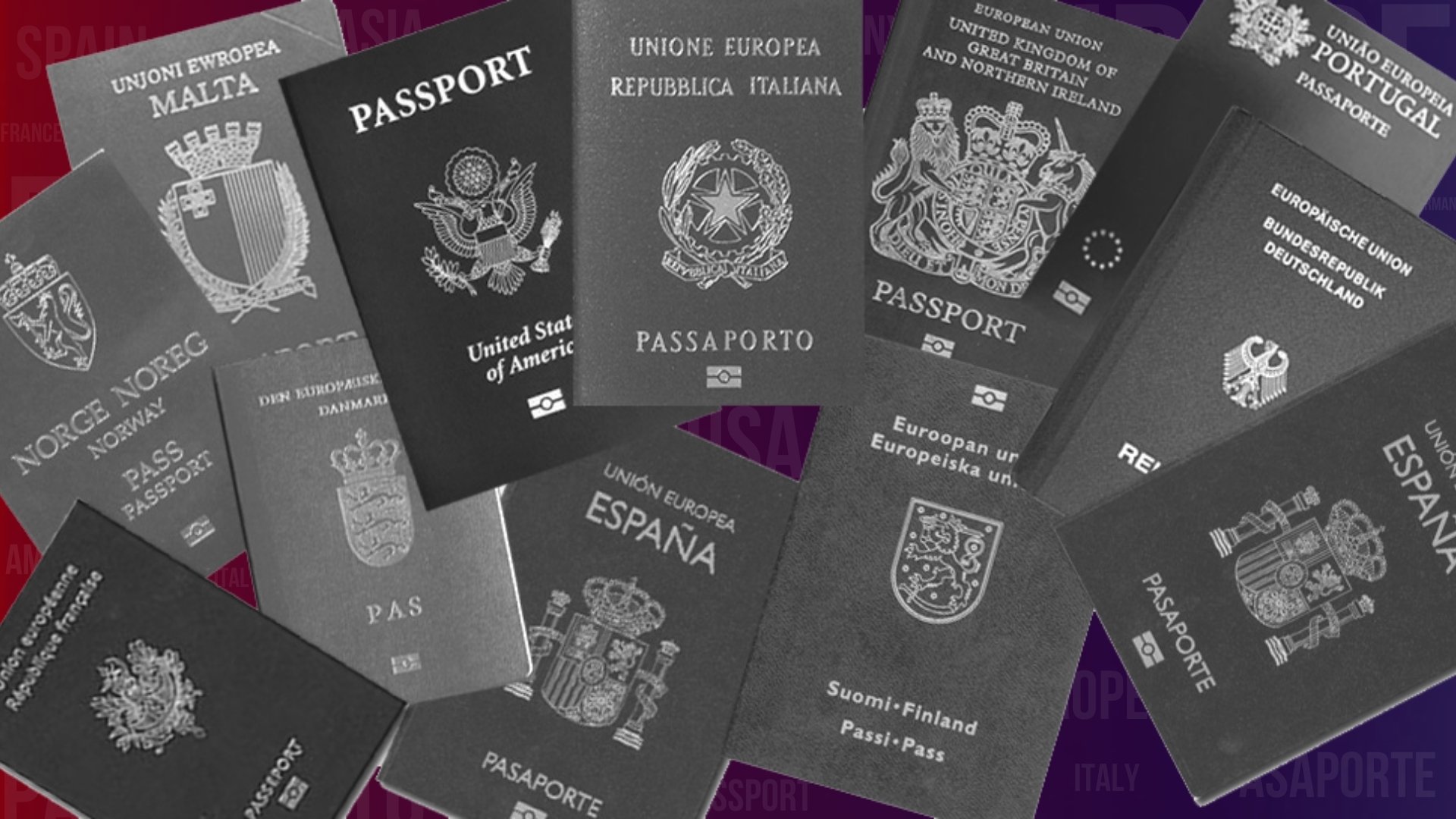 Bosman A, Bosman B, Cotonou passports image via EuroProBasket
You cannot leave your country without a passport, with a few exceptions, which are not worth mentioning for this article.
You will need that passport to travel and on many occasions to register for an international team or league. Take care of that before you start your plans to go abroad.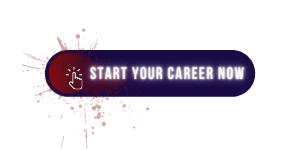 Dual Citizenship and its Benefits in Overseas Basketball
You may have heard of players being dual citizens or having dual passports. This is one of the first things we recommend our players at EuroProBasket to look into.
If your parents were born in another country or have their citizenship in another country, you are eligible to receive yours as well.
You could possibly be eligible for another citizenship if your grandparents were born in another country. Do some research on your family's historical background as it will greatly benefit you.
Why having dual citizenship is important?
If you have a European passport for example, you will be considered a European player instead of an import player. No visa is required to register you to a team and there are 3-5 times as many roster spots available for European Bosman A passport holders than there are for import players, or USA passport holders.
If you have citizenship in a specific country, it doesn't matter the country, and there is a professional basketball league in that country, you will most likely be considered a local player. This has many benefits and will prolong your professional playing and even coaching career indefinitely.
Bosman A – Bosman B – Cotonou – The Differences
Bosman A
These passports are for citizens of the European Union. There are 27 countries in the EU with a few exceptions that are added to the list of Bosman A players. This is arguably the most beneficial passport to have in overseas basketball. You can find some interesting information about the bosman ruling and how it changed European and Ncaa basketball here.
Bosman B
These passports are countries in Europe but excluded from the European Union. Most European leagues have roster spots reserved for players with these passports. Registration to the league is typically less expensive than an import players registration. Players will need a visa to play and work in the country in which the team is located.
Cotonou
These passports are from developing countries, or third world countries in Africa and many Island Nations. Many leagues in Europe (Spain, Germany, Belgium, France, Switzerland,ect…) have roster spots specifically for these passport holders. Their registration fee to the league is cheaper for the team. They too need a visa to work and play in the country where the team is located. More about the cotonou agreement here.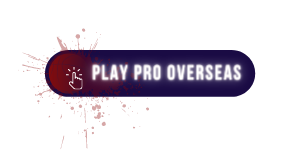 Bosman A, Bosman B and Cotonou Countries Table
| | | | |
| --- | --- | --- | --- |
| Bosman A | Bosman B | Cotonou | Cotonou cont… |
| Andorra (AND) | Albania (ALB) | Angola (ANG) | Liberia (LIB) |
| Austria (AUT) | Armenia (ARM) | Anguilla (ANL) | Macau (MAC) |
| Belgium (BEL) | Azerbaijan (AZE) | Antigua (ANT) | Madagascar (MAD) |
| Bulgaria (BUL) | Belarus (BLR) | Aruba (ARU) | Mali (MLI) |
| Croatia (CRO) | Bosnia-Herzegovina (BIH) | Bahamas (BAH) | Marshall Islands (MAI) |
| Cyprus (CYP) | Georgia (GEO) | Barbados (BAR) | Mauritania (MTN) |
| Czech Rep. (CZE) | Gibraltar (GIB) | Belize (BIZ) | Mauritius Island (MAU) |
| Denmark (DEN) | Israel (ISR) | Botswana (BOT) | Micronesia (MCR) |
| Estonia (EST) | Moldova (MDA) | Burkina Faso (BUR) | Mozambique (MOZ) |
| Finland (FIN) | Montenegro (MNT) | Burundi (BDI) | Namibia (NAM) |
| France (FRA) | North Macedonia (MKD) | Cameroon (CMR) | Nauru (NRU) |
| Germany (GER) | Russia (RUS) | Cape Verde (CPV) | Nigeria (NGR) |
| Greece (GRE) | San Marino (SMR) | Central Africa (CAF) | Palau (PLW) |
| Holland (NED) | Scotland (SCO) | Chad (CHA) | Papua New Guinea (PNG) |
| Hungary (HUN) | Serbia (SRB) | Cook Islands (COK) | Rwanda (RWA) |
| Iceland (ISL) | Switzerland (SUI) | Cuba (CUB) | Saint Kitts (SKN) |
| Ireland (IRL) | Turkey (TUR) | Dominica (DMA) | Saint Lucia (SLA) |
| Italy (ITA) | Ukraine (UKR) | Dominican Rep. (DOM) | St. Vincent & Grenadines (VIN) |
| Kosovo (KOS) | United Kingdom (ENG) | Eritrea (ERI) | Samoa (SAM) |
| Latvia (LAT) | Wales (WAL) | Ethiopia (ETH) | Senegal (SEN) |
| Lithuania (LTU) | | Fiji (FIJ) | Seychelles (SEY) |
| Luxembourg (LUX) | | Gabon (GAB) | Sierra Leone (SLE) |
| Malta (MLT) | | Gambia (GAM) | Solomon Islands (SOL) |
| Norway (NOR) | | Ghana (GHA) | South Africa (RSA) |
| Poland (POL) | | Grenada (GRN) | Sudan (SUD) |
| Portugal (POR) | | Guam (GUM) | Suriname (SUR) |
| Romania (ROM) | | Guinea (GUI) | Tanzania (TAN) |
| Slovak Rep. (SVK) | | Guinea Bissau (GBS) | Tonga (TGA) |
| Slovenia (SLO) | | Guyana (GUY) | Trinidad and Tobago (TRI) |
| Spain (ESP) | | Haiti (HAI) | Turks and Caicos (TKS) |
| Sweden (SWE) | | Ivory Coast (IVO) | Uganda (UGA) |
| | | Jamaica (JAM) | Vanuatu (VAN) |
| | | Kenya (KEN) | Zambia (ZAM) |
| | | Lesotho (LES) | Zimbabwe (ZIM) |
Bosman A, Bosman B, Cotonou Countries List chart by EuroProBasket
Step 5: Make a Player Bio, CV or Resume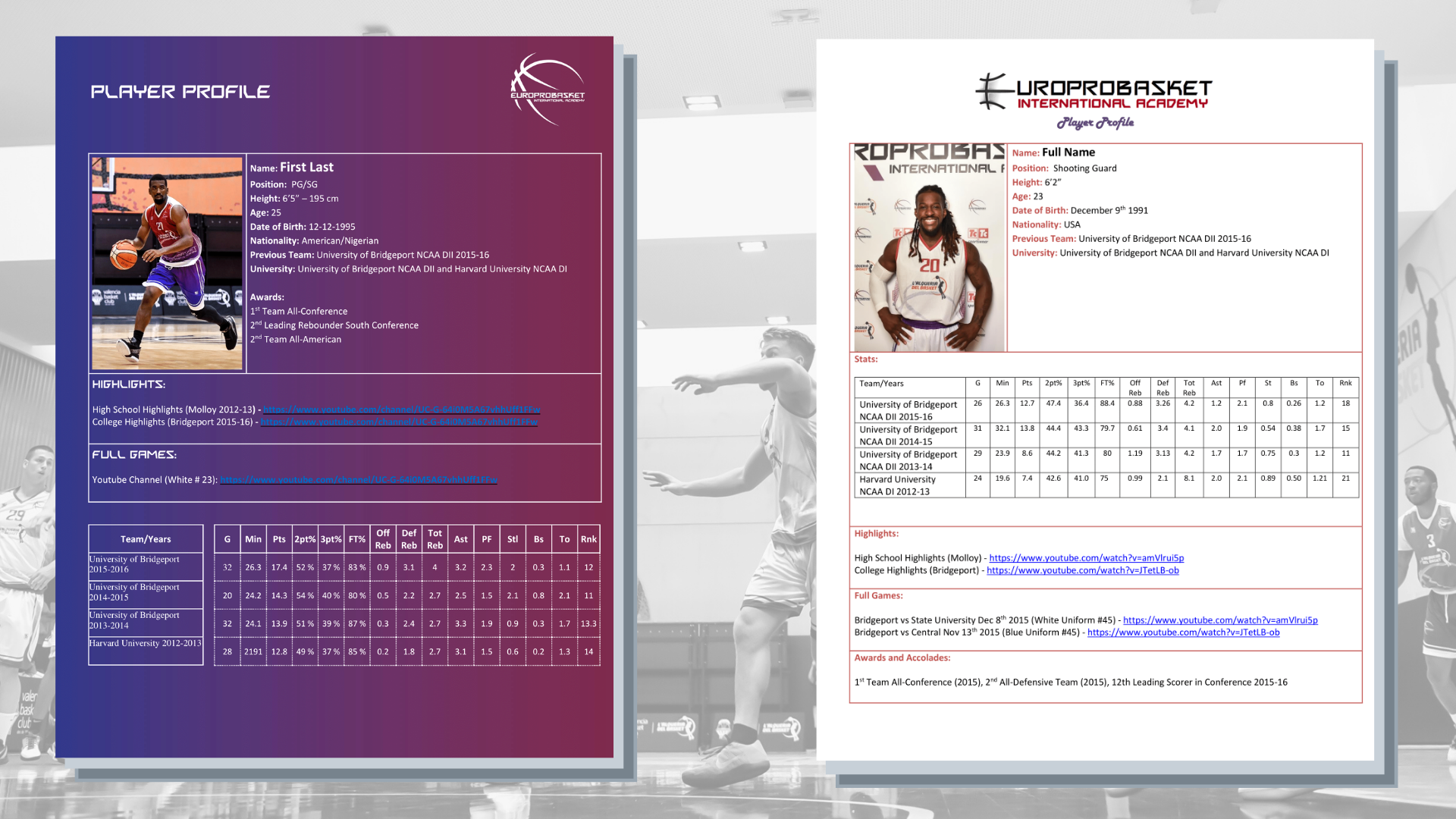 Player Resume – How to play basketball overseas image via EuroProBasket
Include Personal Information, picture playing or in a professional outfit
Include stats for every season, as detailed as possible as to not have team searching (remember teams and agents go through hundreds every week)
Add Highlight links and full game links so they are clickable
Add whatever accolades and achievements
Add references if you like
Save it in a pdf and have it on file so you can update it
Make it organized and professional looking
It only needs to be one or two pages
Leave out the self explanation, self scouting and NBA player comparison
Remember, less text is better, English is the 2nd, 3rd or 4th language of the person looking over your bio
Have it ready to send on your phone
We made an article specifically on how to make a basketball resume which can be found below.
Step 6: Network – How to Play Basketball Overseas
Use current contacts with coaches, trainers and teammates
Create and use social media accounts, most contacts abroad have facebook, linkedin and twitter. Some have instagram accounts.
Create your own website with all of your stats and video links if you can.
Step 7: Find an Agent – How To Play Basketball Overseas
A basketball agent will have the contacts to help you get your career started overseas. There is a lot you need to know about overseas agents though. We covered every detail in the article below.
Step 8: Best Opportunities to Play Overseas Basketball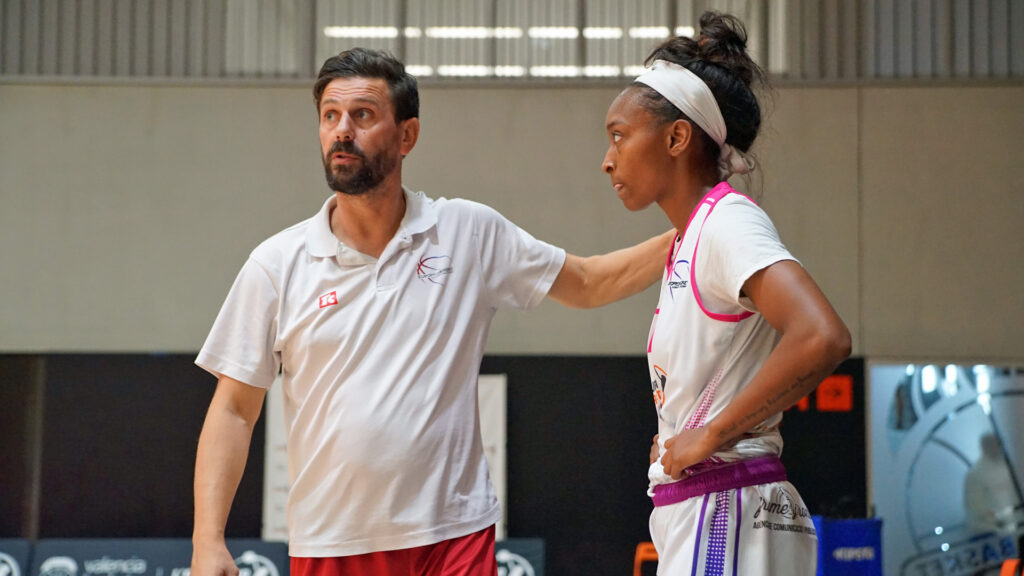 Best opportunities to play overseas basketball image via EuroProBasket
Visit the country you want to play
You've attempted Steps 1 through 7 of how to play basketball overseas. You still don't have a team. Here are your options.
If you want to play in Japan, go to Japan and present yourself to teams. It is a big risk and very expensive but If you can walk in a gym and tryout for a team it makes your chances much higher that the team will give you an opportunity to sign with them.
There are obvious downsides to this option. Many teams only allow a certain amount of import players. Higher level teams have specific needs and there is a chance that you are not that exact fit for the team.
Showcase or Exposure Camp
Showcases in the USA are hit or miss. More miss than hit. Too many players, un-organized open run type of basketball. Most teams cannot afford to send a coach or GM to the US to scout a group of players. It is much easier and less expensive for them to contact an agent for players with professional experience.
Live streams mean a busy person needs to take time out to watch, taken into account the time difference. Don't fall for the gimmick many camps and combines in the USA try to sell to players.
Agent showcases can be a good option. Usually only the top one or two players will be interesting for the agency.
Basketball Academies & Overseas Tours
These options take more of an investment but what is a career in basketball worth to you? Put yourself in the middle of a country or region that you are interested in living and playing basketball.
Downsides to a tour is that it can be difficult to get a good rhythm and perform in just a week or 10 days. You don't have much time to practice and get accustomed to your tour team. You will be moving from one location to nother with many hours of travel. Tours are really difficult to time as teams sign players at different times of the year, so when is the best week for the tour? Your guess is as good as theirs…
Some are organized and done by professionals, most are disorganized and can be very uncomfortable and in some cases scary.
A basketball academy is your best all around option. If you want the most legit shot at going pro then why not select the best basketball academy, with the longest history of helping players sign with teams in Europe? Located in the largest basketball facilities in Europe in collaboration with one of the biggest clubs in Europe. EuroProBasket will help you get to the next level.
The best and most secure opportunity to start your professional basketball career overseas is with EuroProBasket International Academy. Here are 21 reasons why.
Sign up for the most successful professional placement program here:
Essentials to Play Basketball Overseas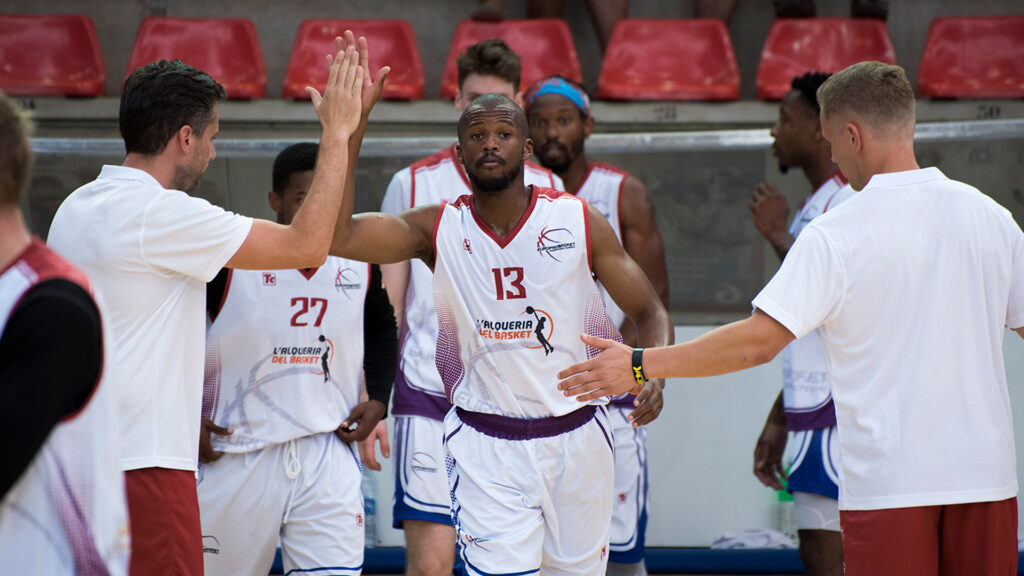 Essentials to play basketball overseas image via EuroProBasket
For many players these essentials to play basketball overseas will just be reminders. but still crucial to your success playing basketball overseas.
Complete Your Collegiate Playing Career
No one is going to deny that for an American player the most important and useful experience you can have is from a University basketball program.
There is no better place to get high level coaching and competition then in the American University system.
You cannot substitute the 4 years of basketball knowledge, coaching, experience, physical growth and mental maturity that a collegiate basketball career will give you.
That's not to mention the actual degree that you can receive, paid for have you, from the University you attend.
Stay in school if you want a better chance at playing professional basketball.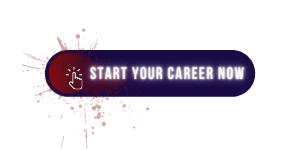 Stay Prepared – How To Play Basketball Overseas
The worst thing that can happen is that you get a tryout and are not in game shape
You should be lifting weights, conditioning (running, sprints, hills, stairs, bike, plyometrics) skill work, playing 1v1 and 5v5.
Get with other overseas professional players and workout with them.
If you are not sure how to prepare, hire a professional basketball trainer that can help prepare a plan for you.
Be Active Networking and Making Contacts
Everyday is a new opportunity to meet someone that can help you in your pursuit to play basketball overseas.
Use your current contacts with coaches, teammates and trainers to reach new contacts.
When you meet people involved in basketball, exchange contact information with them. Reach out to them and develop a relationship.
Use social media to make new contacts around the world.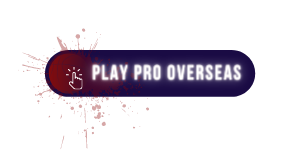 These are the suggestions on how to play basketball overseas by International Scout and CEO of EuroProbasket International Academy in Spain, Brad Kanis.