If there is a role that has evolved in the modern era of basketball more than any other, that is the center position. The static big men that played on the post are a thing of the past, nowadays, the 5 is versatile enough to provide his team multiple options both defensively and offensively. In this article you will discover all you need to know about the role of a big man in Europe. Eroprobasket spoke with four professional coaches with decades of experience, who gave us their thoughts on the center position in basketball.
Professional European Insight on the Center Position in Basketball
Manuel Póvea's Opinion on the Center Position in Basketball
The 5 men have always played a very important role in my teams, not only defensively, but also in offense. The budget makes a big difference here, perhaps the biggest difference of all positions, but no matter the skills, I want my 5 to be an important part of the game plan. In order to get that, I need to be sure about what he can really do, because I'm going to ask all the other players to respect his offensive options. I don't look for a 5 that is going to be able to score through 13 different moves, maybe just 1, but good enough and with a great confidence level.
1) Defense: Good defense, good intimidation or both. Anyway I look for a good presence inside
the paint. Some use quickness, other size or athleticism, but defense must be a requirement.
2) Rebounding: Obviously, he must be a good rebounder at both ends, but in this case I want the
Guarantee that he is my best defensive rebounder.
3) Low Post moves: I love to have a low post player, able to score from that position. Despite this option is not it's not easy to see nowadays, where every offensive option seems to rely on a pP&rR.
4) Free Throws: FT is, for the whole team, a very important element. For the 5's, who often visit
the FT line, it gets a huge plus. I am not saying this is a deal breaker, but it is a positive point.

Nikolai Gospodinov speaks on the Center Position in Basketball
In my basketball vision, the center position in Europe should be covered by a very good athlete, he has to run the floor really well, he has to know how to play defense (good shot blocker and he must understand how to close the paint). It is not necessary for the player in this position to be the best scorer, but he has to be extremely useful for the team. Also in modern basketball it would be great if he has a good shot from middle range and even 3pt. Defensively he has to be able to play switching defense on p/rP&R situations.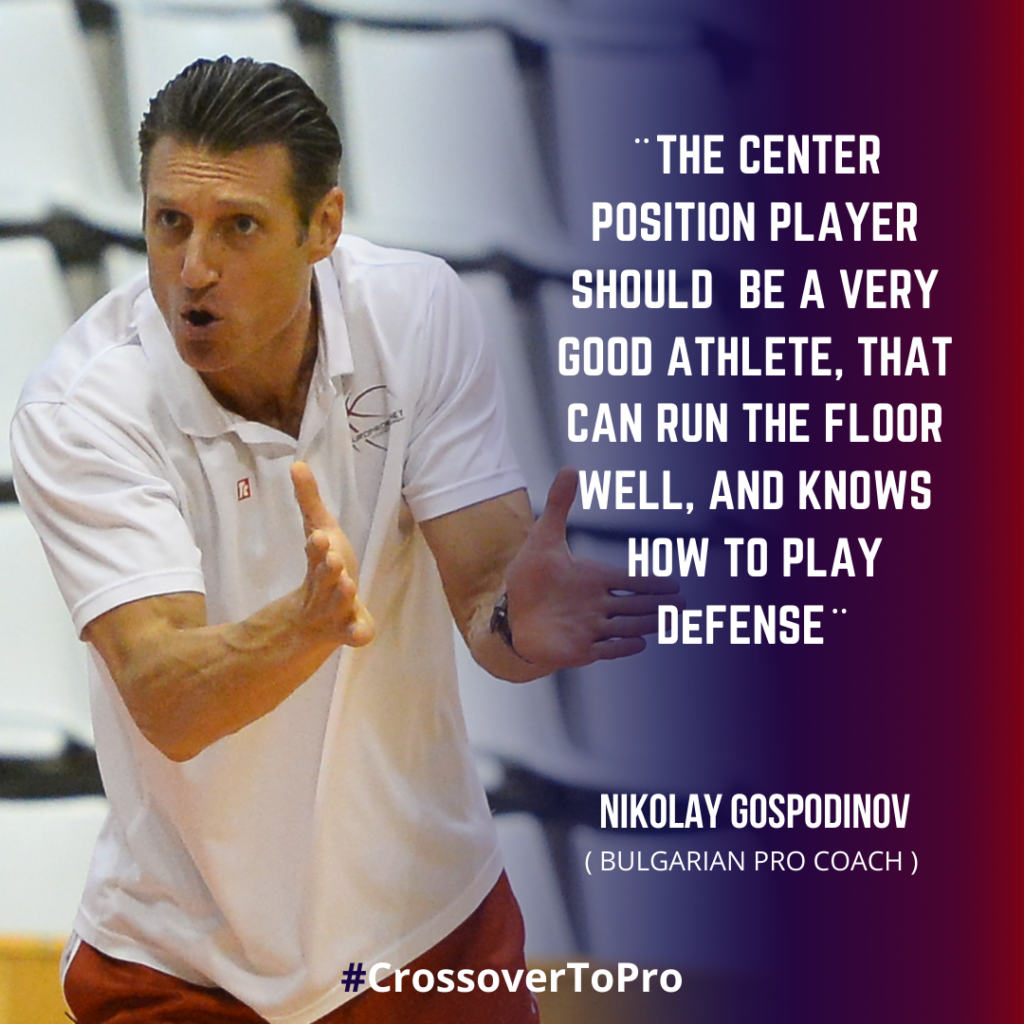 Pascal Meurs gives insight on the Center Position in Basketball
Not all teams in Europe play with a traditional "center". Therefore, most teams will be looking for a player that is strong enough to guard a big body inside and quick enough to guard undersized bigs on the perimeter. You crash the boards on both sides of the floor. It's a big plus if you can knock down open looks behind the three point line to keep the defense honest.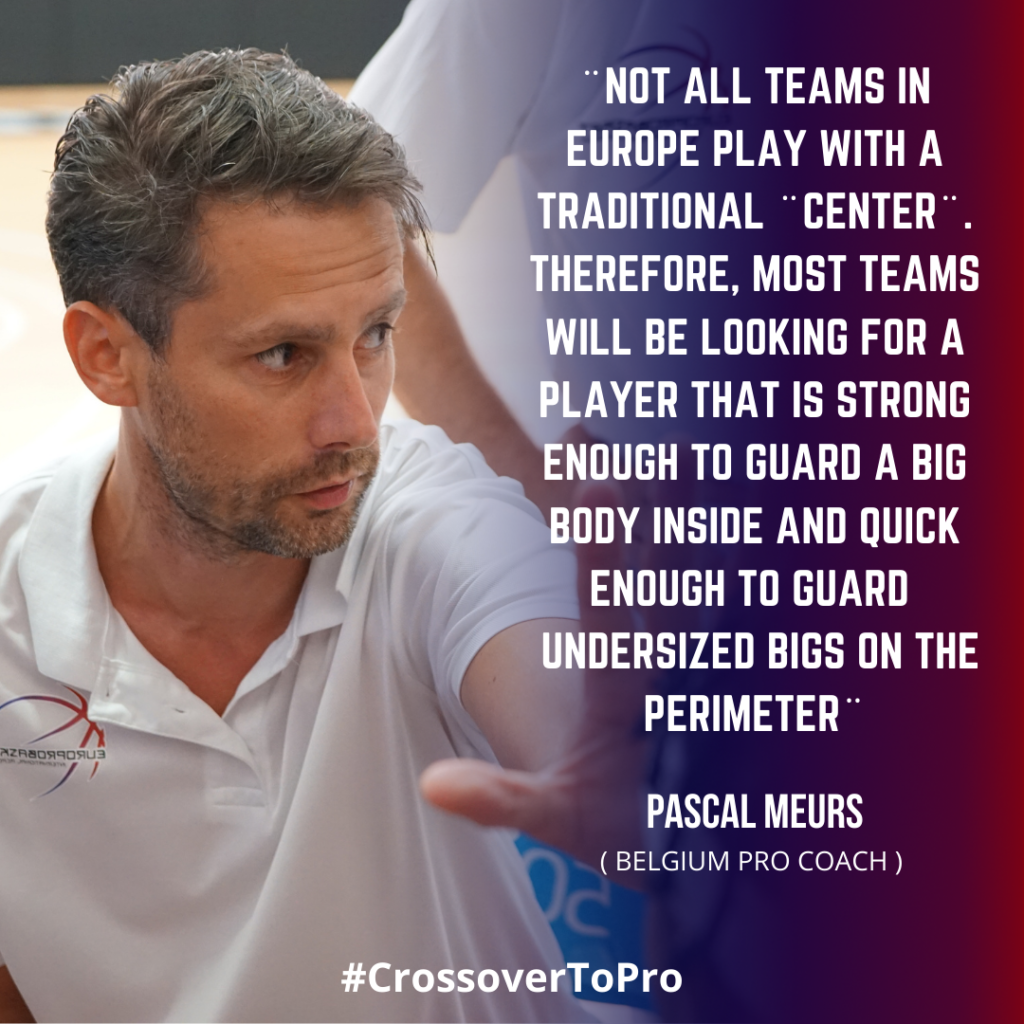 Markus Rowenstrunk gpeaks about the Center Position in Basketball
The center or 5 is the one who sets most of the screens for the outside players and usually gets the ball near the basket for high-percentage finishes on rolls or post ups. If very athletic, the passes can be above the rim for spectacular alley-oops. Depending on the makeup of the team, the ability to shoot mid-range or even from behind the arch can be a plus.
Nevertheless, in most cases the specific technical and tactical skills of screening, rolling, sealing, and posting are more important. Defensively it is desirable that the center is the anchor and ensures stability. In addition to his post and pick & roll defense duties (ability to switch is great), he should protect the basket (rim protector) and direct his teammates from a central position. Rebounding is also a focal point of the center position in Europe, although it is best if every player on the field works hard in this area and feels responsible for boxing out and securing the ball.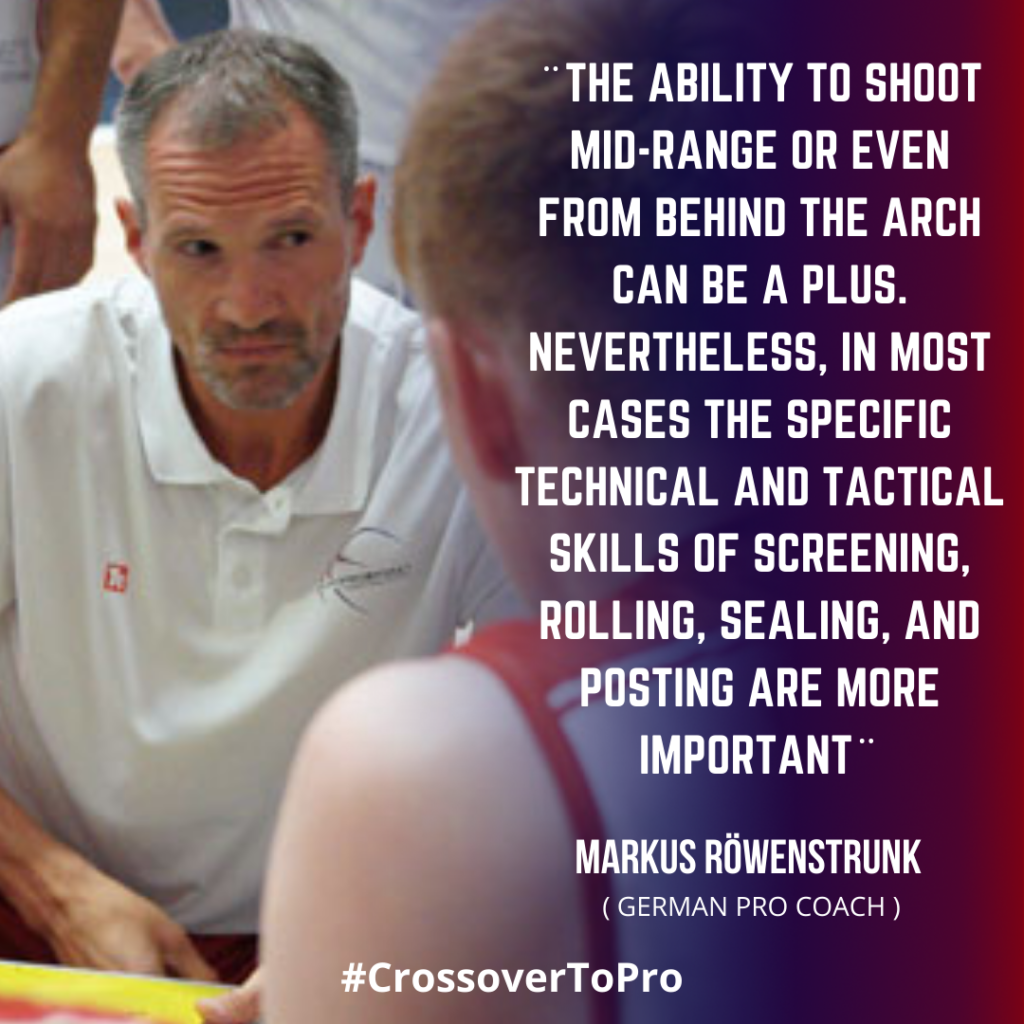 Brad Kanis – Former Pro Speaks about the Center Position
Many great basketball minds have said that in order to win a championship you need a great point guard and a great center. The game has evolved since that was a mainstay for championship teams but the center position is still one of the most important in basketball. Whether it's a team that is using height like Real Madrid uses Eddie Tavares or Nikola Milutinov in Olympiacos. Or a team that uses more mobile centers like CSKA Moscow with Kyle Hines and FC Barcelona with Brandon Davies. Centers will always have their place on championship teams.
Regardless of how a team recruits and uses their inside players, center's have specific jobs and responsibilities. In my opinion, successful centers need to focus on these main concepts: Rebound, play hard defense, run the floor, pick and roll quickly to the basket and block shots. Those should be the main focus for the center position in basketball.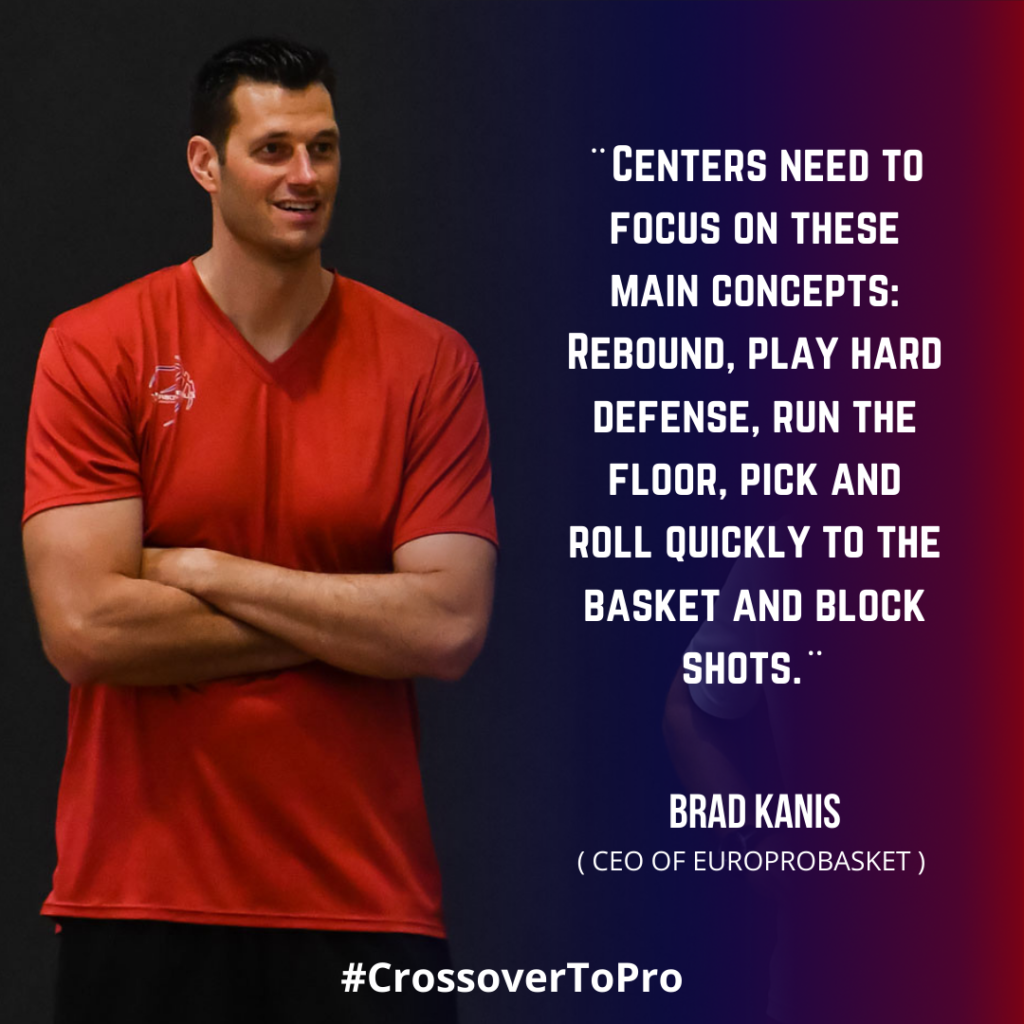 What can you do to improve your chances in the paint?
Apply the concepts we've spoken about above. Remember that centers and taller players take more time to develop their skills and come into their own. Be diligent in working on your skills. Focus on the important concepts. No need to learn 200 moves to be successful. One go-to move and a counter is all you need. Prefect those moves. Also, watch film on players who have mastered how to play in Europe at the center position.
If you want to see these concepts applied and master the center position in Europe, we recommend watching film on these 7 players: Brandon Davies, Nikola Milutinov, Jan Vesely, Walter Tavares, Bryant Dunston, Ante Tomic and Bojan Dubljevic.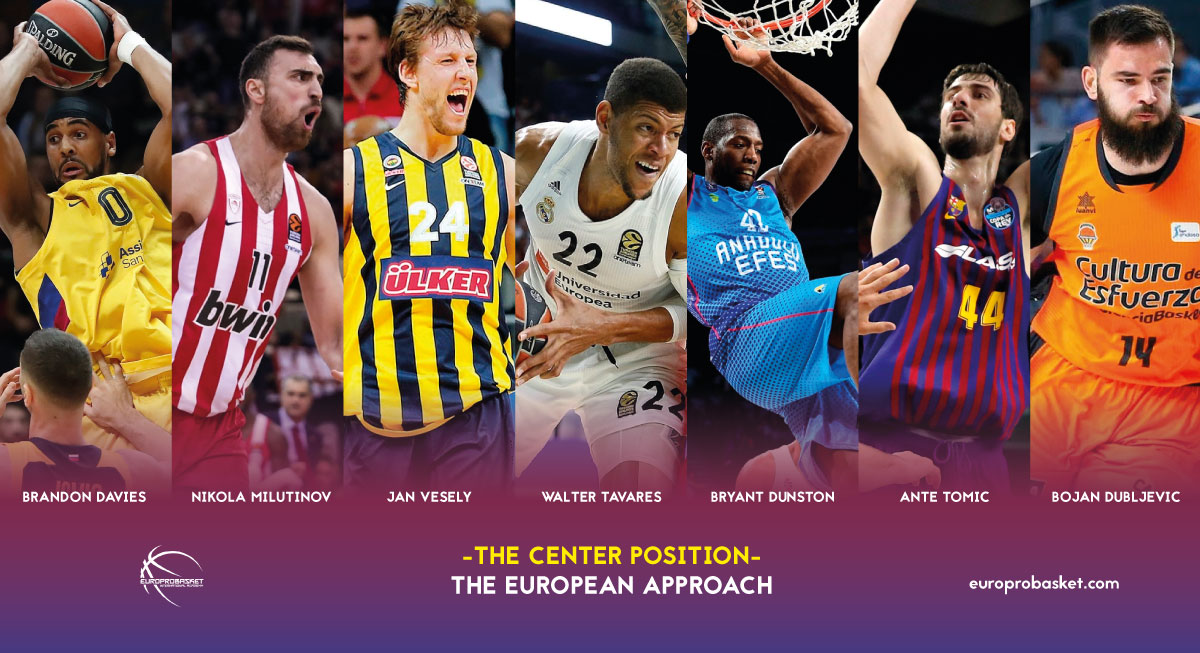 If you want to read about other positions in European basketball click here: point guards, shooting guards and small forwards.